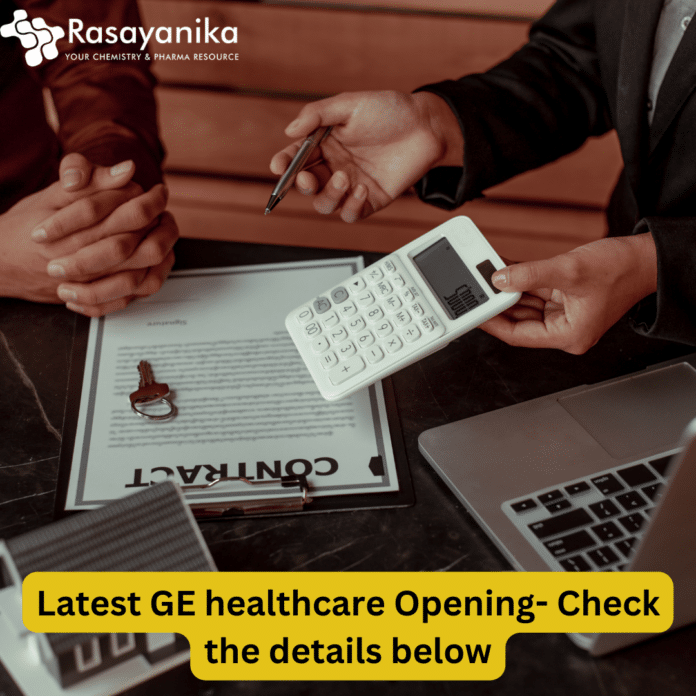 Join GE Healthcare's mission to create a world where healthcare has no limits. GE Healthcare is not just evolving today's technologies, GE Healthcare is pushing the boundaries of what care means. Together, GE Healthcare is building a community of diverse perspectives, giving ideas space and energy to grow and succeed. Latest BPharm Sales Job. The details regarding the Latest BPharm Sales Job is included below. Apply Online.
Job role – Trainee
Location – Remote, Haryana, India
Job ID – R3732498
Job Description Summary-
Customer-facing staff responsible for winning business Executes standard sales tasks and is typically subject to instructions and work routines. There is latitude to rearrange the sequence to complete task/duties based on changing work situations. May be responsible for targeted clients, stable regions, and/or small/medium sales territories.
GE Healthcare is a leading global medical technology and digital solutions innovator. Our mission is to improve lives in the moments that matter. Unlock your ambition, turn ideas into world-changing realities, and join an organization where every voice makes a difference, and every difference builds a
healthier world.
Job Description
Roles and Responsibilities
Achieve sales and orders volumes at the target prices in assigned accounts for Haryana.
Build relationships, develop a business strategy, and maximize business opportunities for all PDx- businesses, products & services within allocated accounts/territory. Represent PDx and acts as a primary customer point of contact in the allocated accounts/territory. Provide on-going feedback to management, product teams, services and marketing.
Develop & implement Go-to-Market plans with cross functional and multi-product teams to achieve results through effective project proposals, negotiations, and contracts. Grow GE's share of customer investments in capital and operational expenditures.
Develop & maintain a high level of customer satisfaction through consistent high-quality interactions with customer & associated stakeholders
In cooperation with Product teams and Marketing, drive PDx marketing events in assigned region by giving higher weightage to improve KOL engagement across region. Be aware of segmentation and apply relevant product benefits to each client's segment.
Coordinate with GE Healthcare team on assigned accounts in order to deliver solutions that meet or exceed customer expectations.
Follow all applicable GE policies, procedures and operating mechanisms. Proactively participate in company initiatives depending on organizational needs and as directed by management.
Build product knowledge to enhance clinical differentiation in market.
Geographic scope: Assigned accounts or account groups mainly in North.
Plans and executes necessary seminars, meetings, Educational event for Technical team etc with Focus Decision makers of the account.
Must adhere to Compliance on Quality, Regulatory, integrity and company policies.
Need to work with all team members in order to established responsibilities and role clarity through strategic discussion for large account group
Drive Account Potential mapping and position Core Imaging Product range to increase GE revenue share & profitability
Creating an annual engagement plan for strategic accounts to gain mindshare.
Required Qualifications
Bachelors/Masters (Pharmacy/Biology/ Science) or the equivalent degree with 3-4 years of sales experience. Preferably MBA (Sales & Marketing).
Desired Characteristics
Strong influencing, interpersonal and networking skills to drive collaborative culture at all levels.
Strong critical thinking and analytical skills.
High level presentation skills, able to present ideas to customers in a way that produces understanding and impact.
Hello there! We're here to provide you with a set of interview questions and answers that you can use to prepare for your upcoming interview for the Latest BPharm Sales Job. Our aim is to assist you in getting ready and performing at your best during the interview for the Latest BPharm Sales Job.
1. Question: Can you describe your understanding of the role and responsibilities of a Trainee at GE Healthcare, and how do you believe your qualifications align with these responsibilities?
Answer: As a Trainee at GE Healthcare, I understand that the role primarily involves supporting the sales team in achieving sales and orders volumes, building relationships with clients, and contributing to the growth of GE's business in the Haryana region. My background in [relevant field] has equipped me with the knowledge and skills necessary to assist the team effectively. During my studies and previous internships, I developed a solid foundation in [mention relevant skills] that will enable me to contribute to the success of GE Healthcare.
2. Question: The job description mentions the importance of building relationships with clients. Can you provide an example of a time when you successfully built a strong client relationship or network, and how did it benefit your organization?
Answer: In my previous internship at [Previous Company], I was responsible for assisting in client relationship management. One notable achievement was when I identified an opportunity to improve our engagement with a key client. I proactively organized a meeting to address their specific needs, resulting in an increase in their order volume by 15%. This not only strengthened our relationship with the client but also contributed significantly to the company's revenue.
3. Question: The role involves collaborating with cross-functional teams. Can you share an example of a project where you had to work with colleagues from different departments to achieve a common goal?
Answer: During my academic projects, I frequently collaborated with peers from diverse backgrounds. One notable project involved developing a comprehensive marketing plan for a product launch. I worked closely with team members from marketing, product development, and finance to ensure the project's success. Through effective communication and coordination, we successfully launched the product, exceeding our sales targets.
4. Question: How do you plan to stay updated on industry trends and product knowledge to enhance your contribution as a Trainee at GE Healthcare?
Answer: To stay updated on industry trends, I plan to regularly engage in industry-specific publications, attend relevant webinars and conferences, and seek mentorship from experienced colleagues. Additionally, I will actively participate in GE Healthcare's internal training programs to enhance my product knowledge. I believe continuous learning is essential to deliver value to our clients and the organization.
5. Question: This role requires adherence to quality, regulatory, and compliance standards. How do you ensure that you maintain compliance with company policies and industry regulations in your work?
Answer: Compliance is a top priority for me. I make it a point to thoroughly understand company policies and industry regulations and adhere to them diligently. During my previous experiences, I consistently followed quality and regulatory guidelines, ensuring that all my work met the highest standards. I also actively seek guidance from compliance experts when faced with complex situations to ensure that I am always in alignment with the necessary standards.