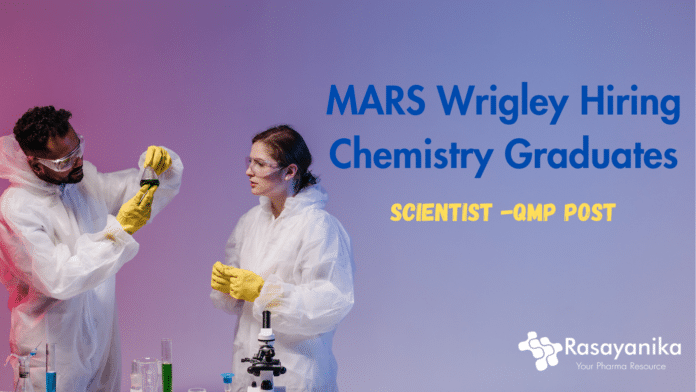 MARS Hiring Chemistry Graduates – Apply Online
MARS Wrigley, a renowned leader in the confectionery industry, is currently offering exciting career opportunities for recent Food Technology graduates. They are actively seeking candidates to join their team as a Quality Management and Product (QMP) Scientist at their three prominent sites. If you're passionate about food science and quality assurance, this is a fantastic journey with a global confectionery powerhouse. MARS Hiring chemistry graduates. Apply Online
Job Title: Scientist-QMP
Location: Pune, Maharashtra, India
Professional Qualification: Bachelor's degree in chemical engineering, package engineering or relevant field of work.
Education: Solid English communication skills and ability to work effectively with regional and global partners.
Knowledge/Experience required from chemistry graduates:
Minimum 5 years technical experience in food production/manufacturing and/or R&D.
Written and verbal communication, with the ability to influence and motivate a team.
Adaptable and Flexible. Easily adjusts to shifting work priorities, multiple demands, adversity and change.
Demonstrated problem solving experience.
Project management skills with demonstrated experience for planning and priority setting.
Ability to work independently as well as within a team setting, managing through conflict.
A Strong drive for results and ability to effectively collaborate with peers and stakeholders.
Preferred:
Experience in Quality and Food safety Management program and Audit management.
Experience in Quality Management process and systems.
Possible Interview Questions and Answers:
1. Question: Can you share your experience working in food production/manufacturing or R&D. Highlight specific projects or achievements from your past roles?
Answer: Of course. In my previous role as a Food Production Manager at XYZ Foods, I led a team responsible for optimizing production processes. This resulted in a 15% increase in manufacturing efficiency within a year. I also lead a cross-functional R&D project that resulted in the development of a new product line. This, contributed significantly to revenue growth. These experiences have given me a solid foundation in food production and R&D, which I believe aligns well with the requirements of this position.
2. Question: Describe a situation where you had to use your written and verbal communication skills to influence and motivate a team. What was the outcome?
Answer: In my role as a Project Manager at ABC Food Innovations, I encountered a situation where the team was facing challenges meeting project deadlines. I held a series of team meetings where I used clear and effective communication to emphasize the project's importance and how their contributions directly impacted our success. By fostering open dialogue and motivating the team, we not only met our deadlines but exceeded our project goals. This demonstrates the power of effective communication and teamwork.
3. Question: Can you provide an example of a time when you had to adapt to changing work priorities or faced adversity? How did you handle it?
Answer: In my previous role at DEF Food Co., we often encountered unexpected ingredient shortages, which could disrupt production schedules. I developed a flexible production planning system that allowed us to quickly adjust to these challenges. By maintaining open communication with suppliers and cross-functional teams, we not only minimized disruptions but also reduced costs . We have done this by optimizing resource allocation during adverse situations.
4. Question: Share a specific problem-solving experience from your career. How did you approach it, and what was the outcome?
Answer: During my time at GHI Food Labs, we faced a significant quality issue that threatened a major product launch. I led a cross-functional team to conduct a root cause analysis, identified the issue, and implemented corrective actions. Through rigorous problem-solving and collaboration, we not only managed the launch but also improved overall quality control procedures. This resulted in only fewer issues in subsequent projects.
5. Question: Describe a project where you demonstrated strong project management skills, including planning and priority setting.
Answer: In my role as a Product Development Manager at JKL Food Products, I oversaw the launch of a new product line. I created a detailed project plan, established clear milestones, and effectively allocated resources. By closely monitoring progress and adjusting priorities as needed, we successfully launched the product ahead of schedule, achieving higher-than-expected sales in the first quarter. This project demonstrated my ability to excel in project management and prioritize tasks effectively.