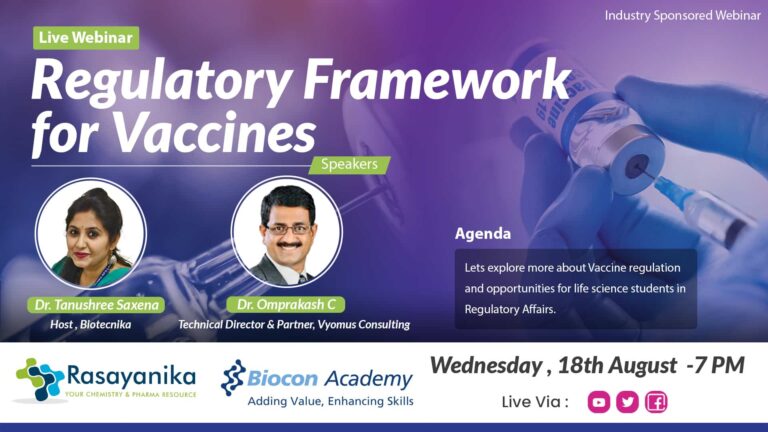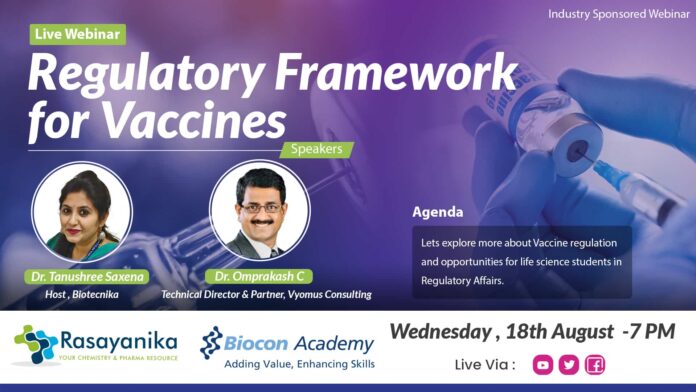 Biocon Academy FREE Webinar on Regulatory Framework for Vaccines – A Biotecnika Exclusive
Industry-Sponsored Webinar
Biocon Academy & Biotecnika Proudly present 
Exclusive webinar on Regulatory Framework for Vaccines
Hey there!
It's through curiosity and looking at opportunities in new ways that we've always mapped our path.
And Biotecnika is back at it again with another webinar session with the giants of the life sciences industry – Biocon Academy and this time on Regulatory Framework for Vaccines.
"Vaccine" is a word that we have heard more times than we can count in recent times. So why not see how this can be parlayed into a viable career? Strike when the iron is hot as they say.
One of the prominent characteristics of a successful person is how they use every opportunity that crosses their path. The Biotech & Pharma Industry provides various Job opportunities out of the R&D lab too. Very few candidates identify these opportunities and can build a career in these areas—one such important area to explore Job opportunities is in Regulatory affairs. 
Interested to know more? 
Biocon Academy, a Center of Excellence for Advanced Learning in Applied Biosciences, is a part of Biocon Ltd, which concentrates on skill development among the Biotech students. In partnership with many reputed International firms and organizations, Biocon Academy aims to provide industry-oriented training programs and skill development programs to help candidates secure promising careers in the Biotech Industry. 
Biotecnika, in association with Biocon Academy, brings you a fascinating webinar to create awareness on vaccine regulation and regulatory affairs as a career option.  
**Free E-Copy Certificate for every attendee**
If you aim to build a successful career in the Biotech and Pharma industry, you must attend this webinar!
Regulatory Framework for Vaccines
Agenda Of this webinar: To explore more about Vaccine regulation and opportunities for science students in Regulatory Affairs. 
Session Details:
Topic:

Regulatory Framework for Vaccines

Speaker:

Dr Omprakash C, Technical Director & Partner, Vyomus Consulting

Host:

Dr Tanushree Saxena

Date & Time:

18th August 2021, 7 PM

Duration:

60 Mins Approximately

 
Registration Fee:

Free for all Biotecnika & Rasayanika Subscribers
Who should attend this session?
This webinar will be beneficial for Bioscience graduates who are interested in building a career in Regulatory Affairs.

BSc/ MSc/BTech / MTech

candidates from life science and any science background.

 

Bio Professionals Looking to expand their area of interest. 
Speaker for the Day: Dr. Omprakash C
He is currently working as the Technical Director & Partner, Vyomus Consulting. Dr. Omprakash holds a post-graduate degree in pharmacy, Business administration, and a Doctor of Philosophy (Ph.D.) in Business Management from Aligarh Muslim University. His research thesis was on evaluating and optimizing the influence of Business Models on the Business Performance of Life Sciences Organisations. He has 30+ years of experience in regulatory affairs, pharmaceutical drug development, clinical operations, Quality Management, and Product Marketing in many reputed pharma firms. 
Tune in on 18th August to listen to insights Dr. Omprakash has to share. Do not miss attending the entire session and Interacting with the speaker. 
The session is followed by Question Answer Session 
**Free E-Copy Certificate for every attendee**
Do not miss this opportunity!
Our Mission: Rasayanika Revolution
Our Vision: To Reach every Bio Professional in our country and help them build a strong career