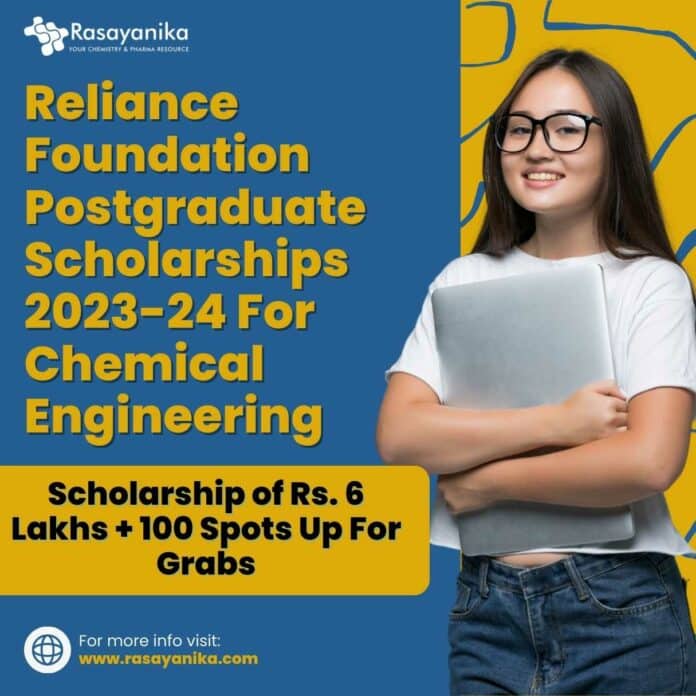 Reliance Foundation Scholarships 2023-24 For Chem Engg Postgraduate
Reliance Foundation Scholarships 2023-24 For Chemical Engineering Postgraduate. Scholarship Value of Up to Rs. 6 Lakh. 100 students will be chosen. If you are from a life sciences background, then this is an opportunity that you shouldn't miss.
This call expires in
06
Days
09
Hours
07
Minutes
52
Seconds
As we step forward into the fourth industrial revolution, India has the unique advantage to harness enormous capital for technology driven development that is bottom up and inclusive, because of our twin strengths of demographics and democracy. Our youth and the entire nation is ready to embrace and utilise new technologies for a strong, sustainable and equitable new India.
In the course of the last few decades, human interaction with technology has witnessed remarkable change. Throughout 2020 and 2021, India worked online, studied online, shopped online, received healthcare online, socialised online. India thrived online. This underscores the phenomenal evolution of Digital Technology in India. From being a means of limited engagement and entertainment, it has evolved into a platform of unlimited enablement and empowerment. The advent of 5G has also unleashed a wave of demand for a new generation of digital and technical skills: by 2025, India will require an estimated 22 million skilled workers possessing 5G-related competencies. Furthermore, technological breakthroughs in renewable and new energy have offered a reliable promise and a massive opportunity to secure the promise of a sustainable future for generations to come if new solutions can be developed for creating reliable, clean and affordable energy solutions for India and the world. In addition, Biotechnology-based, therapeutic products and services in multiple medical domains are also being developed to address unmet medical needs.
In this context, the Reliance Foundation Postgraduate Scholarships aim to nurture world-class talent that will help power India's new era of growth. Reliance Foundation will identify and support 100 of India's brightest postgraduate students with a generous grant award and a strong development programme, nurturing future leaders who can think big, think green, think digital for the benefit of society.
First-year postgraduate students from institutes across India pursuing degree programmes in Artificial Intelligence, Computer Sciences, Mathematics and Computing, Electrical and/or Electronics Engineering, Mechanical Engineering, Chemical Engineering, Renewable and New Energy, Material Science & Engineering and Life Sciences are eligible to apply. Reliance Foundation Scholarships will nurture and support these bright students with a holistic development programme, including expert interactions, industry exposure and volunteering opportunities creating a cohort of excellence, every year.
Scholarships Features
Nurturing India's future leaders who can think big, think green, think digital for the benefit of society.
The Reliance Foundation Postgraduate Scholarships will identify and select the best and brightest students in India through a rigorous and competitive selection process.
We welcome applicants from all socio-economic backgrounds and scholarships will be granted on the basis of merit.
Up to 100 postgraduate scholars will be selected.
The total amount of scholarship available over the duration of the degree programme, will be up to Rs/INR 6 Lakhs.
80% of the funds will be granted in advance at the start of each academic year, to use for tuition and direct academic expenses. The remaining 20% of the funds will be granted upon request to support professional development, including indirect academic and personal development expenses, including conference related expenses.
Scholars will also benefit from additional engagement and development activities (including the chance to attend talks and workshops with leading global experts, opportunities to apply for mentoring/internships, volunteering opportunities, a strong alumni network and more), and will join a vibrant community of scholars that will be at the forefront of creating and building a new India.
Scholarship Values
Excellence
Scholars who are committed to excellence, in spirit and action, in everything they pursue, both academic and non-academic. Scholars who have a mindset of giving their best, seeking new and better ways to approach challenges and continually work to improve themselves.
Leadership Potential
Scholars who have the potential and ambition to become India's and the World's Leaders of Tomorrow.
Integrity
Scholars who strive to be honest and forthright. They take accountability and responsibility for their actions, decisions, and behaviours.
Community Commitment
Scholars who show a moral force of character and instinct to lead in their communities for the advancement of society. Scholars who have a commitment to work for social good and give back to society.
Growth Mindset
Embodying Reliance's spirit that "Growth is Life" we are looking for scholars that dream big and have an ever-evolving spirit. They possess a love of learning and continually striving to develop and improve themselves and support others to do the same.
Courage
Scholars who are resilient, patient, and tenacious. Students who embrace challenges with passion and conviction as opportunities to grow.
Application and Selection Process
Applications for the 2023-2024 scholarships to be closed on 17th December 2023
Eligibility Questionnaire – To apply, students need to first fill the eligibility questionnaire in our website:
Application Form – Students fill and submit applications through our Application Portal:
Personal, Academic and Extra-curricular details
Two Letters of Reference: One that attests to your academic capabilities and one that attests to your character and leadership traits
Academic/ Prof. Info
Two Essays: Personal Statement and Statement of Purpose
Supporting Documents
Aptitude Test
All applicants to answer the online aptitude test
Test duration will be 60 mins and will contain 60 Multiple Choice Questions
Components of the test include verbal ability, analytical and logical ability and numerical ability
Evaluation Stage
FIRST LEVEL SELECTION
Applications will be evaluated by an expert panel of industry experts, academicians and leaders in the field
Interview Stage
SECOND LEVEL SELECTION
Interview preparation webinars will be conducted for all candidates
Interviews will be held virtually by the expert panel
Selection
ANNOUNCEMENT OF SCHOLARS
Up to 100 scholars
All candidates will be evaluated on the basis of merit
Please read our Frequently Asked Questions if you have any questions.
For any additional questions, please text "hi" on WhatsApp to 7977 100 100, call our helpline on (011) 4117 1414 or email us at [email protected]
Eligibility Criteria
Reliance Foundation invites first year postgraduate students who are enrolled full-time in an eligible degree programme (in Computer Science, Artificial Intelligence, Mathematics & Computing, Electrical and/or Electronics Engg., Chemical Engg., Mechanical Engg., Renewable & New Energy, Material Science & Engg. and Life Sciences) to apply.
You must fulfil the following eligibility criteria in order to apply:
Be a resident Indian citizen
Postgraduate Scholarship : First year PG Students who secured a score of 550 – 1,000 in the GATE Examination.
OR
Students who have not attempted GATE but have scored 7.5 or above in their Undergraduate CGPA (or % normalised to CGPA)
Eligible degree programmes – Computer Science, Artificial Intelligence, Mathematics & Computing, Electrical/or Electronics Engg., Chemical Engg., Mechanical Engg., Renewable & New Energy, Material, Science & Engg. and Life Sciences.
Following students are not eligible:
Students who are in the 2nd year of their PG programme
Students pursuing their degree through online, remote, distance or any other non-regular modes
Students who have GATE Score less than 550 but have Undergraduate CGPA 7.5 or higher
Students pursuing only Mathematics cannot apply under Mathematics & Computing
Students who do not answer the mandatory aptitude test or are found cheating during the test
In order to apply, students first need to complete and pass the eligibility questionnaire below. If you pass the eligibility criteria questionnaire, you will receive an email with your log-in details.
Editor's Note: Reliance Foundation Postgraduate Scholarships 2023-24 For Chemical Engineering. Reliance Foundation Scholarships 2023-24 For Chem Engg Postgraduate. Subscribe to Rasayanika for the latest chemistry and Pharma job openings, follow us on Facebook and Telegram and subscribe to our youtube channel for the latest updates on chemistry and Pharma jobs and much more.