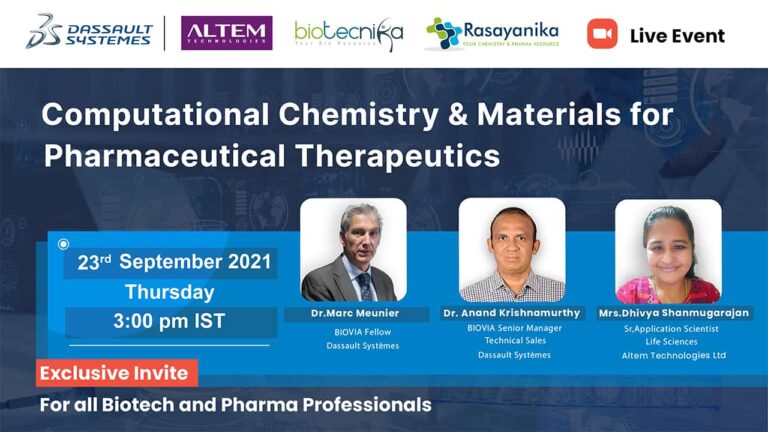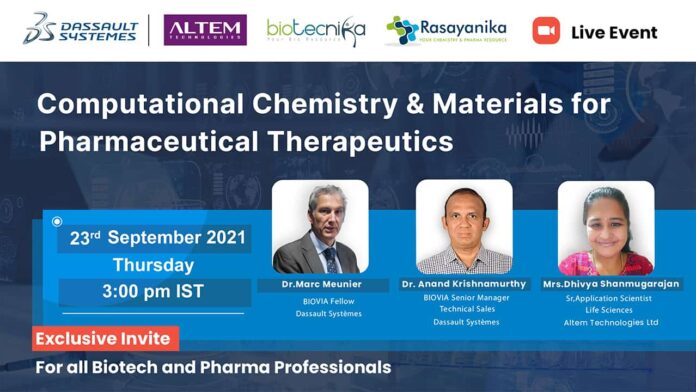 FREE Webinar Rasayanika & Altem Technologies
Mega Event Alert
Altem Technologies & Biotecnika presents an Exclusive Webinar on
Computational Chemistry & Materials for Pharmaceutical Therapeutics
The change in the Pharma and Biotech industries is evident, and technology is taking over the R & D domain to make research more accurate, less time consuming, and highly Cost-effective. Computational methods have played an important role in the drug discovery process, making it possible to solve numerous hurdles in the process. This technology holds promise to revolutionize the pharmaceutical industry with all of the advances it is making today.
Altem Technologies Ltd and Biotecnika Info Labs Pvt Ltd have come together to bring you a mega event on
Computational Chemistry & Materials for Pharmaceutical Therapeutics
Agenda of the event:
In this webinar, the experts of Biovia will talk about Computational Chemistry & Materials for Pharmaceutical Therapeutics. With the advent of the "Big-data" era, the niche domain of computational chemistry and materials plays a vital role in the drug discovery process, with a high degree of scientific heterogeneity. These trends combine to drive the pharmaceutical industry's pursuit of integrating various computational modeling programs and experimental approaches to drive R&D efforts more cost-effectively. It is
one of the significant factors that reduce the time required in the drug development process by 4-5 times and increases productivity in the pharmaceutical industry.
Event Details:
Date: 23rd September 2021, Thursday
Time: 3 PM IST
Duration: 70 mins approximately
Speakers: Dr. Anand Krishnamurthy & Dr. Marc Meunier
Moderator: Mrs Dhivya Shanmugarajan
* Free Registration for all Biotech and Pharma Professionals*
Who is this webinar for?
We invite all Bioprofessionals, researchers, and pharma professionals to attend the event. It is highly beneficial for all professionals working in the field of Computational Chemistry, drug development processes, and the pharma Industry.
Join this event and benefit from the valuable Insights our esteemed speakers have to share.
About the speakers:
Dr. Marc Meunier works as the principal application scientist and Science Council Fellow at DS BIOVIA holds a master's from Pierre and Marie Curie University (Fr) and receives a doctorate in chemistry from Bangor University (UK). He joined BIOVIA in 2000 as a product specialist for materials modeling. Meunier's research interests include the study of nanodielectrics, the simulation of polymeric materials used in membrane technology, pharmaceutical materials science, and, more recently, the growing field of materials informatics.
Dr. Anand Krishnamurthy: Is the Senior Manager, Industry Process Consultant, BIOVIA, Dassault Systèmes. He has received his Ph.D. in Biophysics from the University of Madras in 2010. He joined BIOVIA in the year 2016 as the Manager- Technical Sales. Dr. Anand holds vast experience of more than 23 years in the Life Sciences Industry. His area of interest includes Computational chemistry, Modelling, and simulations in life science studies.
About Biovia
Biovia is a leading provider of Softwares for chemical, materials, and bioscience research for the pharmaceutical and biotechnology industry headquartered in the United States and is represented in Europe and Asia. BIOVIA's sophisticated simulation, modeling, and quality management systems enable customers to discover, design and provide innovative products globally. BIOVIA provides solutions to more than 2000+ companies in Life Sciences, Chemistry, Oil & Gas, Consumer Packaged Goods and delivers to Academic and Government entities.
Do not miss this amazing opportunity of meeting the experts on one platform. Register for the FREE Webinar today!
FREE Webinar Rasayanika & Altem Technologies