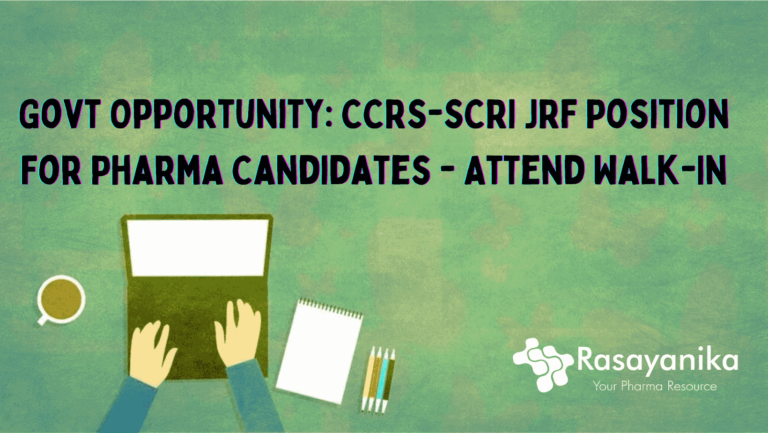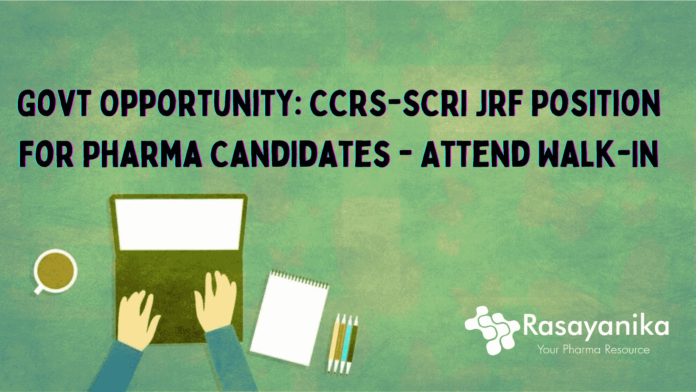 CCRS Pharma JRF Job – Attend Walk-In
CCRS Pharma JRF Job – Attend Walk-In. Discover an exciting opportunity at SCRI! We invite BPharma/M Pharma (Pharmacology) candidates to join our prestigious institute as Junior Research Fellows (JRF). Attend the walk-in and embark on a rewarding research journey with us.
This job expires in
-2
Days
-3
Hours
-48
Minutes
-5
Seconds
Staff Requirement for the IMR Project
Junior Research Fellow (Pharmacology)
Job Title: Junior Research Fellow (Pharmacology)
Number of post: One
Name of the IMR project: "Pre-Clinical Chronic Toxicity (180 days) of Gowri Chinthamani
Chenduram"
Age limit: Not more than 28 years as on the date of interview. Age relaxation shall be applicable as per GOI rules.
Duration: 18 months.
Walk-In Details:
Date of the Walk-in Interview: 21.09.2023
Time: 10.30 a.m
Venue: Siddha Central Research Institute, Anna. Govt. Hospital Campus, Arumbakkam,
Chennai-600 106.
General Terms and Conditions:
The above position is purely on temporary basis and co-terminus with the project The selected candidate will not have any right for claiming regular positions being vacant on a later date at this institute/council.
All candidates are instructed to bring two passport-size photos, original educational and experience certificates, and any Identity proof along with self-attested copies of all certificates.
Pay: Rs. 31,000/- p.m. + admissible HRA(Consolidated)
Essential Qualification:
B.Pharm /B.V. Sc /M.Sc. in Biochemistry/Biotechnology/Zoology/M.Pharm (Pharmacology) from a recognized University with experience in handling of
laboratory animals.
Desirable:
Qualified NET/ GATE/ GPAT.
Experience in Handling of Laboratory animals (rats).
At least one publication in science citation index journal.
Possible interview Q & A that can help you:
1.Question: What motivated you to pursue a career in pharmaceutical research, and how does this JRF position align with your career goals?
Answer: I have always been passionate about pharmaceutical research because it allows me to contribute to the development of safe and effective medicines that can improve people's lives. This JRF position aligns perfectly with my career goals as it offers an opportunity to gain hands-on experience in pre-clinical toxicity studies, which is a crucial aspect of drug development.
2. Question: Can you describe your understanding of the goals and significance of the "Pre-Clinical Chronic Toxicity (180 days) of Gowri Chinthamani Chenduram" project?
Answer: This project aims to evaluate the long-term safety of Gowri Chinthamani Chenduram through a 180-day chronic toxicity study. The significance lies in generating comprehensive data on potential adverse effects, which is essential for determining the compound's safety profile and its potential for further clinical development.
3.Question: What specific laboratory techniques or methodologies are you familiar with that will be valuable in conducting pre-clinical chronic toxicity studies?
Answer: I have experience with various laboratory techniques, including but not limited to hematological and biochemical assays, histopathological examination, and animal handling and observation. These skills will be essential in carrying out the necessary assessments during the study.
4.Question: How do you plan to ensure the ethical treatment of animals in this 180-day pre-clinical study?
Answer: Ethical treatment of animals is paramount. I plan to strictly adhere to the established ethical guidelines and protocols for animal research. This includes providing proper housing, nutrition, and care for the animals, as well as minimizing their distress and discomfort throughout the study.
5. Question: In your opinion, what are some potential challenges that might arise during a 180-day pre-clinical toxicity study, and how do you plan to address them?
Answer: Long-term studies can present challenges such as maintaining the health and well-being of the animals, ensuring data integrity over an extended period, and managing unexpected issues. To address these challenges, I plan to work closely with the research team, maintain meticulous records, and adapt our approach as needed to ensure the study's success while prioritizing the welfare of the animals involved.
Editor's Note: CCRS Pharma JRF Job – Attend Walk-In. Subscribe to Rasayanika for the latest chemistry and Pharma job openings, follow us on Facebook and Telegram and subscribe to our youtube channel for the latest updates on chemistry and Pharma jobs and much more.