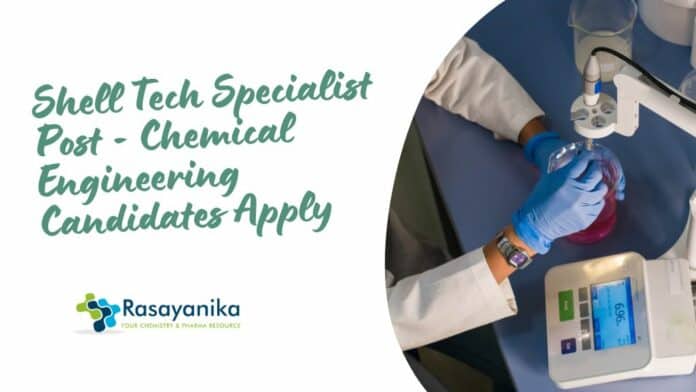 Shell Tech Specialist Post Shell Hiring Tech Specialist. Process safety job opening 2023, chemical engineering job opening 2023, bsc job opening 2023, bsc chemical engineering job opening 2023, Intrested and eligible candidates may check out all the details on the same below:
Job Title: Tech Specialist – Process Safety
Reference ID R125017
Location: Chennai
Skills & Requirements
Bachelor's degree in Chemical Engineering or equivalent.
More than 8 years' experience in Oil and Gas industry is desirable with considerable experience as a Process Engineer.
Direct process safety engineering experience is preferred.
Relevant Process Safety and/or Process Engineering experience in the Refinery & Chemicals Industry
Extensive experience in Relief Valve sizing and Pump Hydraulics calculations
QRA and dispersion modelling experience
Familiarity with process simulation soft wares – Unisym, Hysis, Flarenet
Familiarity with both in-house (e.g. HEMP, FRED etc.) and Industrial (e.g. PHAPro, HAZOP, etc.) risk management tools.
Knowledge of relevant codes and standards, including API 520/521, API 537, API 754,
DEPs, ANSI B31.3, CSA Z662, ASME Pressure Vessel Code, EUB60, CEPA and relevant ISO Standards
Job Purpose:
The Process Safety Specialist is an experienced process engineer with relevant experience and domain knowledge on Process Safety and Design.
The Process Safety Engineer work
closely with Operations, Engineering and Maintenance personnel to prevent Process Safety top events i.e. Loss of Primary Containment and Loss of Control. The Staff Process Safety Engineer is expected to be diligent in proactively identifying and informing supervisors and Asset Leadership teams of potentially hazardous situations
Key Accountabilities:
Provide Expertise in equipment safeguarding, Pumps, Tanks, Vessels etc. Ensuring Safeguarding manuals are current and up to date.
Knowledge of design principles for flare systems. Verification of overpressure relief scenarios and assurance on adequate protection i.e. verification of PRV, PVV capacities.
Advise on the Impairment of Safeguarding Devices and Car Seal Management
Provide assurance and guidance on Statement of Fitness-Pre-startup Safety (SoF-PSSRs) for plant changes, major maintenance, turnarounds and projects.
Estimation of LOPC amounts for complex API Process Safety Events
Act as Technical Safety Reviewer and PHA Facilitator for Plant Changes (MoCs) i.e. HAZOPs, What-Ifs etc
Apply Process Safety Principles to Facility Siting, and act as a resource.
Act as focal point for Process Safety Safe Work Practices
Apply the risk-based decision-making process to ensure that hazards are controlled to As Low As Reasonably Practicable (ALARP)
Coordinate annual Asset AIPSM ALARP Review and continuously engage members of the Asset on plant's cumulative risk
Advise on risk assessment and ranking of HiPo incidents using the RAM matrix
Apply knowledge and awareness of Learning from Incidents (LFI) process and responsibilities, in reporting, investigation or incident follow-up
Interpret, review and/or critique critical diagrams such as cause and effect, mechanical flow, piping and instrumentation (P&ID) and mass balance.
Lead Statement of Fitness Reviews when necessary
Apply knowledge of project procedures to address HSE/SD in project development and implementation
Assist Operations and project personnel to establish safe distances between equipment and orientation, buildings or processes
Advise on design, and implementation of fire, gas and smoke detection.
Advise on proper design and implementation of active and passive fire protection systems.
Identify and model Fire Explosion and Dispersion models using computer programs such as Fire Release Explosion and Dispersion (FRED).
Knowledge of relevant codes and standards, including API 520/521, API 537, API 754, DEPs, ANSI B31.3, CSA Z662, ASME Pressure Vessel Code, EUB60, CEPA and relevant ISO Standards
Shell Tech Specialist Post Looking for latest chemistry and Pharma job openings, follow Rasayanika Facebook and Telegram and subscribe to our youtube channel for the latest updates on chemistry and Pharma job