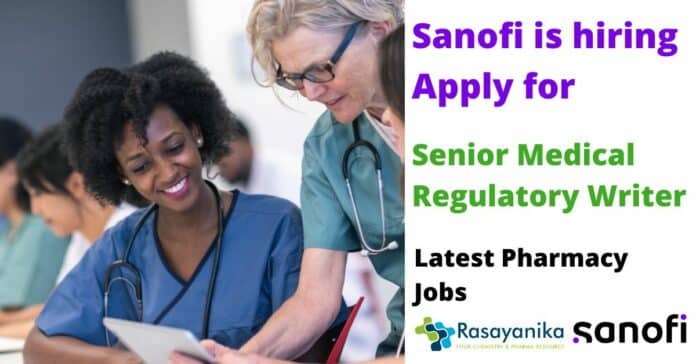 Senior Medical Regulatory Writer at Sanofi. Latest Pharmacy Jobs. Interested candidates can check the details below and can apply online.
Job role: Senior Medical Regulatory Writer
Job ID: R2666982
Location: Hyderabad
Employment type: Full time
About us:
Sanofi is dedicated to supporting people through their health challenges. We are a global biopharmaceutical company focused on human health. We prevent illness with vaccines, provide innovative treatments to fight pain and ease suffering. We stand by the few who suffer from rare diseases and the millions with long-term chronic conditions. With more than 100,000 people in 100 countries, Sanofi is transforming scientific innovation into healthcare solutions around the globe. Discover more about us visiting www.sanofi.com 
Mission Statements
Write and/or edit under guidance high quality clinical and safety documents, medical section of Periodic Benefit-Risk Evaluation Report, addendum to clinical overview, Clinical Study Reports (CSR), ID Cards, Investigator brochure, clinical evaluation report, Briefing packages, Medical section of Clinical Trial Application.
Delivery of high-quality medical documents in time and in compliance with internal and external standards
Participate in planning of analysis and data presentation to be used, initially in conjunction with mentoring medical writer.
Develops and maintains TA expertise
Reviews content created by peers writers
Qualifications
Advanced degree in life sciences/ pharmacy/ similar discipline or medical degree (Ph.D – Master in science)
Excellent English language knowledge
Requirements of the job
>5 years of experience in regulatory writing for the pharmaceuticals / healthcare industry
At Sanofi diversity and inclusion is foundational to how we operate and embedded in our Core Values. We recognize to truly tap into the richness diversity brings we must lead with inclusion and have a workplace where those differences can thrive and be leveraged to empower the lives of our colleagues, patients and customers. We respect and celebrate the diversity of our people, their backgrounds and experiences and provide equal opportunity for all.
Possible interview questions with answers for the role of Medical Regulatory Writer at Sanofi:
1:Can you describe your experience in writing and editing clinical and safety documents in the pharmaceutical industry?
Answer: Certainly. I have over 7 years of experience in regulatory writing within the pharmaceutical sector. Throughout my career, I have successfully written and edited a variety of clinical documents, including Clinical Study Reports (CSRs), Investigator Brochures, Clinical Trial Applications, and Periodic Benefit-Risk Evaluation Reports. My experience has honed my ability to translate complex scientific and medical information into clear and compliant documents that meet internal and external standards.
2:How do you ensure the quality and accuracy of your medical writing deliverables while adhering to tight timelines?
Answer: Ensuring quality and accuracy in medical writing is paramount. I adopt a meticulous approach by thoroughly researching the therapeutic area, reviewing clinical data, and collaborating closely with subject matter experts. I also leverage regulatory guidelines and internal templates to maintain consistency. To manage tight timelines, I prioritize tasks, create detailed project plans, and effectively communicate with cross-functional teams. Regular peer reviews and internal quality checks also contribute to the high-quality output.
3:Can you share an example of a challenging document you've worked on and how you addressed any complexities or hurdles during the writing process?
Answer: Of course. I once worked on a complex Clinical Evaluation Report that required synthesizing data from multiple clinical trials into a cohesive document for regulatory submission. To address this challenge, I conducted extensive cross-referencing of data points, collaborated closely with statisticians and medical experts, and used visualization tools to present complex data more comprehensively. This approach ensured the accuracy of information and facilitated regulatory approval.
4:How do you stay updated with the evolving regulatory guidelines and requirements in the medical writing field?
Answer: Staying current with regulatory guidelines is vital. I have a proactive approach to continuous learning, attending industry conferences, webinars, and workshops. I also engage with professional associations, such as the Drug Information Association (DIA), and subscribe to relevant newsletters and journals. Additionally, I actively participate in internal knowledge-sharing sessions and cross-functional discussions to remain updated on any changes that impact our medical writing practices.
Stay tuned on RASAYANIKA for more chem and pharma job updates.