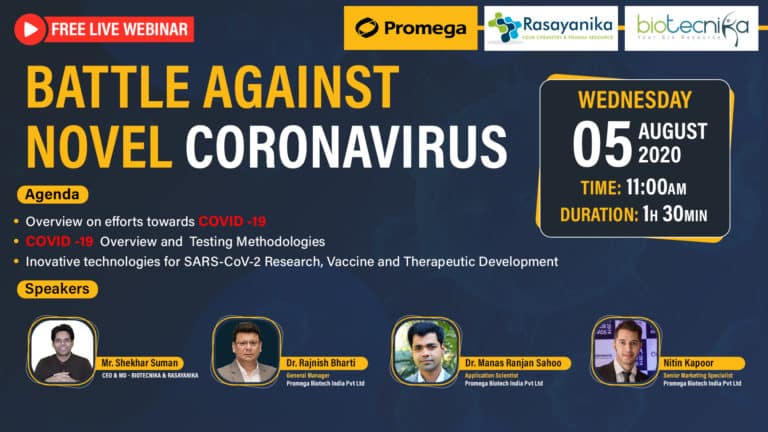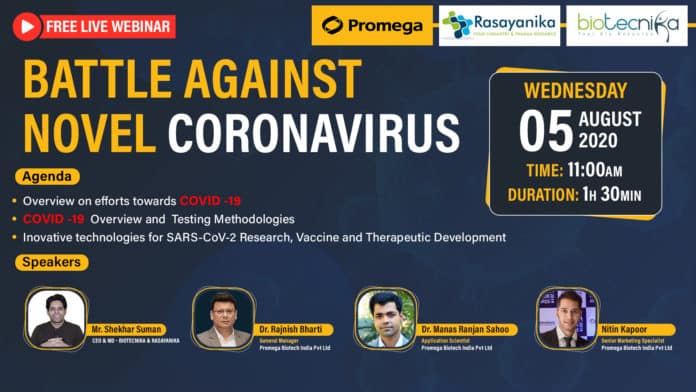 Free Webinar On Battle With Novel Coronavirus
Rasayanika & Promega Biotech India Pvt. Ltd.
As we all witnessed a  0.1μm virus brought the entire world to a standstill! And researchers worldwide agree that this might be the beginning of the emergence of many new viruses and viral infections.
In this battle against the novel Coronavirus researchers and companies worldwide are racing against time to develop new testing methods, develop drug treatments, accelerate vaccine development and find a solution to curb the spread and provide effective treatment methods. Governments across the globe have now recognized the need for quality research in the field of life sciences.
Rasayanika along with experts from Promega Biotech India Pvt. Ltd brings you a free webinar on "Battle Against Novel Coronavirus".
Come join the experts in the discussion on the need for the hour i.e, Fast and effective testing methods, drug and vaccine development. Also, learn how Promega Biotech India Pvt. Ltd is supporting the scientific community in this battle.
Free Webinar On Battle With Coronavirus
Webinar Details:
Date: 5th August 2020
Time: 11 AM IST
Mode Of Webinar: Online
Duration: 2 Hrs Approx
Registration Fee: Free of cost for all Rasayanika Members & Subscribers
Subject: All Bioscience / chemistry / pharma Professionals & Students
Speakers: Dr. Rajnish Bharti, Dr. Manas Ranjan Sahoo, Mr.Nitin Kapoor & Mr. Shekhar Suman
*e-certificates will be given to all who attend the webinar until the end*
LEARN MORE ABOUT THE SPEAKERS
Rajnish Bharti
General Manager – Promega Biotech India Pvt Ltd
Dr. Rajnish Bharti, a keen planner & strategist, is the General Manager of 'Promega BioTech India', which is a global leader in imparting innovative solutions and technical support to life scientists in academic, industrial and government set-ups. Promega Biotech India Pvt. Ltd., established in 2014, is a subsidiary of 'Promega Corporation' operating remarkably for the last 42 years.
Dr. Manas Ranjan Sahoo
Application Scientist – Promega Biotech India Pvt Ltd
Associated with Promega from July 2015, after completion of the Ph.D. from National Centre for Cell Science, Pune. Experienced in sharing technical know-how, providing application support in the domains of genomics, proteomics, genetic identity, molecular diagnostics, cell-based assay, and drug discovery for academics and industry. He was awarded University Medal for MSc in Biotechnology at Thapar University. He published the Ph.D. work deciphering a novel role for Nup358 in the miRNA pathway in EMBO Reports. He is one of the eminent speakers for the free webinar on the battle with coronavirus.
Nitin Kapoor
Senior Marketing Specialist – Promega Biotech India Pvt Ltd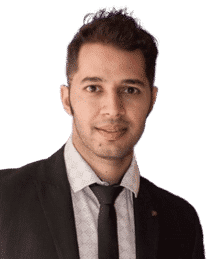 Joined Promega in Oct 2017, Nitin Kapoor has 9 years of expertise in Sales and Marketing in Life Sciences, Pharma/ Biotech, Molecular Diagnostics, and Forensic domain. His
specialties are Product management, Salesforce effectiveness, Market Research, Brand positioning, and Competitor analysis. He Has worked with companies like Promega, Qiagen, ThermoFisher Scientific, and GE Health care. He is an MBA Biotech Gold Medallist from Amity University Noida. He is also an Author for Book: 'Issue Related with Marketing of GM Food' LAP publisher and Co-Author for Research paper on 'Marketing of Nanobiogarments' in IJMRA, Volume 2, Issue 4.
'This new virus leaves us no choice but to work together'-UNESCO
About Promega
Originally, founded in 1978 in Madison, Wisconsin, and USA, Promega has branches in 16 countries and more than 50 global distributors are serving 100 countries with a diverse portfolio of more than 4,000 products covering the fields of Genetic Identity, Genomics, Protein analysis and expression, cellular analysis and drug discovery.
Promega Biotech India Private Ltd., a subsidiary of Promega Corporation, became fully operational on August 1, 2014. Located in New Delhi, India, the branch provides customers with industry-leading services and support and rapid access to products and technologies. For more information about Promega, visit www.promega.com
This webinar is a platform for every student and professional to learn and share the knowledge.
Free Webinar On Battle Against Novel Coronavirus
Come join us on 5th August 2020!
Call 1800-1200-1818 / 080-5099-7000 for more details.