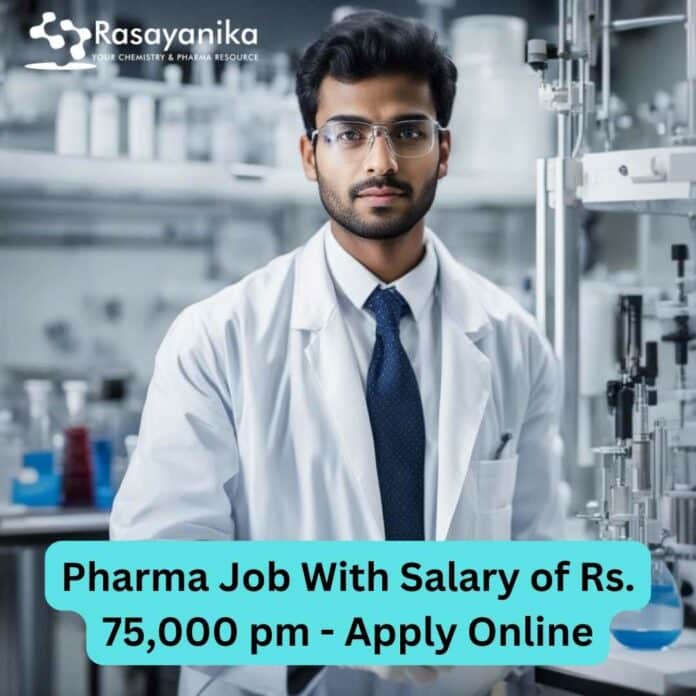 BIRAC Pharma Job With Salary of Rs. 75,000 pm – Apply Online
BIRAC Pharma Job With Salary of Rs. 75,000 pm – Apply Online. BIRAC Careers. Pharmacy job openings. Pharma candidates are encouraged to apply online. Interested and eligible applicants can check out all of the details on the same below
This job expires in
-59
Days
-17
Hours
-19
Minutes
-47
Seconds
Vacancy Ref. No: BIRAC/VAC/92/SEPT-2023-CON
Biotechnology Industry Research Assistance Council (BIRAC) is a not-for-profit Section 8, Schedule B, Public Sector Enterprise, under Department of Biotechnology (DBT), Government of India as an Interface Agency to strengthen and empower the emerging Biotech enterprise to undertake strategic research and innovation, addressing nationally relevant product development needs.
As a Government of India enterprise, BIRAC endeavors to bring professionalism, transparency and efficiency into its functioning while providing support to catalyse the transformation of the emerging Indian bio-economy. It has a very special and unique governance structure and a very carefully developed workforce strategy that includes an enabling work environment, a work culture that is caring, fosters excellence and hires the most talented and professional workforce.
BIRAC is inviting applications from qualified, experienced and ambitious professionals for the following position:
Vacancy Ref. No. BIRAC/VAC/92/SEPT-2023-CON
Position: Associate/Principal Consultant –
; Incubation
Position Code: CON-26
No. of Position: 02 (Two)
Duration: The engagement is contractual initially for a period of one year and extendable based on performance and need of Department.
Age Limit: As on closing date of vacancy:
Associate consultant: 45 Years
Job Description: BIRAC has setup 75 Bioincubation centres in the country. This is an expanding Incubation network that facilitates Biotech Startups and plays a critical role for the Innovation ecosystem. The consultant would support and work with Incubation team.
Reporting System: The Consultant shall report to Head-SPED.
How to Apply:
Employees of Central / State Govts and or other CPSEs should send a copy of their applications through proper channel in a sealed envelope at below mentioned address:-
Head [Human Resource & Administration]
Biotechnology Industry Research Assistance Council (BIRAC)
1st Floor, MTNL Building
9, CGO Complex, Lodhi Road
New Delhi-110003
Last date of submission of application: 02nd October 2023.
Notwithstanding anything contained herein or elsewhere; the decisions taken by BIRAC shall be binding upon all concerned.
In case of any query, drop an email to: [email protected]
Key Responsibilities:
Engage with stakeholders involved in S&T incubation especially biotech incubation to
understand & identify ecosystem gaps and growth opportunities.
Work with Incubation team lead at BIRAC for selection, identification and operationalization of New BioNEST incubators
Work towards timely dispersal of grants and monitor utilization.
Support Incubation team for operational activities, monitoring, online portal updates.
Organise Site Visits for technical due diligence of the proposals along with the area experts.
Assist Incubation Lead in organizing stakeholder events
Contribute to team's objectives and targets through seamless collaboration. Adhere to internal and external compliance responsibilities in a timely manner.
To assist senior officers in any other work assigned from time to time.
Domestic Travel will be involved.
Qualifications & Experience
Essential Qualifications:
Associate consultant: M.Sc. / M. Tech/ 4-year Bachelors professional degree program in Life Sciences/ Bio-medical sciences/Pharmacy/ any other allied Biotechnology areas from a recognized institute.
Experience:
Associate consultant: Between 3 to 10 years with a minimum 2 years of experience in entrepreneurship development/ incubation activities in a public or private organization.
Consolidated Fee: The consolidated fee for an Associate Consultant shall be Rs.75,000/- Per month
Here are five possible interview questions along with their answers for the position of Associate/Senior Consultant – Investment at BIRAC:
1. Question: Can you provide an example of a project you've managed under an investment scheme? What were the key challenges you faced, and how did you overcome them?
Answer: In my previous role, I managed a project focused on the development of a novel pharmaceutical product. One of the key challenges was securing the necessary financial documents from collaborating companies. To overcome this, I established clear communication channels, worked closely with legal and financial departments, and set deadlines for document submission. This proactive approach ensured that we had all required documents in a timely manner.
2. Question: How do you ensure that projects under your management adhere to prescribed guidelines and milestones? Can you share a specific instance where you had to enforce compliance?
Answer: Ensuring compliance is vital. I use a systematic approach, including regular progress reviews, site visits, and evaluations by technical experts. In one project, we encountered a deviation from the project timeline. I immediately convened a meeting with all stakeholders, identified the root causes, and implemented corrective actions to get the project back on track while ensuring adherence to guidelines.
3. Question: Project appraisal is a crucial aspect of your role. How do you assess the eligibility and potential of a project for investment?
Answer: Project appraisal involves a comprehensive evaluation. I start by reviewing project proposals, assessing alignment with investment goals. I then invite expert opinions, organize site visits, and conduct Technical Expert Committee (TEC) meetings. During one such appraisal, a project seemed promising but lacked a clear IP strategy. I worked with the team to refine the strategy before approval.
4. Question: Collaboration with different departments is essential for successful project management. How do you ensure effective coordination between technical, legal, IP, and finance departments within BIRAC?
Answer: Effective coordination is critical. I regularly engage with each department, maintain open lines of communication, and conduct cross-functional meetings. In a recent project, there were complex IP issues. I facilitated discussions between the legal and technical teams, resulting in a mutually beneficial solution that protected our interests.
5. Question: Can you provide an example of your contribution to scientific analysis and problem-solving within a project?
Answer: Certainly. In a research project focused on developing a new agricultural technology, I identified a critical gap in the understanding of a specific biological process. Through collaboration with researchers, we conducted additional experiments and uncovered a breakthrough. This not only advanced the project but also contributed valuable scientific knowledge to the field.
These questions and answers should help assess the candidate's qualifications and experience for the role of Associate/Senior Consultant – Investment at BIRAC.
Editor's Note: BIRAC Pharma Job 2023. BIRAC Pharma Job With Salary of Rs. 75,000 pm – Apply Online. Subscribe to Rasayanika for the latest chemistry and Pharma job openings, follow us on Facebook and Telegram and subscribe to our youtube channel for the latest updates on chemistry and Pharma jobs and much more.