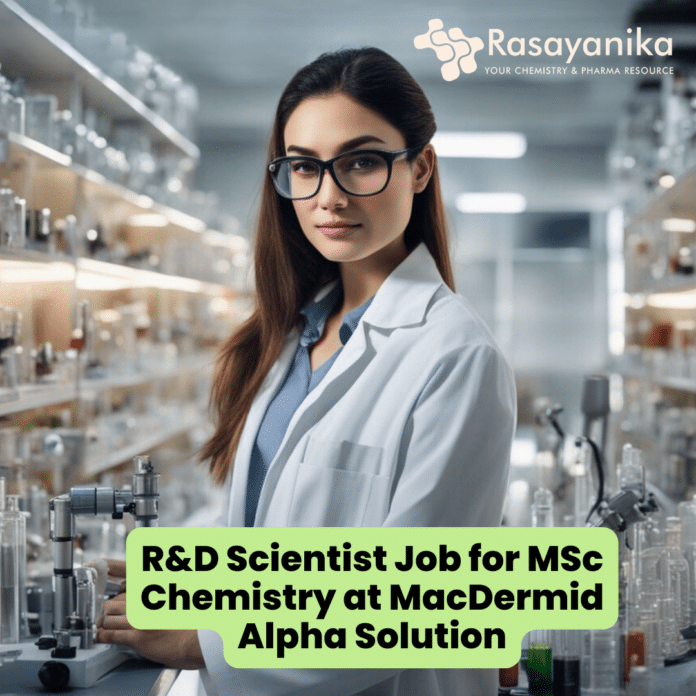 R&D Scientist Job for MSc Chemistry at MacDermid Alpha Electronics Solutions
R&D Scientist Job for MSc Chemistry at MacDermid Alpha Electronics Solutions. Interested Candidates check out the details below and  Apply Online
Job title: R&D Scientist II
Job Category: SAS R&D
Job Type: Full Time
Job Purpose
Analytical chemists analyze samples using a range of techniques such as electro-chromatography, high performance liquid chromatography, spectroscopy and various other conventional techniques.
The Analytical Chemist will be using a range of software, techniques and equipment to carry out day-to-day analysis to support all customers in India.
Job Responsibilities
Assist in analytical protocol development, design and implementation.
Responsibilities as stated in Good Laboratory Practice regulations.
Data interpretation and report writing.
Establish test protocols and corresponding SOP's.
Develop experimental design and supervise implementation of experiments (tests).
Ensure all experimental data is properly recorded and that observations of unanticipated responses of the test system are accurately recorded and verified.
Ensure tests are conducted in accordance with the test protocol and SOP.
Run instruments and/or train analysts in instrumentation. Check instrument conditions and calibrations.
Interpretation, calculation, analysis, documentation and reporting of results.
Any other duties assigned.
Requirements & Qualifications
A masters degree in Chemistry/Analytical Chemistry and Extensive bench experience with various analytical instruments, especially ICP, HPLC, IC, and XRF is essential. Clear knowledge of all ISO/GLP regulations is required.
Excellent knowledge of QMS, OHS and EMS and other associated Quality systems.
Training in Quality related fields are advantageous.
Education
Here are five Possible interview questions and sample answers for the R&D Scientist II position at MacDermid Alpha Electronics Solutions:
1. Can you describe your experience with analytical protocol development and implementation?
Sample Answer: In my previous role as an Analytical Chemist at XYZ Laboratories, I was responsible for assisting in the development and implementation of analytical protocols. I collaborated with a team to design protocols for various analytical techniques, including HPLC and spectroscopy. I ensured that these protocols complied with Good Laboratory Practice (GLP) regulations and ISO standards. Additionally, I maintained a meticulous record of all experimental data to ensure accuracy and compliance.
2. How do you stay updated with the latest advancements in analytical chemistry techniques and equipment?
Sample Answer: I believe in continuous learning and staying updated with the latest advancements in analytical chemistry. I regularly attend industry conferences, workshops, and webinars to keep myself informed about new techniques and equipment. I also subscribe to relevant scientific journals and publications to stay current with research trends. This commitment to learning allows me to bring the latest innovations to my work and adapt them to benefit the organization.
3. Could you provide an example of a complex analytical problem you've encountered in your previous role and how you approached solving it?
Sample Answer: In my previous role, we faced a challenge in identifying trace contaminants in a complex chemical sample. To address this, I designed a comprehensive experimental plan that involved using advanced analytical instruments, including ICP and HPLC. I also collaborated with colleagues to develop a customized sample preparation technique. Through systematic experimentation and data analysis, we successfully identified the contaminants and developed a solution to mitigate their presence. This experience highlighted my problem-solving skills and ability to work effectively in a team.
4. How do you ensure compliance with quality management systems (QMS), occupational health and safety (OHS), and environmental management systems (EMS) in your work?
Sample Answer: Compliance with QMS, OHS, and EMS is crucial in my work. I ensure compliance by strictly adhering to established standard operating procedures (SOPs) and protocols. I am well-versed in these systems and regularly conduct internal audits to identify areas for improvement. Additionally, I actively participate in training related to quality and safety to stay updated with any changes in regulations. By maintaining a strong focus on compliance, I contribute to a safe and efficient work environment.
5. Can you provide an example of a time when you had to train colleagues or team members in instrumentation?
Sample Answer: Yes, during my tenure at my previous organization, I was tasked with training new team members in the operation of high-performance liquid chromatography (HPLC) instruments. I developed a comprehensive training program that covered instrument setup, calibration, sample preparation, and data analysis. Through hands-on training sessions and providing guidance on troubleshooting common issues, I ensured that the team members became proficient in using HPLC for their analytical work. This training contributed to the team's efficiency and the successful completion of projects.
Subscribe Rasayanika for more Chemistry and Pharma job updates.