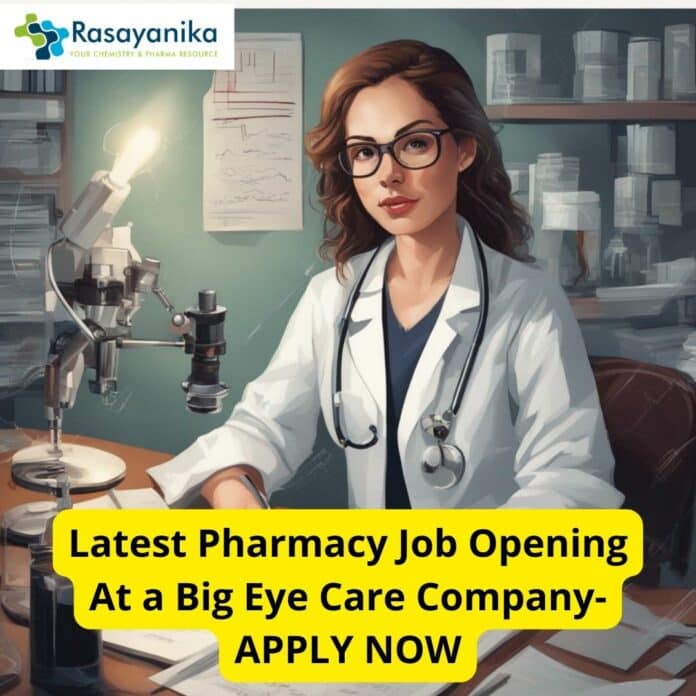 Latest Pharmacy Job
Latest Pharmacy Job At Alcon-Scientific Medical Writer Clinical R&D-Interested candidates can check the details below and apply online.
Job role: Scientific Medical Writer Clinical R&D
Job ID: R-2023-26985
Job location: Bangalore, India
Job type: Full time
Key Responsibilities:
Writing Scientific Content: Produce high-quality scientific content, including journal articles, research papers, short communications to journals, narrative reviews on a specific topic (identified by the manager), case studies, conference abstracts, conference presentations etc. Present information in a clear, concise, and scientifically accurate manner, adhering to relevant publication guidelines and regulations.
Communication and Collaboration: Work closely with cross-functional teams, including global clinical project leads in Surgical, Vision Care, and Pharma Franchises. Liaise with external and internal key opinion leaders, publication leads and external vendors (as needed) to gather information and collaborate on content development needed for the publication.
Review and Editing: Collaborate with subject matter experts, researchers, and medical professionals to review and edit manuscripts, abstracts, conference presentation etc. Ensure consistency, accuracy, and adherence to the target audience's level of understanding.
Regulatory Compliance: Maintain knowledge of relevant industry regulations, such as Good Publication practice, ICJME etc. and other ethical and legal requirements to ensure compliance in medical writing.
Medical Training materials for MSLs:
Create content for internal customers for training on the surgical and vision care medical products – developing content to effectively communicate medical and scientific information to a broader audience in a simple way. Efficiently use design elements and balance it against the content that needs to be delivered in the presentations.
Quality Assurance: Ensure the accuracy, consistency, and integrity of all written materials, maintaining high standards for grammar, spelling, and punctuation.
Research and Analysis: As applicable, collaborate with the clinical project leads and help with research/analysis of data on specific clinical topics, conduct mini-reviews as needed in PubMed and other databases, collate key data from various publications and put together summaries/technical reports
Qualifications and Skills:
A degree in medicine (ophthalmology/optometry preferred), pharmacy, life sciences, or a related field. Qualifications in medical writing or communication are a plus.
Strong scientific background and knowledge of ophthalmic medical devices and drugs.
Excellent writing and communication skills, with the ability to translate complex scientific concepts into understandable language for different audiences.
Demonstrated experience in writing/creating scientific content for medical communications such as posters/papers at scientific conventions and evidence of writing (as primary author) or providing editorial assistance for peer reviewed publications.
Strong knowledge of various reference styles (e.g., AMA, APA) and publication guidelines (e.g., ICMJE).
Proficiency in using scientific literature databases and reference management tools.
Attention to detail and ability to meet tight deadlines.
Critical thinking and problem-solving abilities for accurately interpreting and presenting scientific data.
Alcon is an Equal Opportunity Employer and takes pride in maintaining a diverse environment. We do not discriminate in recruitment, hiring, training, promotion or other employment practices for reasons of race, color, religion, gender, national origin, age, sexual orientation, gender identity, marital status, disability, or any other reason.
Possible interview questions with answers for the job role of Scientific Medical Writer Clinical R&D at Alcon:
1:Can you describe your experience in writing scientific content for medical publications and how you ensure adherence to publication guidelines and regulations?
Answer: Certainly. I have a strong track record of producing high-quality scientific content for various medical publications. In my previous role, I authored journal articles, research papers, and conference abstracts. To ensure adherence to publication guidelines, I always begin by thoroughly researching and understanding the specific guidelines set forth by organizations like ICMJE. I pay close attention to formatting requirements, ethical considerations, and citation styles such as AMA and APA. Additionally, I collaborate closely with key opinion leaders and subject matter experts to gather insights and ensure the accuracy and compliance of the content throughout the writing process.
2:How do you approach the task of simplifying complex scientific concepts for different target audiences, such as medical professionals and non-experts?
Answer: Simplifying complex scientific concepts is a crucial aspect of my role. I start by breaking down the information into digestible segments and avoiding jargon whenever possible. For medical professionals, I use technical terminology appropriately, providing detailed explanations when needed. When communicating with non-experts, I focus on clarity and use plain language, supplemented with visual aids if necessary. It's essential to strike a balance between scientific accuracy and accessibility, ensuring that the content effectively conveys the message to the intended audience.
3: Can you share an example of a challenging situation where you had to collaborate with cross-functional teams, and how did you handle it to ensure the project's success?
Answer: Certainly. In my previous role, I encountered a situation where we had a tight deadline for a conference presentation, and the data from different clinical project leads in Surgical, Vision Care, and Pharma Franchises needed to be integrated seamlessly. To ensure success, I initiated regular cross-functional meetings to align on the content and timeline. I facilitated open communication among team members and addressed any concerns promptly. By maintaining a collaborative approach, we were able to meet the deadline and deliver a cohesive presentation that met the expectations of all stakeholders.
4: How do you stay updated on industry regulations, such as Good Publication Practice and ICJME, and ensure compliance in your medical writing projects?
Answer: Staying updated on industry regulations is a top priority for me. I regularly review industry guidelines and attend relevant workshops and webinars. I also make use of reputable sources and publications related to medical writing compliance. In addition, I maintain a strong network with colleagues and experts in the field who can provide insights and updates on regulatory changes. When working on a project, I cross-reference the latest guidelines and ensure that every aspect of the content, from ethical considerations to citation styles, aligns with the most current standards to maintain compliance.
These sample answers provide a foundation for interview questions in this role, but candidates should tailor their responses based on their unique experiences and qualifications.
Latest Pharmacy Job. Latest Pharmacy Job at Alcon-Scientific Medical Writer Job opening.
Stay tuned on RASAYANIKA for more chemistry and pharma related job updates.