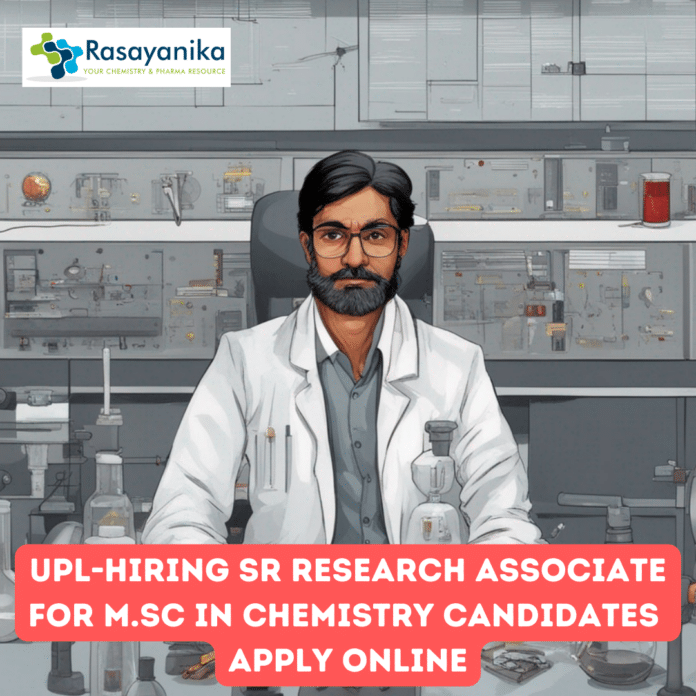 MSc Chemistry job opening 2023, Latest Research Associate at UPL, Interested and eligible candidates Apply online
Job Position: Sr Research Associate
Job Id:  7848
City: Maharashtra, India
Department Function:  R and D Chemistry
Employee Type:
Permanent Full Time
Seniority Level:  
Executive
UPL Limited (NSE: UPL & BSE: 512070, LSE: UPLL) is a global provider of sustainable agriculture products and solutions, with annual revenue exceeding $6bn. We are a purpose-led company. Through OpenAg®, UPL is focused on accelerating progress for the food system. We are building a network that is reimagining sustainability, redefining the way an entire industry thinks and works – open to fresh ideas, innovation, and new answers as we strive towards our mission to make every single food product more sustainable. As one of the largest agriculture solutions companies worldwide, our robust portfolio consists of biologicals and traditional crop protection solutions with more than 14,000 registrations. We are present in more than 130 countries, represented by more than 10,000 colleagues globally. For more information about our integrated portfolio of solutions across the food value chain including seeds, post-harvest, as well as physical and digital services, please visit upl-ltd.com and follow us on LinkedIn, Twitter, Instagram and Facebook.
Purpose of the Role:
To conduct research under guidance of Team Lead to optimize the cost and improve the yield to aid in the business growth of UPL
Job Responsibilities:
Literature search and evaluation of various formulation process and types and selection of equipment
Execution Plan for conducting experiments
Need to develop various agro formulations such as DF, EC, CS, SC etc.
Conducting day to day experiments as per Project Execution Plan
Process Optimization for cost effectiveness
Scale up of the Lab Process
Regular review of the results and take corrective actions
Timely reporting of results to the superiors
Documentation: Documentation of experimental results in std formats
Qualification For Research Associate at UPL:
MSc in Organic Chemistry
2-5 years of Experience of working in lab and handling various formulation equipment
Good understanding of formulation chemistry
Knowledge of analytical equipment's related to formulations
Possible interview questions may be asked for Research Associate at UPL
Can you explain your experience in handling various formulation equipment?Answer: Certainly, during my tenure at my previous role, I was responsible for operating and maintaining various formulation equipment such as [mention specific equipment names]. I have hands-on experience in ensuring the proper functioning of these machines and troubleshooting any issues that may arise.
How do you approach process optimization for cost-effectiveness in formulation development?Answer: Process optimization involves a systematic approach. I start by analyzing the existing formulation processes and identifying areas where improvements can be made. This includes evaluating raw material costs, production efficiency, and yield. I then implement changes or adjustments to streamline the process while keeping a close eye on cost-effectiveness. Regular monitoring and data analysis help in achieving the desired cost optimization.
Could you provide an example of a challenging formulation project you've worked on and how you overcame obstacles to achieve success?Answer: Certainly. In a previous role, I was tasked with developing a highly stable suspension concentrate (SC) formulation for a challenging active ingredient. The initial trials faced issues with sedimentation and particle size distribution. To overcome this, I collaborated with the analytical team to conduct in-depth particle size analysis and used specialized dispersing agents. Through iterative experimentation and adjustments, we successfully achieved a stable SC formulation with the desired particle size distribution, overcoming the initial challenges.
How do you ensure compliance with safety protocols and documentation standards in the laboratory?Answer: Safety and documentation are paramount in the laboratory. I ensure compliance by strictly following safety protocols, including wearing appropriate personal protective equipment and conducting experiments in controlled environments. Additionally, I maintain accurate and detailed records of all experiments, including observations, procedures, and results, following standardized documentation formats. This documentation is essential for traceability, quality control, and reporting purposes.
What analytical equipment related to formulations are you familiar with, and how do you utilize them in your work?Answer: I am familiar with a range of analytical equipment used in formulation development, including [mention specific equipment names]. These instruments are crucial for analyzing the physical and chemical properties of formulations. I use them to assess factors such as particle size distribution, stability, viscosity, and chemical composition. By utilizing these analytical tools, I can make data-driven decisions and fine-tune formulations for optimal performance.