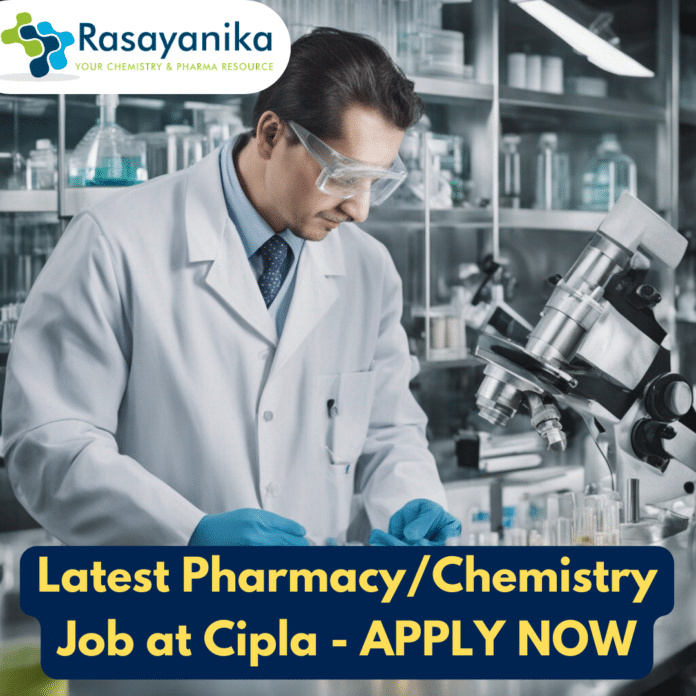 Latest Job at Cipla for Pharmacy / Chemistry Graduates – APPLY NOW
Role : API ADL Analyst
Requisition ID : 78929
Location : India – Maharashtra – Patalganga
Department : IPD
Employment Type : Permanent
Job Purpose :
Provide analytical support to API R&D, Regulatory Affairs, Manufacturing units and other analytical laboratories by method development of raw materials, intermediates and final API in order to ensure the drug development is carried out as per the project timelines and adheres to all regulatory requirements
Accountabilities : 
Provide method development and routine analysis under GLP environment to finalize the specification for standardization of the molecule and for final DMF submission
Investigate plant queries like OOS, OOT for quality control of drug substance and products in order to provide corrective actions and check samples for impurities
Characterize final API and impurities to prepare the test or working standards for routine laboratory purpose
Conduct the incubation and perform complete analysis of stability samples to conclude the storage, shelf life and packing conditions of the final API
Keep track of the latest innovation and applications which can be used with the existing techniques to investigate / resolve critical issues
Education Qualification : M.Sc. Chemistry /M
Pharma / PGD
Relevant Work Experience : Minimum 5 years of experience in pharmaceutical industry with analytical experience
Competencies/Skills : 
Communication Skills (clarity of thought, comprehension)
Likely potential for growth
Job / Product / Technical Knowledge / Pharma domain knowledge
Presentation & Interpersonal skills (If applicable)
Managerial or People Management skills
Safety awareness (If applicable)
Relevance of Previous Experience
Comprehension, Analytical & Problem solving abilities
Productivity & Result Orientation (If applicable)
Attitude
Qualification fitment
Sales drive (If applicable)
Personality traits (Individualistic / Team player, Out spoken, Maturity level etc.)
CHECK OUT RASAYANIKA FOR LATEST JOB AT CIPLA
Here are some interview questions and suggested answers for the Latest Job at Cipla – API ADL Analyst Post :
1. Can you explain your experience in method development for raw materials, intermediates, and final API in a pharmaceutical setting?
Answer: In my previous role, I was responsible for method development to ensure the quality and regulatory compliance of APIs. I collaborated with R&D, Regulatory Affairs, and Manufacturing units to develop and validate analytical methods. I have experience with various analytical techniques and a strong understanding of the importance of adhering to project timelines and regulatory requirements.
2. How do you handle investigations into out-of-specification (OOS) and out-of-trend (OOT) results in quality control? Can you provide an example of a challenging situation you encountered and how you resolved it?
Answer: When faced with OOS or OOT results, my first step is to conduct a thorough investigation. I review all relevant data, including lab records, equipment logs, and sample handling procedures. I work closely with cross-functional teams to identify the root cause, whether it's related to sample preparation, instrumentation, or other factors. Once the cause is identified, I collaborate with the team to implement corrective actions to prevent recurrence. For instance, I once encountered an OOS result due to a calibration issue with the HPLC instrument. We promptly recalibrated the instrument, reanalyzed the sample, and ensured the results met the specifications.
3. How do you characterize final APIs and impurities for the preparation of test or working standards?
Answer: Characterizing final APIs and impurities involves a comprehensive approach. I start by using various analytical techniques, such as HPLC, GC, NMR, and mass spectrometry, to identify and quantify impurities. Once identified, I prepare reference standards that can be used for routine laboratory testing. This process ensures that we have accurate reference materials to assess the quality of the final API.
4. Can you describe your experience with stability testing of APIs? How do you determine storage conditions and shelf life?
Answer: I have extensive experience in conducting stability studies for APIs. I follow ICH guidelines to design and execute these studies. To determine storage conditions and shelf life, I expose samples to different environmental conditions, such as temperature and humidity variations, and regularly analyze them over an extended period. By monitoring the degradation of the API under different conditions, I can establish the optimal storage conditions and estimate the shelf life accurately.
5. How do you stay updated on the latest innovations and applications in analytical chemistry for the pharmaceutical industry?
Answer: To stay updated, I actively engage in continuous learning. I regularly read scientific journals, attend conferences, and participate in webinars related to analytical chemistry and pharmaceuticals. I also network with industry professionals and collaborate with colleagues to share knowledge and best practices. This ensures that I am aware of the latest innovations and can apply them to investigate and resolve critical issues effectively.
ALL THE BEST !