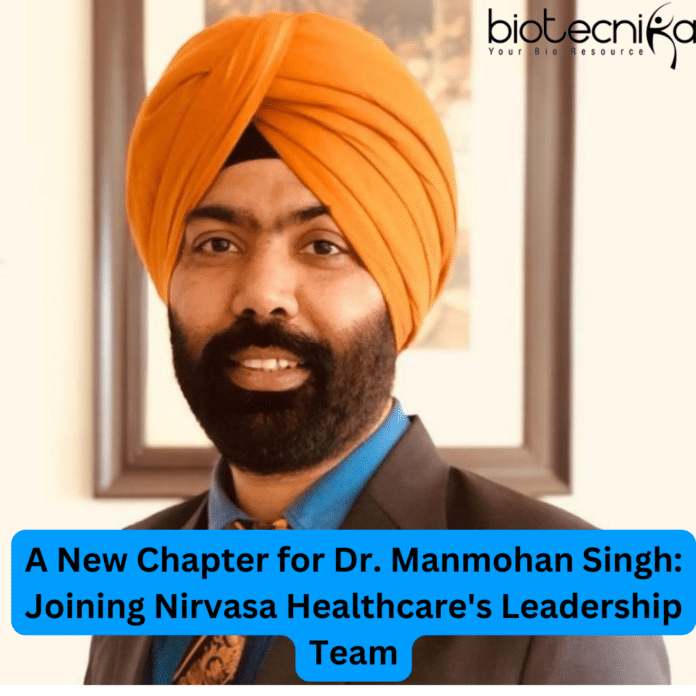 New Delhi: Nirvasa, a renowned Digital Health Clinic offering a wide range of specialized healthcare services, has made a significant announcement. Dr. Manmohan Singh, a distinguished figure in the world of public health, has assumed the role of Vice President of Nirvasa, at Medical Affairs. In this pivotal role, Dr. Singh will be instrumental in shaping and implementing the company's strategic initiatives pertaining to medical affairs.
Bringing an extensive wealth of expertise garnered over more than a decade in the field of digital healthcare, Dr. Singh is a valuable addition to Nirvasa. His leadership is expected to elevate the quality of personalized healthcare services offered by Nirvasa, ultimately benefiting patients across the country.
One of Dr. Singh's notable achievements is his successful track record in developing digital engagement strategies and programs aimed at addressing chronic health conditions. These include conditions like diabetes, bone health, coronary artery disorders, and women's health. Dr. Singh possesses expertise that covers a wide range of critical domains, encompassing epidemiology, medical affairs, clinical research, project management, digital therapeutics, collaboration, and effective communication. These skills will undoubtedly contribute to Nirvasa's efforts to expand and improve its digital healthcare services.
Amitoz Singh, Nirvasa's Founder & CEO, conveyed his
excitement regarding Dr. Singh's appointment, affirming, "We are thrilled to have Dr. Singh join our closely-knit Nirvasa team."With his extensive experience in the evolving digital
healthcare
landscape, he is an invaluable addition to our company. I am confident that Dr. Singh's expertise and vision will help us fulfill Nirvasa's mission of making high-quality personalized treatments and comprehensive care accessible to everyone in the country."
Dr. Singh's extensive background includes leading clinical research teams and actively generating real-world evidence across various critical domains, such as oncology, infections, cardiometabolic disorders, antimicrobial resistance, renal transplants, and the validation of medical devices and sensors. His active participation in phase I&II studies related to surgical devices, probiotics and prebiotics, nutrition, recurrent respiratory infections, and CAD registries underscores his unwavering dedication to advancing healthcare research.
Furthermore, Dr. Singh has authored numerous research papers and white papers for industry projects, further emphasizing his dedication to advancing medical knowledge. Additionally, he has played a pivotal role in validating medical devices, including portable ECGs, continuous glucose monitoring (CGM) systems, cellular glucometers, and tools related to depression.
Reflecting on his new position, Dr. Manmohan Singh, now serving as Vice President at Nirvasa, shared his enthusiasm, remarking, "I am thrilled to embark on this new journey and be part of a transformative healthcare initiative. Nirvasa's mission to revolutionize digital healthcare access is inspiring, and I eagerly anticipate collaborating with the talented teams of doctors, healthcare professionals, and technicians to turn this vision into a reality."
In conclusion, Dr. Manmohan Singh's appointment as Vice President of Medical Affairs at Nirvasa represents a significant step forward in the company's mission to provide high-quality personalized healthcare to the nation. His wealth of experience and dedication to advancing healthcare research will undoubtedly contribute to the growth and success of Nirvasa in the digital healthcare space.