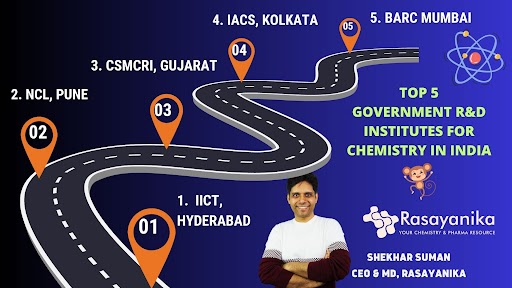 Chemistry plays a pivotal role in driving scientific progress, and government research and development (R&D) institutes are at the forefront of pushing the boundaries of chemical innovation in India. In this article, we will explore the top 5 government R&D institutes for Chemistry that are making significant contributions to the field of science and research.
IICT Hyderabad: The Indian Institute of Chemical Technology (IICT) located in Hyderabad, Telangana, is a premier R&D institute for Chemistry. Established in 1944, IICT has been a pioneer in the development of various chemical processes and technologies. Its researchers are renowned for their expertise in organic synthesis, catalysis, medicinal chemistry, and process engineering. The institute collaborates extensively with industries and academic institutions, fostering a strong ecosystem for scientific advancements.
NCL Pune: The National Chemical Laboratory (NCL) situated in Pune, Maharashtra, is another leading government institute excelling in chemical research. Since its inception in 1950, NCL has been dedicated to fundamental and applied research in various domains, including organic, inorganic, and materials chemistry. The institute's contributions to green chemistry and sustainable processes have garnered global recognition. NCL's state-of-the-art facilities and interdisciplinary approach attract talent from across the country.
CSMCRI, Gujarat: The Central Salt and Marine Chemicals Research Institute (CSMCRI) based in Bhavnagar, Gujarat, focuses on research in the fields of marine chemistry and salt-related industries. Established in 1954, the institute has made remarkable strides in the areas of desalination, marine biotechnology, and specialty chemicals. CSMCRI's strategic location along the Arabian Sea coast provides an ideal setting for exploring marine-derived resources and their applications.
IACS, Kolkata: The Indian Association for the Cultivation of Science (IACS) in Kolkata, West Bengal, is a prominent government R&D institute for Chemistry with a rich history dating back to 1876. Known for its pioneering work in theoretical and computational chemistry, IACS has contributed significantly to the understanding of molecular interactions and complex chemical systems. The institute's emphasis on fundamental research has led to groundbreaking discoveries and publications in prestigious scientific journals.
BARC, Mumbai: The Bhabha Atomic Research Centre (BARC) located in Mumbai, Maharashtra, is primarily focused on nuclear research and technology. While its core expertise lies in nuclear science and engineering, BARC also houses a robust Chemistry Division that investigates various aspects of nuclear and radiochemistry. The institute's contributions to radiopharmaceuticals, nuclear materials, and waste management are of paramount importance to both scientific advancements and societal needs.
Conclusion: India boasts a vibrant landscape of government R&D institutes dedicated to advancing the frontiers of Chemistry. These top 5 institutes – IICT Hyderabad, NCL Pune, CSMCRI Gujarat, IACS Kolkata, and BARC Mumbai – serve as pillars of excellence in scientific research. Their commitment to innovation, collaborative spirit, and state-of-the-art facilities make them vital players in driving Chemistry forward and contributing to the nation's progress on the global stage.
Looking for latest chemistry and Pharma job openings, follow Rasayanika Facebook and Telegram and subscribe to our youtube channel for the latest updates on chemistry and Pharma job