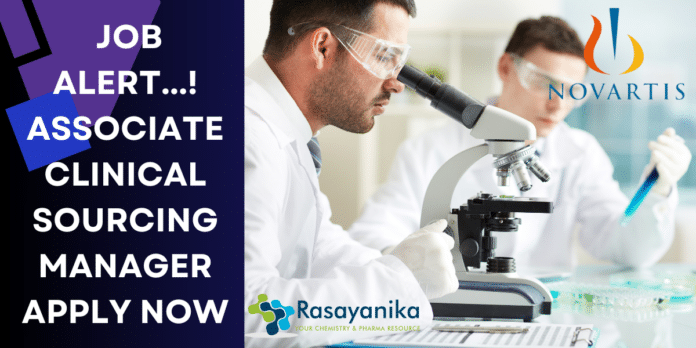 Latest Chemistry job at Novartis, check out all the details given the same below.
Job Role: Associate Clinical Sourcing Manager
Job Description:  Associate Clinical Sourcing Manager (Min B2 certification French / Italian)
Location : Hyderabad ;- #LI Hybrid
About the Role:
The Associate Clinical Sourcing Manager generates, negotiates and executes contracts to support the utilization of clinical Contract Research Organizations (CROs) for Novartis Clinical Trials. Assuring the business of a compliant, high quality, timely and cost-effective external service delivery to support the Novartis drug development pipeline. The Associate Clinical Sourcing Manager also participates in projects and initiatives to ensure Clinical Contracting & Outsourcing Management is prepared to successfully respond to the changing needs and requirements (legal, operational, regulatory, and financial) of our customers.
Key Responsibilities:
• Prepare and release RFI, RFP and RFQs and negotiate with existing and new suppliers to support business for new requests as well as re-negotiating scope changes.
• Act as the main point of contact with vendors for negotiation of the scope of work, study assumptions, pricing, and payment schedules.
• Negotiate, develop, and implement contract frameworks including MSA's & SLA with key suppliers and ensure full implementation.
• Ensure agreements are commercial advantageous to
Novartis while minimizing risk through close collaboration with functional partners such as legal, finance, and QA.
• Drive annual efficiency improvements in applicable spend categories and responsible for complete contract packages for clinical ESP activities. Secure all necessary approvals to ensure compliance to SOX and company procedures.
• Contribute to vendor audit requests and facilitate corrective action plans. Ensure ESPs are delivering in line with expectations and contracts.
• Planning, prioritizing and managing projects taking into account priorities, resources, budgets, issues and constraints to achieve desired results; defining clear project scope and objectives; applying software and tools to plan, track and report status.
• Achieving results by proactively building long-term, balanced and effective relationships, understanding the collaborator landscape and demonstrating political astuteness across business structures and networks.
Commitment to Diversity & Inclusion:
We are committed to building an outstanding, inclusive work environment and diverse teams representative of the patients and communities we serve.
Essential Requirements for Lifesciences job at Novartis:
• Detailed understanding of the clinical development process and robust understanding of the management of clinical trials. Excellent influencing and negotiating skills.
• Solid understanding of contractual legal terms and conditions and excellent understanding of the Clinical CRO marketplace including central laboratories, reference laboratories and specialty providers
• Experience in financial understanding as it relates to clinical trial contracts and cost elements
• Analyzing specifications for optimization. Linking specification to customer value, challenging specification confidently. Conveying messages clearly and convincing stakeholders.
• Analyzing problems, considering and profiling alternatives; willingness to make timely, balanced recommendations and business decisions.
Qualifications we seek in you for Lifesciences job at Novartis !
• University/Advanced degree is required, Lifesciences/Chemistry / Biochemistry or Pharmaceutical sciences is required (Added advantage – Min B2 certification is required in French / Italian language).
• 5+ years of Clinical Development / Pharma R&D / Procurement & Outsourcing within the Pharma or CRO industry is required with language expertise in French / Italian as a mandate ask.
Possible interview Question may be aske for Lifesciences job at Novartis
1.Can you tell us about your background and experience in the life sciences field?
Answer: I have a strong academic background in life sciences with a [mention degree] from [mention university]. Additionally, I have [mention number of years] of professional experience working in various research projects and laboratory settings. My expertise lies in [mention specific skills or techniques relevant to the job], and I am enthusiastic about contributing my knowledge to Novartis.
2.  How do you stay updated with the latest advancements and trends in the life sciences industry?
Answer: I believe continuous learning is essential in the ever-evolving life sciences industry. I regularly attend scientific conferences, workshops, and webinars to stay updated with the latest research and advancements. Moreover, I actively read scientific journals and publications to keep myself informed about emerging technologies and trends.
3.  Can you share an example of a challenging project you worked on and how you overcame obstacles to achieve success?
Answer: In my previous role, I was part of a research team working on [mention project topic]. We faced challenges with [describe the specific obstacles, such as limited resources or technical difficulties]. To overcome these challenges, we adopted a collaborative approach, sought guidance from experts in the field, and implemented creative problem-solving strategies. Through determination and perseverance, we successfully achieved our project goals, and the results were published in a reputable journal.
4. How do you ensure accuracy and precision in your work, especially in laboratory experiments?
Answer: Accuracy and precision are critical in life sciences research. To ensure quality, I adhere to strict laboratory protocols and standard operating procedures. I double-check all calculations and measurements before proceeding with experiments. Additionally, I maintain detailed records and document every step of the experimental process, enabling easy replication and verification of results.
5.  Novartis emphasizes teamwork and collaboration. Can you share an experience where you worked effectively in a team environment?
Answer: Collaboration is essential in scientific research, and I strongly believe in its value. In one of my previous research projects, I collaborated with a multidisciplinary team of researchers, including scientists, clinicians, and data analysts. We worked together to analyze complex data sets and interpret the results accurately. By leveraging each team member's expertise and effectively communicating our findings, we achieved a comprehensive understanding of the research problem and published a successful research paper.