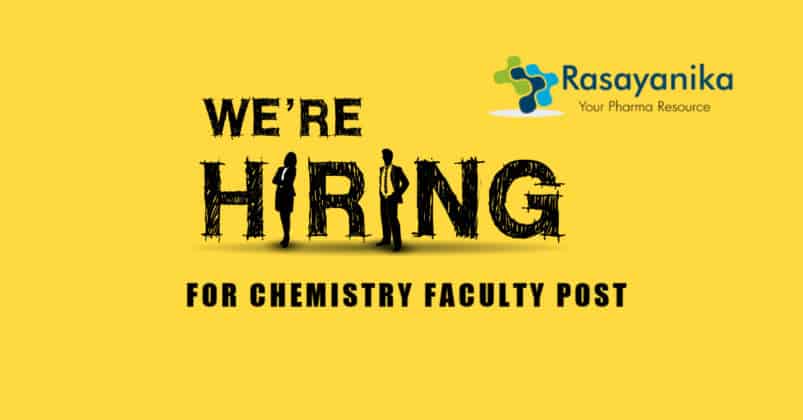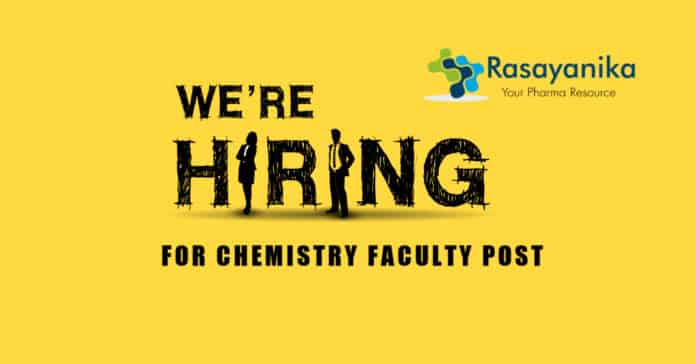 Chemistry Teachers Recruitment 2020
We are looking for Highly Talented & Qualified Chemistry Teachers for whom teaching is a passion. Chemical Sciences Teaching positions are vacant at Rasayanika, Bangalore. Join India's fastest growing pharma & Chemistry portal and be a part of our success journey. CSIR NET / GATE Qualified Chemical Science / Pharma Candidates looking for a teaching job in Bangalore must apply for this post. Position Details, Chemistry Teachers Recruitment 2020 Job Description is mentioned below:
Name of the Post: Chemistry Lecturer (Academic Support Specialist) CSIR NET Qualified
Role: Chemistry Teaching / Counselling
Job Location: Bangalore
Salary: Rs 3 Lakhs Per Annum to 7 lakhs Per annum + Attractive monthly incentives
Job Description:
Taking CSIR NET Chemistry / Chemical Science Lectures Online & at BioTecNika Bangalore.
Counsel students who come to the center.
Chemistry teaching & Conducting doubt clearing sessions for students at the center.
Developing study material / Special Notes/reference Notes for the CSIR NET Chemical Science, GATE, NIPER entrance and other exam coaching programs.
Reviewing already created study material for further improvement & enhancement.
Creation of Mock Tests papers
Framing questions for the purpose of Assignments, Practice Questions, and Test Papers & Daily Practice Worksheets, etc.
Writing career based articles for the website.
Complete the entire syllabus of the designated batches well in time with full satisfaction of students, parents & the management.
Maintain a cohesive, non-political & transparent atmosphere in the organization.
Keep upgrading the knowledge base by studying new & revised books on the subject.
Participate & contribute to all the events, activities, initiatives organized by the management/head office.
Desired Candidate Profile For Chemistry Faculty / Professor Post:
You should be M.Sc M.Tech Ph.D. in Organic / Inorganic / Physical Chemistry / Chemical Sciences with CSIR NET-LS Qualification
Ph.D. candidates will be preferred.
Flexible enough to learn new things
chemistry teaching skills
You should be a passionate teacher who is looking forward to innovating and teach with the latest e-learning tools and techniques.
With/ without teaching experience.
Excellent communication skills and presentation skills.
Passion for work and ability to develop & maintain effective working relationships.
Why Work With US?
If you are looking for a long term stable career in the Pharma & Chemistry teaching/research industry and want to rub shoulders with the biggest names in the field, then Rasayanika should be your destination. A Company Supported by Biotech veterans & Venture Capitalists, Rasayanika has a long way to go and we are looking for you.
If you do not like processes, hate pyramid type organizations; love creativity, innovation, and fun at work; you will love it here. You will find a very flexible work environment, which treats people like human beings. You will be challenged at the levels of responsibilities that you end up managing at the workplace. We have a penchant for drawing talented folks from all kinds of places.
What are we looking for?
For the post of Chemistry teaching (Chemistry Teachers Recruitment 2020), we are looking for – Genius but slightly disgruntled people. Focused, curious and spirited self-starters. Entrepreneurial, creative and willing to work on multiple initiatives We can give you An innovative company, driven by innovation in products, processes, and services. We are constantly learning and improving as fast as we can. Your peers are innovative, hardworking and driven. Competitive salaries Freedom & time to experiment (you can't really innovate if you don't have the time to) Amazing perks.
How to Apply:
Interested candidates who match the above mentioned educational criteria and desired profile criteria can apply below:
or Fill up the form below:
Editors Note Chemistry Faculty Job Opening Chemistry Faculty Job Opening Chemistry Teachers Recruitment 2020 Chemistry Teaching job, Chemistry Faculty / Professor, Chemistry Job, Chemical Science Job, Chemistry teaching job, CSIR NET chemistry faculty Job, Chemical science Professor Job. Follow us on Facebook and Whatsapp and subscribe to our youtube channel for latest updates on chemistry and Pharma jobs and much more