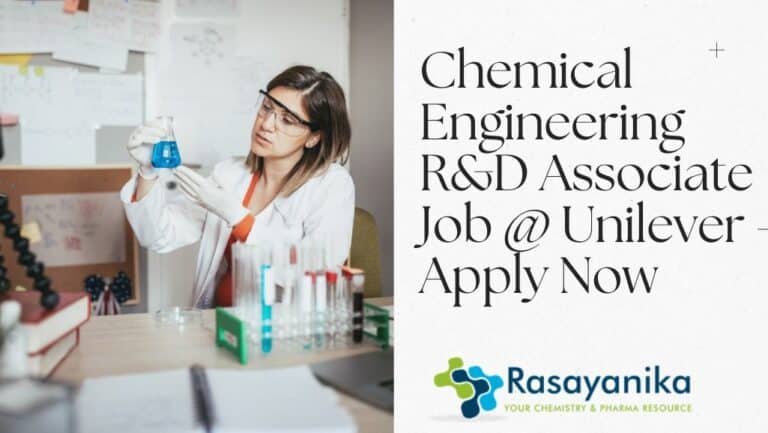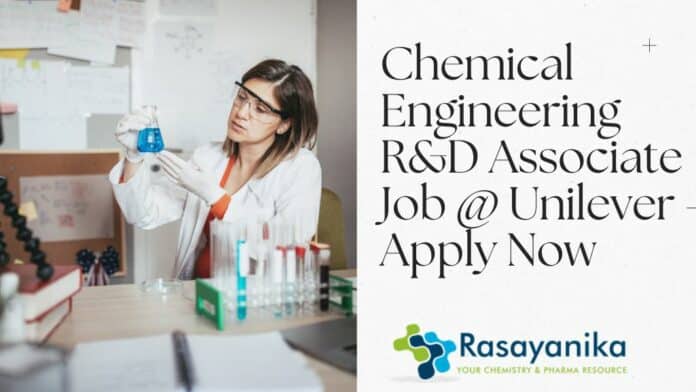 Chemical Engineering R&D Associate Job @ Unilever – Apply Now
Chemical Engineering job 2023, Unilever recruitment 2023, Chemical Engineering job opening 2023, job opening 2023, M tech job opening 2023, Chemical Engineering job opening 2023, job opening 2023. Check out all the details on our website Rasayanika.com
Job Title: R&D Associate – Laundry NSD Bars
Job ID: R-64905
Category: Research/Development
Location: Mumbai, Maharashtra
Elibgility criteria & Experience: 
BE/B.Tech in Chemical Engineering
Knowledge of process control and basic mechanical instruments.
Experience in HAZOPs and Safety Approval Systems.
Knowledge of MS Office (Excel, PowerPoint, and Word), SAP and SCADA).
Project Management and Problem-Solving skills.
NSD Bars Formulation and Processing Skill Preferred
Consumer understanding of relevant action standards
Process parameter optimization
Minimum 3 to 5 years' experience in Research and Development
Purpose of the Role
To facilitate scoping new technologies and design of the product to deliver improved product experience with superior product performance
Key Responsibilities
Projects
To identify and establish new technology benefits in NSD/Soap bars.
Run statistical design of experiments for technology validation
Validation of new technologies with consumers along with make feasibility
Co-ordinating with Partner to win suppliers for delivery of brief issued.
Defines the basis of safety and designs out risk in relation to the Safety in Manufacture and Supply Approval System (SIMAS) to ensure project approval.
Supporting product & process development activities into Project Networks.
Support on the Product & Manufacturing design lock for project.
Plant Trials
Carry out standard trials/tests of Soaps & NSD bars processing on lab and pilot plant scale with accurate formulation, supplemented by physical-chemical analyses. Plan, execute and report Main Plant trials in factories supported by Manager
Draw conclusions from trials, prepare summary reportsPresentation and explanation of results to the team
Reports test/trial results according to unit standard
Time management for getting all pilot plant and storage activities completed on time
Planning of product appraisal & consumer tests along with CTI team
Interactions with key suppliers on open innovation projects
Conducts Trials at Pilot Scale and defines process and packaging specifications as a result.
Conducts plant scale trials to validate the effect of the change on capacity, quality, and efficiencies.
Managing the relationship with the supply chain teams.
Manages formulation changes and timings by coordinating planning, production, and product development.
Ensures that systems are updated to reflect the formulation changes (e.g. PFD Tool & BOMS) Identifies recurring production process problems and develops trouble shooting routines for the Production Department.
Proposes operating instructions for plant operators (manuals & SOP's) and trains the departmental trainers and operators in the use of modified plant processes.
Conversant with various digital tools like LIMS, PLM, PFD, CUC finder etc.
Chemical Engineering R&D Associate Looking for latest chemistry and Pharma job openings, follow Rasayanika Facebook and Telegram and subscribe to our youtube channel for the latest updates on chemistry and Pharma jobs and much more