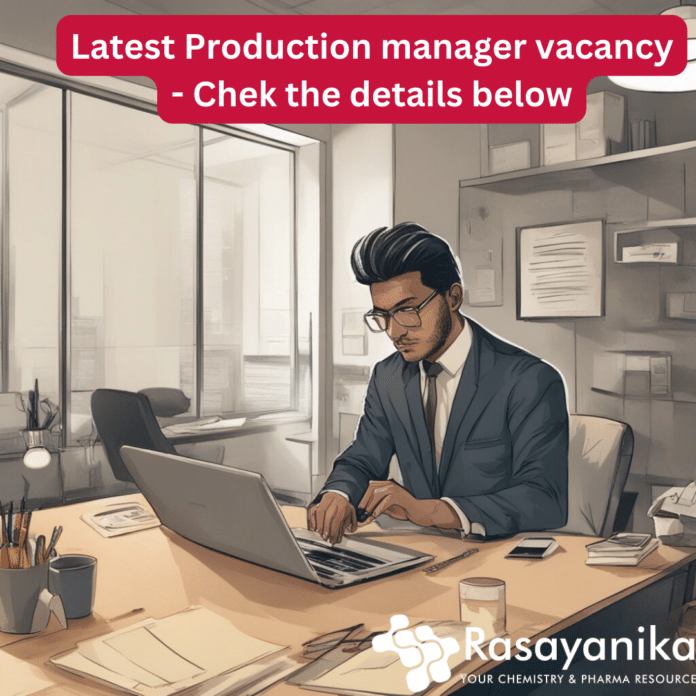 Latest BE BTech Chemistry Job. Mahindra Summit Agriscience Ltd careers. Please see the details below and apply online.
Job Role – Asst. Manager – Production
Location: Ankleshwar
Company: Mahindra Summit Agriscience ltd.
Responsibilities & Key Deliverables
Coordinate with the SCM team for timely delivery of goods.
Prepare and plan monthly production schedule in consultation with Senior Manger-Plant Ops
Identify various cost-saving measures. Get approval from the concerned authority and implement the same.
Resolve technical problems as and when arise.
Conduct daily meetings with Plant supervisors for day-to-day activities.
Discuss monthly production schedule with Plant supervisors.
Ensure compliance with safety and cGMP.
Train/update the subordinate on various subjects like cGMP / Plant Performance / Technical / Managerial skill/ IMS requirements/Legal compliance fulfillment etc
Coordinate with service dept. for task completion and settle any discrepancy between production and service dept.
Prepare / Review various documents related to plant/process / financial bills.
Update senior management about plant production performance through monthly review meetings.
Prepare annual budget for plant and ensure it's within range by monitoring same periodically.
Having good exposure to the SAP PP module for Inventory management
Customer complaints redressal and implementation CAPA
Monthly MIS monitoring for PQCDSM
Experience
7 to 10 years
Industry Preferred
Qualifications
M.Sc Chemistry or BE/BTech in Chemical Engineering
Hello, all! We've gathered interview questions and answers to boost your interview readiness for the BE BTech Chemistry Job. Study them well for success. Best of luck in your interviews!
Can you describe your experience in coordinating with the Supply Chain Management (SCM) team for the timely delivery of goods in a production setting?
Sample Answer: In my previous role at [Previous Company], I played a critical role in ensuring the seamless flow of materials and timely delivery of goods for production. I closely collaborated with the SCM team to maintain optimal inventory levels, minimize production disruptions, and meet delivery schedules. Through effective communication and planning, we were able to reduce lead times and enhance overall production efficiency.
How do you go about identifying and implementing cost-saving measures in a production environment?
Sample Answer: Identifying cost-saving opportunities is a key aspect of my role. I continuously analyze production processes, review resource utilization, and assess material costs to identify potential savings. Once I've identified opportunities, I present them to the relevant authorities for approval and oversee the implementation phase. For example, in my previous role, I proposed and implemented an energy-efficient lighting system, resulting in substantial cost savings over the year.
Could you share an example of a technical problem you encountered in production and how you resolved it?
Sample Answer: Of course. In a previous role, we faced a recurring issue with a critical machine's performance, causing production delays. I initiated a root cause analysis, involving the maintenance team and engineers, to identify the underlying problem. We discovered it was a specific component malfunction. I coordinated the procurement of the replacement part and supervised the repair process, ensuring minimal downtime and a swift resolution to the issue.
How do you ensure compliance with safety and current Good Manufacturing Practices (cGMP) in a production setting?
Sample Answer: Safety and cGMP compliance are paramount in the pharmaceutical industry. I ensure compliance by implementing strict protocols, conducting regular safety audits, and providing ongoing training to production staff. Additionally, I keep abreast of regulatory updates and industry best practices to ensure our operations align with the latest standards.
Can you describe your experience with SAP PP module for Inventory Management and how it benefited your previous role?
Sample Answer: I have extensive experience with the SAP PP (Production Planning) module, particularly in the context of inventory management. Using SAP PP, I have efficiently managed inventory levels, optimized production schedules, and tracked material movements in real time. This not only enhanced our inventory accuracy but also facilitated better decision-making by providing timely insights into stock levels and production progress.