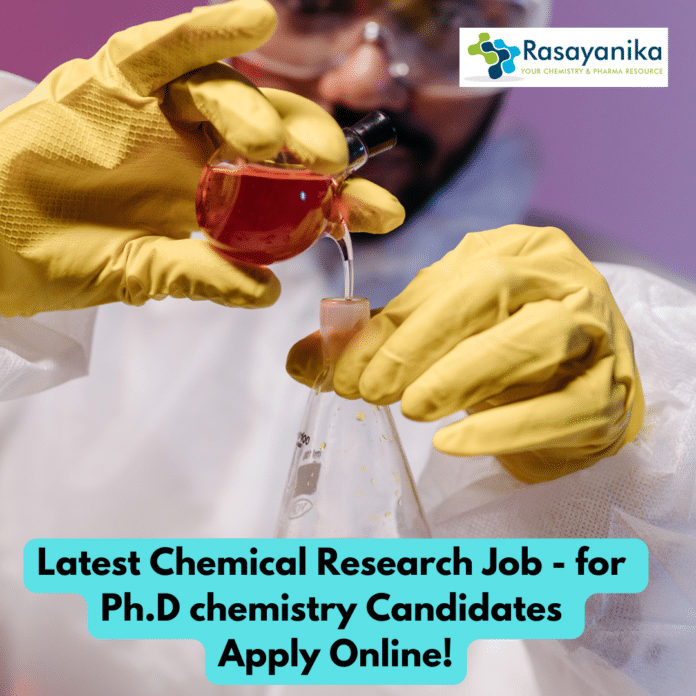 Latest
Jubilant for Ph.D chemistry Candidates, interested and eligible candidate apply online
Job position: Group Leader – Chemical Research
Location: Gajraula
Grade: Manager
Reports to: Prabakaran K (Sr. Group Leader- Chemical Research)
Summary of Job: Process development of new molecules and cost reduction of existing molecules with 2-3 people team
Key Responsibilities (Performance Indicators) for Jubilant for Ph.D chemistry : 
Ensure that the products that are developed are monitored adequately and supports for cost reduction, trouble shooting, performance tests and development of new molecules assigned by business group.

Run 1-2 reactions daily and manage a team of 2-3 scientists

Allocation of projects to the team and provide support to all the technical discussion and guide team to arrive at conclusion.

Co-ordinate with pilot plant for demo, process discussion etc.

Co-ordinate with SGL and keep them informed about the progress of projects and the issues that are being faced and solution generated.

Reviewing the process outlines, technical packages – B and C and support for the scale up and validations in pilot plant.

Investigate the failure of batches and come up with action plan.

Preparation of SOP's as and when required and ensure that the analysts have read, understood, and signed-off on the SOP

Attends the staff meetings in the absence of the SGL.

Ensure that documentation of the experiments in the lab record is done as per GLP as and when the experimentation is completed.
Educational and other Qualification for Jubilant for Ph.D chemistry : 
Ph.D , M. Sc (Organic Chemistry) from top 5 institutes in state/country
Experience: 7+ years of Experience
Key Competencies for Jubilant for Ph.D chemistry : 
General Awareness

: Knows the fundamental or general understanding of concepts.

Working Knowledge

: Has broad job knowledge; knows and applies the full range of concepts and practices. Has broad / working knowledge of the subject. Candidate should use these concept in day to day practices.

Functional Expert:

 Candidate is certified functional expert with strong knowledge on concepts.

Mastery:

Candidate is subject matter expert and has command over the subject/ concepts.

Proven track record in the field with sound knowledge of Organic Chemistry.
Possible interview questions may be asked for Jubilant for Ph.D chemistry
1. Can you describe your experience in process development for new molecules and cost reduction of existing molecules?
Answer: Certainly, I have over 7 years of experience in process development for new molecules and cost reduction of existing ones. In my previous role at [Previous Company], I led a team of scientists focused on optimizing chemical processes to improve product yield and reduce production costs. This involved running daily reactions, troubleshooting, and implementing performance tests to achieve these objectives.
2. How do you allocate projects and tasks to your team?
Answer: Allocating projects effectively is crucial. I assess the skill sets and strengths of each team member and assign tasks accordingly. I ensure that clear objectives and timelines are set for each project. Regular team meetings are held to discuss technical aspects and guide the team to arrive at well-informed conclusions.
3. Could you provide an example of a project where you successfully scaled up a process from the lab to the pilot plant?
Answer: Certainly. In a previous project, we developed a new chemical synthesis process in the lab. After achieving optimal results, we collaborated closely with the pilot plant team to scale up the process. This involved reviewing process outlines and technical packages, addressing any challenges faced during scale-up, and ensuring a seamless transition from lab to pilot plant.
4. How do you handle the investigation of batch failures, and what actions do you take to prevent recurrence?
Answer: When a batch failure occurs, I lead a comprehensive investigation to identify the root cause. This involves analyzing process data, conducting experiments, and collaborating with the team. Once the cause is determined, I develop an action plan to rectify the issue and prevent recurrence. This proactive approach ensures continuous improvement in our processes.
5. Can you share your approach to ensuring documentation compliance with Good Laboratory Practices (GLP)?
Answer: Ensuring proper documentation is essential for maintaining quality and compliance. I emphasize the importance of accurate and timely record-keeping to my team. We follow GLP guidelines meticulously, documenting experiments, observations, and results as per protocol. Regular audits and SOP reviews are conducted to ensure compliance.