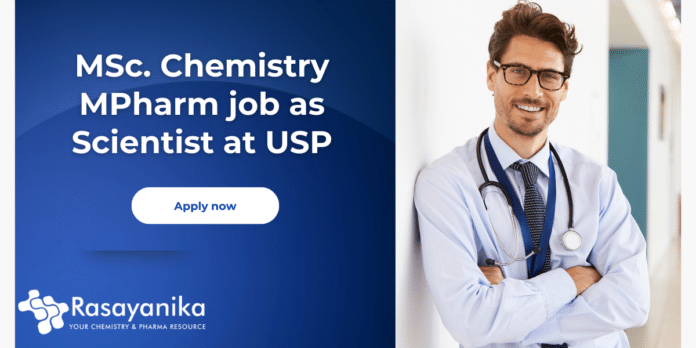 The U.S. Pharmacopeial Convention (USP) USP is an independent scientific organization that collaborates with the world's top authorities in health and science to develop quality standards for medicines, dietary supplements, and food ingredients. USP inviting candidates for MSc Chemistry MPharm job. Please go through the details and apply now.
Job role – Scientist II, Reference Standard Laboratory
Location – Hyderabad, India
Job Overview –
This is a non-supervisory position in Reference Standard Laboratory responsible for performing the required tests as part of the project and maintaining the GLP environment in the Laboratory. The incumbent will utilize his or her technical expertise, knowledge of pharmaceutical analysis in collaborative testing, efficient and effective laboratory operations.
Responsiilities – 
Executing the analytical tests allotted by Project or Group Leader.
Verification of test protocol and giving test kit approvals, if required.
Supporting Verification, GPH, PQM, stability and other departmental teams in terms of testing and project review whenever needed.
Responsible for preparation of project evaluation reports.
Responsible for sample tracking, sample archival and chemical inventory tracking in the laboratory.
Coordination with group leader to ensure completion of the projects allotted to the team.
Initial review of the project reports and documents and assisting the group leader when required.
Completing the project as per the timelines and troubleshoot the scientific aspects of the projects on need basis.
Responsible for preparation and review of SOP's, protocols, reports etc.
Responsible for performing the calibration of the Equipment as per the schedule.
Responsible for preparing, executing, and completing IQ/OQ/PQ of new instruments.
Ensuring that the chemicals and column etc. are available for the projects and forward the purchase requisitions.
Taking up any additional responsibilities assigned by group leader from time to time.
Ensure all lab safety and GLP practices are maintained in the lab and participate actively in the internal and external audits and certification.
Qualification and Experience –
The successful candidate will have a demonstrated understanding of our mission, commitment to excellence through inclusive and equitable behaviors and practices, ability to quickly build credibility with stakeholders, along with the following competencies and experience:
Education:
Experience:
5 to 7 years with relevant laboratory experience.
Preferred Qualifications:
Proven track record of consistently delivering projects on time and with high quality. Proficient with pharmaceutical testing requirements and test protocols involving compendial methods for reference materials (USP, FCC, NF, etc.).
Expert in Chromatographic analysis, especially in HPLC, GC, and troubleshooting, proficient in other related analytical instrumentation (Titration, IR, KF, UV, wet analytical techniques etc.).
Takes personal responsibility for delivery of projects to customers.
Ability to embrace and lead change. Extremely adaptable.
Excellent communication skills, both written and verbal. Having experience on Empower software is required.
Prior experience in a high-volume pharmaceutical manufacturing QC laboratory or Analytical R&D or a contract pharmaceutical analytical laboratory testing organization is a plus.
Additional Desired Preferences for MSc Chemistry MPharm job:
Proficient in other analytical techniques like IC, Mass Spectrometry, Thermal, Elemental analysis by ICP etc.,
Having knowledge of Lab Management System and Electronic Laboratory Notebook, ERP, QR coding system are added advantages.
Hi there, attaching some of the expected interview questions and answers here. Practice the same when you are going for the interview for MSc Chemistry MPharm job. Good luck!!!
Question 1: Can you describe your experience in pharmaceutical analysis and how it aligns with the responsibilities of this role in the Reference Standard Laboratory?
Answer: I hold a Master's degree in Pharmacy and have accumulated 6 years of hands-on experience in pharmaceutical analysis. During my career, I have been involved in executing a wide range of analytical tests, adhering to stringent protocols and quality standards. I am proficient in various analytical techniques, including HPLC, GC, titration, IR, and UV spectroscopy, which are essential for conducting accurate and reliable analyses in the Reference Standard Laboratory. My expertise in chromatographic analysis and troubleshooting has enabled me to consistently deliver projects on time with high precision. I believe my experience aligns well with the responsibilities outlined in the job overview, and I am eager to contribute my technical expertise to the team.
Question 2: The job involves coordinating with different departments and teams. How do you ensure effective collaboration and communication with stakeholders to achieve project goals?
Answer: Effective collaboration and communication are critical in a laboratory setting. To ensure seamless coordination with different departments and teams, I prioritize open and transparent communication channels. I actively engage in regular meetings with the Project or Group Leader to understand the testing requirements and project timelines. I am proactive in seeking clarifications and providing timely updates on the progress of my assigned projects. Additionally, I believe in building strong working relationships with colleagues, fostering a collaborative and supportive work environment. My excellent written and verbal communication skills allow me to convey complex technical information in a clear and concise manner, facilitating effective teamwork and project review discussions.
Question 3: In this role, you'll be responsible for performing IQ/OQ/PQ of new instruments. Can you share your experience in handling instrument calibrations and qualifications?
Answer: I have extensive experience in handling instrument calibrations and qualifications. Throughout my career, I have been actively involved in performing IQ/OQ/PQ of various analytical instruments, including HPLC and GC systems. I am well-versed with the documentation and procedural requirements for instrument qualification, ensuring that all the necessary checks are carried out thoroughly and accurately. My proficiency in instrument troubleshooting has helped maintain smooth operations, minimizing downtime and ensuring reliable data generation. I understand the criticality of accurate instrument calibration and qualification in maintaining GLP compliance and high-quality analytical results.
Question 4: The job overview mentions the importance of maintaining a GLP environment in the laboratory. How do you ensure adherence to GLP practices in your work?
Answer: As someone deeply committed to maintaining high standards of laboratory practices, I prioritize adherence to Good Laboratory Practices (GLP) in all aspects of my work. I ensure that my workspace is organized and free from any potential hazards, and that all necessary safety protocols are followed diligently. I meticulously document all experimental procedures, observations, and results to ensure traceability and reproducibility of data. Additionally, I actively participate in internal and external audits to identify any areas that need improvement and implement corrective actions promptly. My attention to detail and compliance-oriented approach align with the GLP principles, making sure that the laboratory operates with the utmost precision and integrity.
Question 5: This position involves preparing and reviewing SOPs, protocols, and reports. How do you ensure accuracy and clarity in these documents?
Answer: Accuracy and clarity in documentation are paramount in a laboratory environment. To ensure the reliability of SOPs, protocols, and reports, I adopt a systematic approach. I pay close attention to detail, verifying every step and procedure outlined in the documents. I collaborate with subject matter experts to gather comprehensive information and include relevant technical details. Additionally, I use clear and concise language, avoiding ambiguity and jargon, so that the documents are easily understandable by all stakeholders. Before finalizing any document, I conduct thorough reviews and seek feedback from colleagues to ensure that they meet the highest quality standards.