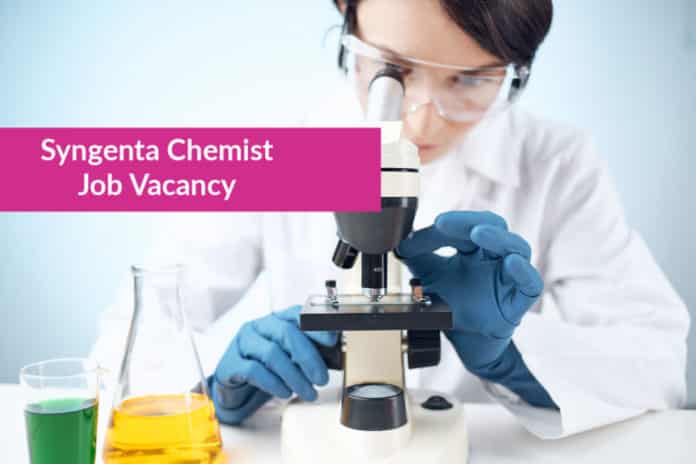 Syngenta Chemist Job Vacancy – Msc & PhD Chemistry Jobs
Phd Chemistry Junior Chemist Jobs @ Syngenta. Career @ Syngenta. PhD chemistry & Msc Chemistry jobs. Interested and Eligible candidates may apply online. Check out all the details on our website Rasayanika.com.
Job Title: Junior Chemist
Job Id: (18015068)
Qualifications
Education: MSc Chemistry / Phd .
Primary Location: India
Job: R&D – Research
Role purpose
Preparation of reference materials and metabolites thru existing /new routes
Optimize synthetic routes to viable economic processes
Good experimental skills with appetite for learning and updating latest developments in synthetic Organic chemistry
Adopt simple qualitative/quantitative analytical methods
Accountabilities
Plan and carry out assigned synthesis of reference materials and metabolite.
Able to conduct complex experimental work safely.
Always ensure the safe laboratory practices and fine tune the chemistry and process in to economical viable process.
Ability to work coherently on the assigned experiments and meets timelines.
Plan and carry out, as necessary, process optimisation of assigned individual reaction steps to allow successful scale-up and manufacturing.
To receive preliminary analytical methods from R&T and optimise the same to fully developed ready to use in-process analysis.
Carefully documents the experiments in the electronic notebook (ELN) or in summary tables. Reference material and metabolite procedures are documented in SmartDoc
Efficiently conducts experiments using established test methods to produce high quality data and results with limited repeat testing.
Continually seek to improve knowledge experimental chemistry and process development.
Knowledge, experience & capabilities
M. Sc. Organic chemistry from reputed university/school with 2-4 years of industrial experience. Experience in process chemistry/agrochemical industry is desirable
Good experimental skills with apatite for learning and updating latest developments in synthetic organic chemistry.
Is capable to work with chemical safety and with a high hygiene standard
Good understanding of physical seperation operations in the lab (distillation, crystallisation, extraction etc.) and analytical methods like GC, HPLC, NMR etc.
Critical success factors & key challenges
Able to demonstrate personal commitment to the team
Value and use individual differences and talents
Work tenaciously to deliver agreed goals
Should be self-discipline to achieve results
Is able to work on different projects in parallel
Editor's Note: Syngenta Chemist Job Vacancy PhD Chemistry Chemist Post Vacancy @ Syngenta. PhD Chemistry jobs, Chemistry jobs, Research Scientist jobs at Syngenta, Chemistry jobs, Chemistry jobs at Syngenta, Chemistry jobs 2019, PhD jobs, Subscribe to Rasayanika for latest chemistry and Pharma jobs.