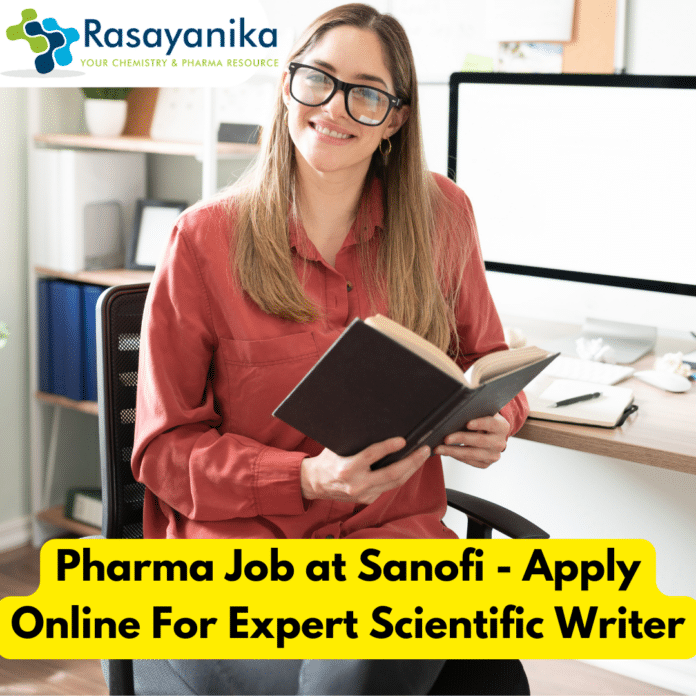 Pharma Job at Sanofi – Apply Online For Expert Scientific Writer
Pharma Job at Sanofi – Apply Online For Expert Scientific Writer. Latest Pharma Job at Sanofi – Expert Scientific Writer Role – check the details and apply below
Role : Expert Scientific Writer
Location : Hyderabad
Time type : Full time
Job requisition id : R2712586
About the job
Main responsibilities:
The overall purpose and main responsibilities are listed below: 
To create complex and specialized content without supervision
Manage end-to-end publication/medical education content development process including documentation and approval in PromoMats/Datavision/MATRIX
Develop and maintain therapeutic area, process, and compliance expertise
Coach and review content created by senior and junior scientific writers
Work in close collaboration with peers/team to develop best practices
Collaborate effectively with stakeholders
People:
Maintain effective relationship with the end stakeholders (medical scientific community) within the allocated Global Business Unit and product – with an end objective to develop education and communication content as per requirement
Interact effectively with health care professionals on publication content
Constantly assist writers (senior or junior) in developing knowledge and sharing expertise
Performance:
Provide publication/medical education material (slide deck, abstract, poster, manuscript etc.) as per agreed timelines and quality
Provide strategic support with individuals and institutions, which may serve as resources for publications purpose
Process:
Develop complex publication/medical education material
Act as an expert in the field of medical communication for the assigned therapeutic area(s)
Assist the assigned scientific communication team in conducting comprehensive publication-need analysis
Implement the publication plan and associated activities for the year identified for the region
Work with selected vendors within the region to deliver the required deliverables as per defined process
Leverage advanced training delivery tools and techniques thereby enhancing the effectiveness of training delivery
Design an overall plan of action based on end-user feedback and improve course content and delivery
Stakeholder:
Work closely with scientific communication teams in regions/areas to identify publication need and assist in developing assigned deliverables
Liaise with medical department to prepare relevant and customized deliverables
About you 
Experience : 8 years of experience in content creation for the pharmaceutical /healthcare industry, or academia; >4 years of experience in leadership role
Soft skills : Stakeholder management; communication skills; and ability to work independently and within a team environment
Technical skills : As applicable (including but not limited to therapeutic area/domain knowledge exposure; publication submission; and/or project management)
Education : Advanced degree in life sciences/pharmacy/similar discipline or medical degree
Languages : Excellent knowledge of English language (spoken and written)
Discover the Latest Pharma Job at Rasayanika
Here are some interview questions along with possible answers for the role of Expert Scientific Writer:
1. Can you tell us about your experience in content creation for the pharmaceutical/healthcare industry or academia?
Answer: I have over 8 years of experience in content creation within the pharmaceutical and healthcare sectors. During this time, I've worked on various projects, including the development of publication/medical education materials such as slide decks, abstracts, posters, and manuscripts. My experience also extends to academia, where I [mention specific academic experience if applicable]. This diverse background has equipped me with a strong foundation in creating specialized content.
2. Could you describe your leadership experience in this field?
Answer: I have over 4 years of experience in leadership roles within the content creation and scientific writing domain. In these roles, I've had the opportunity to lead and mentor teams of senior and junior scientific writers, ensuring the quality and timeliness of deliverables. I've also played a key role in developing and implementing best practices within the teams, fostering a culture of continuous improvement.
3. How do you manage stakeholder relationships effectively, especially within the medical scientific community?
Answer: Building and maintaining effective relationships with stakeholders is crucial in this role. I achieve this by actively engaging with the medical scientific community within the allocated Global Business Unit and product. I make it a priority to understand their requirements and expectations for education and communication content. By being a responsive and reliable point of contact, I ensure that their needs are met.
4. Can you provide examples of complex publication/medical education materials you have developed in the past?
Answer: Certainly. In my previous roles, I have developed a wide range of complex materials, including slide decks for scientific presentations, abstracts for conferences, posters for medical meetings, and manuscripts for publication in peer-reviewed journals. One notable project involved [describe a specific project, its objectives, and outcomes]. These experiences have honed my ability to create content that meets high standards of quality and relevance.
5. How do you stay up-to-date with the latest advancements in your therapeutic area or domain knowledge?
Answer: Staying current with advancements in the therapeutic area is crucial for creating relevant and accurate content. I regularly engage in continuous learning through scientific literature review, attending relevant conferences, and networking with experts in the field. This ensures that the content I produce reflects the latest developments and insights.
ALL THE BEST!