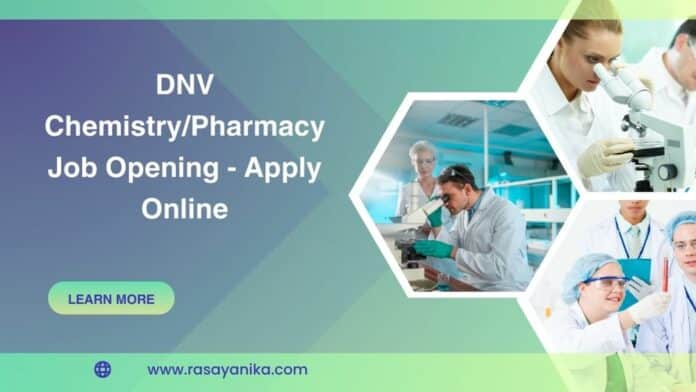 DNV chemistry job opening 2023, Pharmacy job opening 2023, In-Vitro Diagnostic Medical Device Assessors job opening 2023, Pharmacy job opening 2023, Chemistry job opening 2023. Interested and eligible candidates may check out all the details on the same below:
Job Title: In-Vitro Diagnostic Medical Device Assessors
Location IN-New Delhi | IN-Bangalore | IN-Hyderabad | IN-Chennai | IN-Baroda
Requisition ID 2023-22273 Business Area Supply Chain & Product Assurance
Category/Discipline Auditing Location Details Candidates can be based anywhere in India
Position Type Permanent Employee
Local Unit & Position Description
As part of our continued growth, we are looking to recruit technical and experienced In-Vitro Diagnostic Medical Device Assessors and Lead Auditors. The successful candidates will be responsible for planning and conducting audits / assessments against the manufacturing of medical devices, in accordance with ISO 13485, IVDR 746/2017 and MDSAP standards, enabling the delivery of assessment and certification services that meet customer requirements and appropriate accreditation standards.
Key Accountabilities
Conduct assessments (either desk-based or on client's sites) in accordance with established procedures, maintaining a high standard of service delivery that ensures effective customer relationships.
Conduct Technical File reviews specific for products being authorized.
Complete all chargeable work within the required budget and timeframes to ensure customer satisfaction and efficiency of the business.
Complete specific projects in relation to medical device procedures, processes, systems and documentation as requested by the Medical Devices Operations Manager.
If required, undertake reviews of packs and make certification decisions within target timescales and in line with DNV policies and accreditation/approval requirements.
Project manage auditing teams, as appropriate, to maximize efficiencies, enhance client satisfaction and ensure compliance with standards.
Position Qualifications
Assessors and Auditors shall have a technical college degree in a relevant product or medical area, as described below.
In-Vitro Diagnostic devices
Chemistry or Biochemistry
Pharmacy, Pharmacology, Toxicology
In addition to a relevant educational degree, candidates must have a minimum 4 years' work experience (full time) in an In-Vitro diagnostic medical device related industry, academia or hospital environment, with at least 2 of these years in the design, manufacturing, testing or use of the device in which they are qualified to Audit / Assess, and/or experience as an assessor in a notified body (five full technical documentation assessments).
As part of this work experience, risk management experience should be covered:
Practical experience in conducting or assessing performance evaluation data (including clinical performance data) with in-vitro diagnostic medical devices in one or more of the following areas virology, immunology, Mycology, oncology and infectious disease.Knowledge regarding histocompatibility and immunogenetics, Tissue typing assays (Flow
Cytometry), genetic testing and biochemistry assays.
A PhD in a relevant area for in-vitro diagnostic medical devices can substitute 3 years of work experience provided it includes 2 years' experience in design, manufacture or testing.
To be considered for this role, you will have professional experience in a relevant field of healthcare products or related activities, for example:
Work in medical devices industry or closely related industries in a research and development, manufacturing, quality management or regulatory affairs capacity
Work in health services, universities, foundations or other institutions carrying out inspections, audits, performance evaluations, experimental and/or clinical research, including notified bodies
Work in the application of device technology and its use in health care services and with patients
Testing devices for compliance in accordance to the relevant national or international standards
Conducting performance testing, evaluation studies or clinical trials of devices
In addition to the above, knowledge of the following would be preferred;
An excellent working knowledge of medical device management systems, standards and medical device compliance/auditing techniques
Work experience in positions with significant QA Regulatory or management systems responsibility
Experience with Harmonized medical device standards for In-Vitro diagnostic medical devices
Experience with Risk Management EN ISO 14971
Medical device experience from auditing/work
Experience auditing against recognized standards
Experience of working under own initiative and in planning and prioritizing workloads
Should have a flair for technical writing, essential for exhaustive report writing
DNV Chemistry/Pharmacy Job DNV Chemistry/Pharmacy Job DNV Chemistry/Pharmacy Job Looking for latest chemistry and Pharma job openings, follow Rasayanika Facebook and Telegram and subscribe to our youtube channel for the latest updates on chemistry and Pharma job.