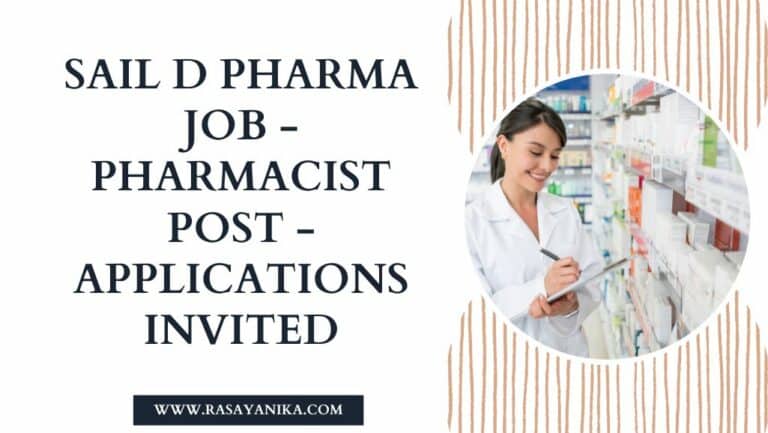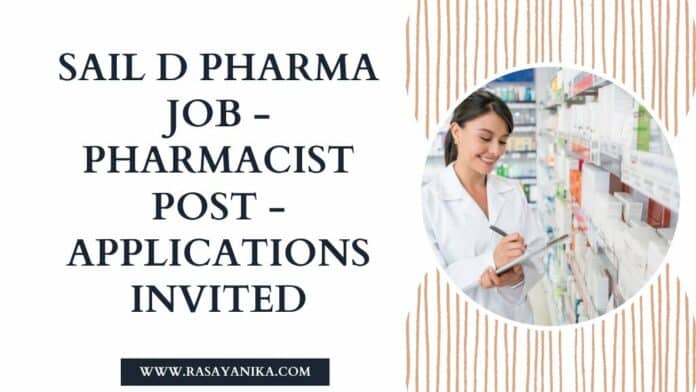 SAIL D Pharma Job – Pharmacist Post – Applications Invited
Durgapur Steel Plant (DSP), a unit of Steel Authority of India Limited (SAIL), a Maharatna Company, invites applications from interested and eligible qualified Pharmacists to undertake the "Proficiency Training' in 600 bedded multi-specialty DSP hospital under M&HS department
Job Title: Proficiency Training of Pharmacists (PTP)
UPPER AGE LIMIT (AS ON DATE OF WALK-IN INTERVIEW): 30 years
Relaxation in Upper age limit by 3 years for Other Backward Class (Non-Creamy Layer) –
OBC(NCL) and 5 years for SC & ST candidates.
No.of posts: 04
Eligbility Criteria: 
a) Degree / Diploma in Pharmacy from Govt. Recognized Institute.
b) Certificate of Registration of Pharmacy Council
DEPARTMENTS/ DISCIPLINES FOR PHARMACISTS:
Pharmacists: Pharmacy counters &/or Medical Store under M&HS.
DURATION: 18 (eighteen) months.
DAILY WORKING HOURS:
8 hrs per day in different shifts (A, B, C, G and split G). One day off per week.
STIPEND: Stipend per month Rs.10000/- plus
Knowledge Enhancement Allowance per month (Max up to Rs.7020/- linked to attendance as under)
ACCOMMODATION: Shared accommodation subject to availability.
MEDICAL FACILITY: For self at DSP Hospital only during the training period.
LEAVE:
15 days Special Leave (Max. 10 days of leave may be
granted in one spell) during the tenure.
PROCEDURE:
(a) Candidates have to appear for walk-in interview as per the schedule mentioned below with two sets of filled-in & signed application in the prescribed format (Annexure-A) and Letter of undertaking (Annexure-B) with documents / testimonials as per instruction and / or eligibility. However, maximum 100 candidates for Proficiency Training of Nurses programme and maximum 50 candidates for Proficiency Training of Pharmacists programme, chosen on first-cum-first-serve basis, will be considered for interview each day. Candidates beyond the stipulated number shall be interviewed on next day(s) subject to their appearance in time.
Interview may be spilled over to the next day(s) depending upon the number of candidates present on the scheduled day of interview. Therefore, candidates should be prepared to be available for interview for next day(s) also, if necessary.
(b) Selection for 'Proficiency Training' will be done by assessment of their performance through interview only.
(c) All certificate / documents in support of eligibility will be verified with the original during
interview & joining and if any candidate fails to produce the same, he / she will not be allowed to appear for interview / join and their candidature will be cancelled. Therefore, candidates are advised to ensure their eligibility and validity of the certificate / documents as on date of interview before applying and appearing for the interview.
(d) If the selected candidates are not in possession of the "Certificate of Registration" from the respective council at the time of joining, they will have to deposit the same within three months from the date of their engagement as proficiency trainee. Till such time, the engagement of the Proficiency Trainee will be Provisional.
(e) 'Proficiency Training' will start immediately after the selection of the candidates is completed and offer of engagement as "Proficiency Trainee Nurse / Pharmacists" are issued.
(f) On completion of training in DSP for 18 months, a 'Certificate of Proficiency' will be issued by M&HS department to the successful candidates based on their satisfactory performance. The certificate will not be issued in cases of provisional engagement as mentioned at (X)(d) above or in case of failure to complete entire duration of the training.
HOW TO APPLY:
Eligible & interested candidates are required to appear for walk-in interview as per the schedule. They may also send their application in the prescribed format as advanced copy to the email ID: [email protected] atleast 2 days before the scheduled start of the interview of the respective programme. However, mere sending application to this email ID does not confer any right of candidates for appearing the interview. Candidates are advised to check their email & SAIL website frequently, as further communication with the candidates, if required, will be made through email / website.
GENERAL CONDITIONS:
(1) Candidate must be an Indian national possessing requisite qualification from an Institute recognized by State Govt. / Central Govt.
(2) The minimum age of engagement as "Proficiency Trainee Nurse / Pharmacists" is 18 years.
(3) All certificates in respect of eligibility criteria viz. requisite educational & professional
qualification, experience, caste / category, proof of date of birth etc. are to be valid on the
date of walk-in interview. OBC-NCL (Non-Creamy Layer) certificate and Income & Asset
certificate for EWS category should be valid for the Financial Year 2023-24 (issued on or after 01.04.2023).
(4) Candidates will have to attend the interview at scheduled date & time at their own cost.
(5) The engagement is purely for the purpose of "Proficiency Training' and will not entitle the trainee to stake a claim for appointment in Durgapur Steel Plant in any manner whatsoever.
(6) During the training period of 18 months, the trainees will be paid monthly stipend of
Rs.10,000/- and applicable Knowledge Enhancement Allowance linked to monthly attendance from the date of their admittance as detailed in point VI.
(7) DSP reserves the sole authority / prerogative in the matter of admittance of "Proficiency Training" of nurses / Pharmacists as per its rules and decision of DSP in this regard shall be final & binding.
(8) DSP reserves the right to reject OR cancel the candidature OR the entire process including interview or admit less than the no. of Proficiency Trainees indicated above, without assigning any reason thereof and no enquiry or correspondence will be entertained in this regard.
(9) Bringing influence at any stage of the selection process will disqualify the candidature.
(10) Candidature of an applicant is liable to be rejected / terminated at any stage of the selection process or after selection or admittance if, any information provided by the candidate is found to be false OR found not to be in conformity with requisite eligibility criteria mentioned in the advertisement OR Impersonation during selection process including interview
City: Durgapur For Proficiency
Date: Training of Pharmacists:
From 20-06-2023
to 21-06-2023
Reporting Time For Walking Interview: 
10:00 AM to 3:00 PM
Venue:
Centre for Human Resource Department (CHRD) Durgapur Steel Plant
Near Main Gate
Durgapur – 713203, W.B.
Contact Person:
Shri K K Sahoo,
AGM (Pers – Med & Sports)
Contact no.- 03432746225
View Main Notification & Download Application Form
SAIL D Pharma Job SAIL D Pharma Job Looking for latest chemistry and Pharma job openings, follow Rasayanika Facebook and Telegram and subscribe to our youtube channel for the latest updates on chemistry and Pharma jobs and much more