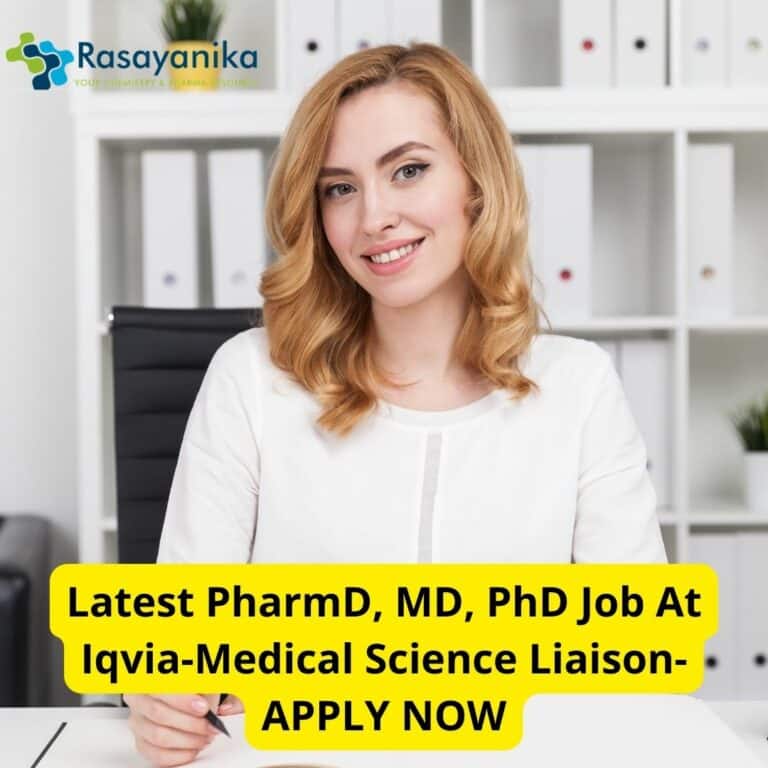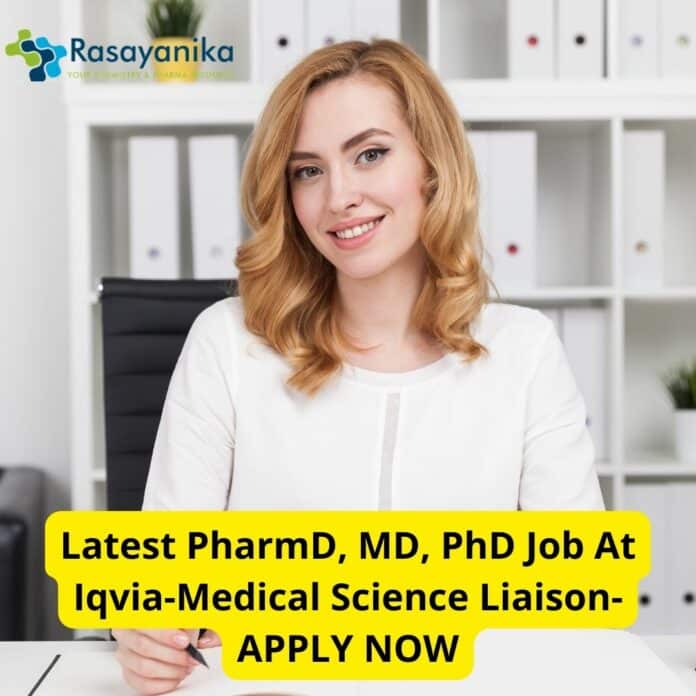 PharmD/MD/PhD Job
Latest PharmD/MD/PhD Job At Iqvia-Medical Science Liaison-Interested candidates can check the details below and apply online.
Job role: Medical Science Liaison
Job ID: R1376901
Job location: Mumbai, India
Job type: Full time
Job Description:
Job Overview
Engage in peer-to-peer scientific exchange with ability to understand, interpret, communicate complex scientific data and information effectively to KOLs/HCPs
Essential Functions
Engage in peer-to-peer scientific exchange with ability to understand, interpret, communicate complex scientific data and information effectively to KOLs/HCPs
Identify, renew, cultivate and maintain professional relationships with local/regional KOLs
Deliver medical presentations to diverse audiences effectively, including Physicians, Pharmacists, nurses, etc.
Maintain thorough and up-to-date knowledge of disease state, clinical information, and product data within assigned therapeutic area
Respond to incoming off-label queries in compliance with health regulations and medical ethics codes
Has an in depth knowledge of current pharmaceutical industry code of practice for Ethical Conduct the promotion of Medical Products
The Medical Science Liaison ensures that all Medical Affairs applicable regulations, policies, and procedures are adhered to and in compliance with the country/region he/she is responsible for
Maintain cross-functional collaboration with internal teams: Marketing, Sales, Regulatory, Legal, etc.
Contribute to publication planning, development of medical education material, internal scientific training to sales force, etc.
Collect and disseminate competitive intelligence from multiple sources
Influence product reimbursement activities post-launch by getting the drug/device on the Hospital formularies and Essential drug lists according to Country level regulations
Qualifications
Other Terminal degree (PharmD, MD, PhD) Req
Typically requires 2-3 years of prior relevant experience. Req
Effective communicator (written and presentation) with good interpersonal skills and experience of developing and delivering presentations
Must excel at working independently and in cross-functional teams
# LI-CES
IQVIA is a leading global provider of advanced analytics, technology solutions and clinical research services to the life sciences industry. We believe in pushing the boundaries of human science and data science to make the biggest impact possible – to help our customers create a healthier world. Learn more at https://jobs.iqvia.com
Here are four interview questions along with sample answers for the PharmD/MD/PhD Job -Medical Science Liaison position:
1. Can you describe your experience in engaging with Key Opinion Leaders (KOLs) and Healthcare Professionals (HCPs) and how you effectively communicated complex scientific data to them?
Answer: In my previous role as a Medical Science Liaison, I had the opportunity to engage with numerous KOLs and HCPs within the therapeutic area. I developed and maintained professional relationships by actively participating in scientific discussions and providing them with up-to-date and relevant scientific information. To effectively communicate complex data, I utilized a clear and concise communication style, tailored to the audience's level of understanding. I often used visual aids and case studies to make the information more accessible, ensuring that the key takeaways were readily comprehensible.
2. How do you stay informed about the latest developments in the pharmaceutical industry's code of practice for ethical conduct and the promotion of medical products?
Answer: Staying informed about industry regulations and ethical standards is crucial in this role. I regularly attend industry conferences, workshops, and webinars to keep up-to-date with the latest changes in pharmaceutical industry codes of practice. Additionally, I actively participate in internal training sessions and collaborate with our legal and regulatory teams to ensure compliance with evolving guidelines. This proactive approach helps me maintain a thorough understanding of ethical standards and ensures that I adhere to them in my daily interactions.
3. Can you provide an example of a challenging situation where you had to respond to an off-label query from a healthcare professional while adhering to health regulations and medical ethics codes?
Answer: In a previous role, I encountered a situation where a healthcare professional inquired about an off-label use of one of our products. To handle this situation in compliance with regulations and ethics, I acknowledged the query's importance and expressed my commitment to providing accurate information. I then explained that discussing off-label uses was not within the scope of our communication but offered to connect them with our medical affairs team for further discussion. It's crucial to prioritize patient safety and adhere to regulatory guidelines, even in challenging situations.
4. How do you contribute to cross-functional collaboration with internal teams such as Marketing, Sales, Regulatory, and Legal, and why is this collaboration essential in your role?
Answer: Cross-functional collaboration is vital in the role of a Medical Science Liaison. I actively engage with teams like Marketing, Sales, Regulatory, and Legal by providing them with the latest scientific insights and ensuring alignment with our medical strategies. For instance, I collaborate with Marketing to develop medical education materials and assist in sales force training. This collaboration ensures that our messaging and strategies are based on sound scientific principles and are compliant with regulations, ultimately contributing to the success of our products in the market. Effective teamwork helps us achieve our goals and deliver the best possible healthcare solutions to our customers.
PharmD/MD/PhD Job. Latest PharmD/MD/PhD Job at Iqvia. Latest Medical Science Liaison Job at Iqvia.
Stay tuned on RASAYANIKA for more chem and pharma related job updates.