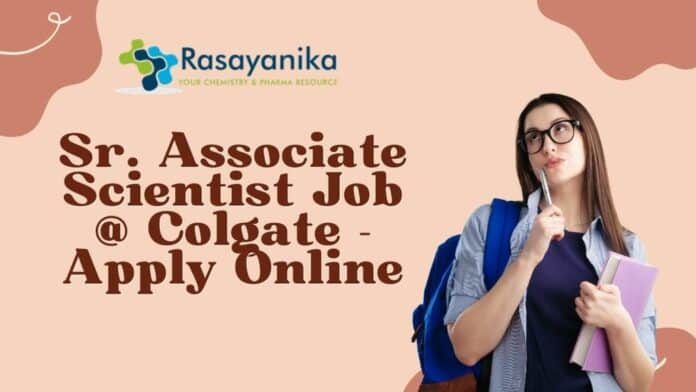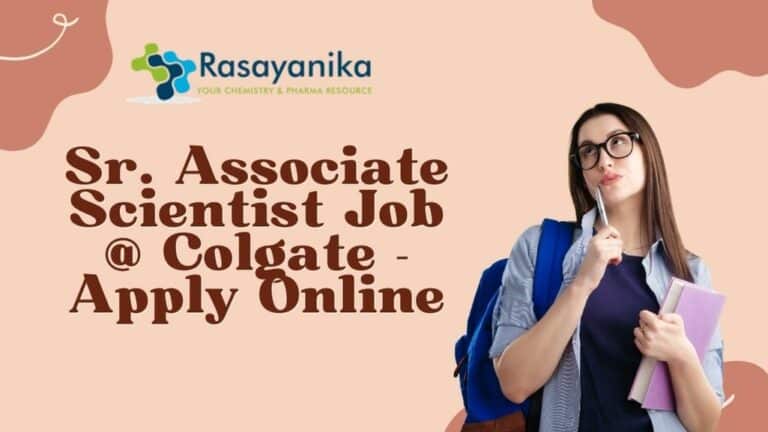 Sr. Associate Scientist Job @ Colgate – Apply Online
Chemistry job opening 2023, Sr. Associate Scientist job opening 2023, Colgate job opening 2023, Sr. Associate Scientist job opening 2023, Colgate job opening 2023, chemistry job opening 2022, Intrested and eligible candidates may check out all the details on our website Rasayanika.com
Job Title: Sr. Associate Scientist in Mumbai, India
Location: # 152133 – Mumbai, Maharashtra, India
Eligibility Criteria & Experience:
Master's/Ph. D. degree required (Chemical Engineer/ Pharmacy/ Science)
At least 4 years of experience in R&D
Experience in Cosmetic/ Pharma product development with a reputed FMCG/Pharma company
Preferred Requirements:
Experience working in FMCG (Oral care) company
Main Responsibilities :
Operational Excellence: Formulation Development, Service Consumer Test Samples, Lab & Pilot plant batches, Aging Studies, Record Keeping & Documentation.
Independently lead pilot plant operations and ensure 100% compliance to all safety, quality and regulatory requirements for the assigned product / brand.
Leverage Science & data analytics to identify potential problems or opportunities and create appropriate action plan in consultation with manager to address the same
Provide excellent support for all on-going and new product development projects & initiatives such as margin improvement programs to improve bottom line.
Utilize statistical approaches to experimental design to maximize learning with the least amount of time and with minimum resources
Be 100% compliant to all Product Safety, Quality, and Regulatory requirements to operate with cost-effectiveness and speed throughout the product life cycle.
Gain expertise in respective product category fundamentals and develop capability to independently execute projects from conceptualization to implementation on the ground.
Share internal and external technical knowledge discoveries, ideas, and vision with colleagues through documentation, presentations, publications, and patents
Supplier Qualification Program: Lead supplier qualification programs for raw & packing materials & provide required support to packaging material qualification programs.
Be agile and respond quickly to changing consumer and/or business expectations
Constantly identify opportunities to improve existing systems & processes which helps to improve process compliance and improve speed to market for all existing and new products.
New Product Development
Integrate technological breakthroughs and consumer insights to develop new ideas, products, innovative technologies, solutions and communications that engage and delight the consumer, shopper, profession
Demonstrate ability to independently plan and execute brief and off-brief projects with minimum supervision. Independently lead all product development projects for the assigned product/brands (existing & new) from conceptualization to implementation on the ground.
Demonstrate expertise in brand/range technology to develop new innovative product bundles and solutions that cater to unmet consumer needs.
Develop impactful claims for all existing & new products leading to sustainable business growth. Translate technical attributes into simple, consumer-relevant benefits and concepts
Apply scientific knowledge and strong sense of curiosity in all aspects of the job including innovation, problem-solving, and troubleshooting
Support FTG by exploring opportunities to optimise cost through formula and process optimisation as well as identifying new vendors for quality ingredients sourcing at low cost
Business Partnering / Relationship Building
Build formal & informal networks to constantly stay updated with new technology trends and breakthroughs
Partner closely with commercial & supply chain functions to drive sustainable business growth and build strong business acumen (end to end business understanding)
Collaborate effectively with all internal & external stakeholders within and outside Colgate to ensure smooth implementation of technology programs. Example: Partnership with Marketing/CIC, Supply Chain, teams within India GTC and piscataway and other GTCs.
Build Future Ready Agile Organization:
Leverage Colgate's performance management & development process to enhance one's own performance & capability.
Mentor & Coach trainees/interns in a structured manner to enhance their performance and level of contribution to the organization
Should be able to give & seek feedback on an on-going basis by leveraging Colgate's coaching program and initiatives.
Sr. Associate Scientist Job Looking for latest chemistry and Pharma job openings, follow Rasayanika Facebook and Telegram and subscribe to our youtube channel for the latest updates on chemistry and Pharma jobs and much more