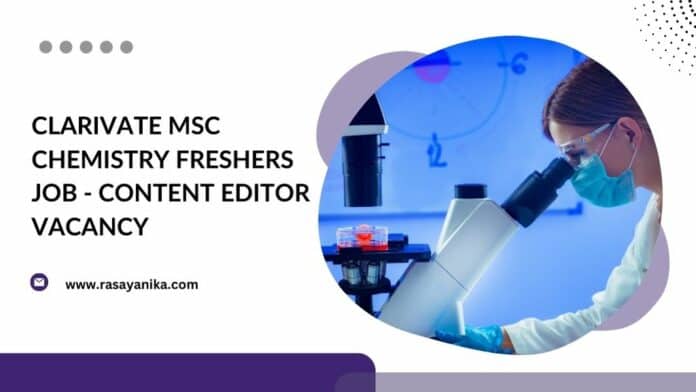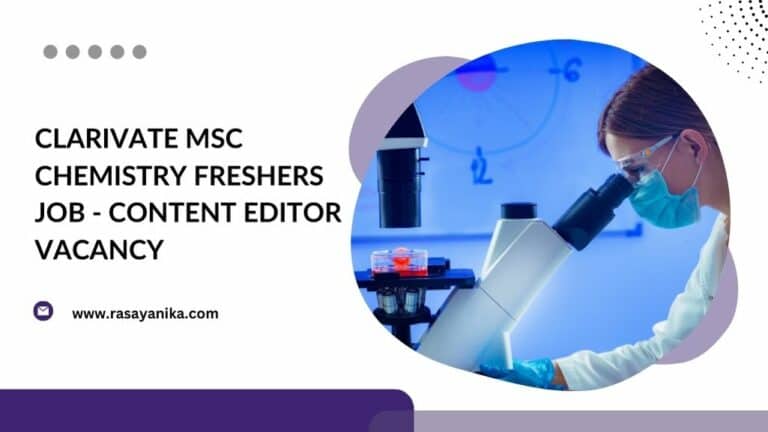 Clarivate MSc Chemistry Freshers Job – Content Editor Vacancy
Dont forget to check out possible interview questions for this job below
Clarivate is looking for freshers chemistry candidates for the Content Editor – Polymer post. Chemistry job opening 2023. MSc job opening 2023. Candidates with master's and bachelor's degrees in chemistry may apply for the job opening at Clarivate. Intrested and eligible candidates may check out all the details
Job Title: Content Editor – Polymer
Location: Chennai/Hyderabad
Eligbility Criteria:
M.Sc Chemistry / Polymer Chemistry / B.E Polymer Technology
Work experience: Freshers preferred, or one – two years of experience in related domain. Comprehensive knowledge of chemistry/polymer, include chemical nomenclature, reactions, formulae, catalysts, additives and their functions.
Knowledge in chemical drawing packages, e.g., ISIS Draw
It would be great if you also had . . .
Knowledge & understanding about novelty of the invention in Patents
What will you be doing in this role?
Extract the novel information from patent and value-add by using DWPI codes in line with editorial policies and conventions.
Achieve production volume and quality targets.
Maintain a flexible and adaptable approach towards process change.
To take responsibility for identifying technology training and developmental needs for yourself on an on-going basis.
Possible interview questions and answers related to the above post:
What motivated you to pursue a career in polymer chemistry, and what experience do you have in this domain?
Answer: I have always been fascinated by how different chemical compounds react with each other and how they can be manipulated to create new materials. I completed my M.Sc in Chemistry, with a specialization in Polymer Chemistry, and gained extensive knowledge of chemical nomenclature, reactions, formulae, catalysts, additives and their functions. Additionally, I have experience working with chemical drawing packages, such as ISIS Draw.
2. What is your understanding of patent novelty, and how do you extract and value-add novel information from patents?
Answer: Patent novelty refers to the new and non-obvious nature of a claimed invention. As a Content Editor – Polymer, my role would involve extracting and analyzing the novel information from patents using DWPI codes, which are codes used to classify patent documents according to their technical content. This information would be value-added by ensuring it meets editorial policies and conventions.
3. How would you ensure that you meet the production volume and quality targets in this role?
Answer: I would start by understanding the production targets and the timelines involved, and then develop a plan of action to achieve these targets. This would involve prioritizing tasks, working efficiently, and paying attention to detail to ensure high-quality output. Additionally, I would remain open to feedback and suggestions from my colleagues and supervisor to continuously improve my performance.
4. How do you approach learning new technologies and developmental needs in this domain?
Answer: I believe in continuous learning and keeping myself updated with the latest advancements in my field. I would take responsibility for identifying technology training and developmental needs for myself on an ongoing basis, through attending workshops, conferences, and training programs. I would also network with professionals in the industry to gain insights and learn from their experiences.
5. Can you share an example of a time when you had to be flexible and adaptable towards process change in your previous role?
Answer: In my previous role as a polymer chemist, we had to change our production process due to new regulations that were implemented by the government. This change meant that we had to alter our existing process, including the raw materials we used, the equipment we employed, and the safety protocols we followed. To adapt to this change, I communicated with my colleagues and supervisor, gathered information on the new process, and made the necessary adjustments to our production line to ensure compliance with the regulations. This experience taught me the importance of being adaptable and flexible towards process changes.
Editors Note: Clarivate MSc Chemistry Freshers Subscribe to Rasayanika for the latest chemistry and Pharma job openings, follow us on Facebook and Telegram and subscribe to our youtube channel for the latest updates on chemistry and Pharma jobs and much more.