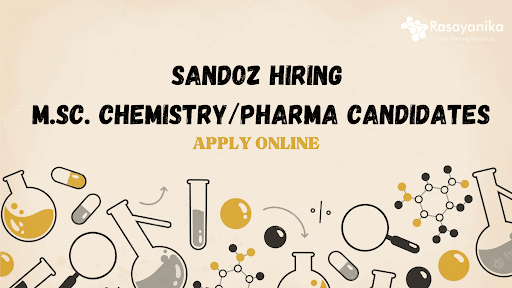 Sandoz Hiring M.Sc. Chemistry and Phrama Candidates for the post of Associate Manager
Sandoz, a leading global pharmaceutical company, is currently seeking talented individuals to join their team. They are specifically looking for candidates with M.Sc. degrees in Chemistry or Pharmacy to fill the role of Associate Manager. This is a fantastic opportunity for passionate professionals in the field to contribute to the company's mission of improving healthcare worldwide.
Job Title: Associate Manager- Quality Operations
Company: Sandoz India Pvt. Limited
Work Location: Hyderabad, AP
Job Type: Full Time
Shift Work: No
Minimum requirements to apply for the latest chemistry job at Sandoz:
Post-Grad degree (MSc) in Chemistry, Pharmacy or other

Natural Science

degree with proficient program in organic chemistry with 6 years of relevant experience.

Excellent theoretical knowledge of Organic chemistry and mechanisms of chemical reactions, advanced knowledge of medicinal chemistry advantageous.

Proven record as a successful synthetic Organic Chemist and other complex synthetic chemistry experience.

Experience in active pharmaceutical ingredient synthesis and PhD from the field of Organic or Medicinal chemistry.

Excellent communication, presentation and interpersonal and analytical skills

Experience of working closely with the global stakeholders.

Project Management skills
Job Purpose: Provide quality services in compliance with cGMP requirements and Quality Management System as defined and agreed between QSC and business partners. Manage Quality aspects & projects within area of responsibility
Major Accountabilities to be taken care at Sandoz:
Perform and deliver Quality Operations services in support of product quality compliance and regulatory workflows. 

Hold accounts in workflow applications (such as SAP, Dragon, SUBWAY, etc.) to ensure appropriate execution of service deliverables.

Generate and analyze predefined and ad-hoc reports in various applications (like AQWA etc.) and perform follow-up actions if required. 

Bring up service related GxP and non-GxP issues and ensure timely investigation and compliance with local and global operating procedures.

Ensure compliance to the Novartis internal quality standards, relevant regulatory requirements, filed product quality standards and service level agreements. Support implementing service quality and process improvement projects, CAPA management within Quality Service Centers.

Responsible for the evaluation of chemical synthesis routes to identify, categorize and control possible mutagenic impurities in active pharmaceutical ingredients (API) and drug products.

Assessment of potential degradation pathways of APIs in final drug products with the purpose to identify and assess possibility for the formation of potentially mutagenic impurities and ways to prevent this.

Participate in cross- functional technical teams to deliver on projects involved in paper- based assessment of toxicological data for mutagenic, genotoxic and nitrosamines.

Conduct of feasibility studies for generic API synthesis and synthesis of by-products, degradation products and related substances.

Protection of intellectual property in the field of organic synthesis. 

Utilize scientific expertise and chemical databases to generate solutions to problems. Maintaining laboratory logbooks and other project documents in accordance with good documentation practice and HSE requirements. 

Co-ordination of laboratory work performed by technicians.
Possible interview Questions and Answers: 
Can you describe your educational background and professional experience that makes you a suitable candidate for this role?
Sample Answer: "I hold an MSc in Chemistry with a specialization in Organic Chemistry, which has provided me with a strong theoretical foundation in the field. Over the past six years, I've worked in various roles where I've applied my knowledge extensively. My experience includes successful synthetic organic chemistry work, complex synthetic chemistry projects, and active pharmaceutical ingredient synthesis. This background aligns well with the requirements of this position."
What is your approach to staying updated with the latest advancements in organic chemistry and medicinal chemistry?
Sample Answer: "I'm passionate about staying current in my field. I regularly read scientific journals, attend conferences, and participate in online forums related to organic chemistry and medicinal chemistry. This commitment to ongoing learning allows me to incorporate the latest research and methodologies into my work, ensuring that I contribute effectively to the team's goals."
Can you provide an example of a challenging synthetic chemistry project you've worked on in the past and how you successfully overcame any obstacles?
Sample Answer: "I once worked on a project involving the synthesis of a novel compound with potential medicinal applications. We faced a significant challenge in optimizing the reaction conditions. To overcome this, I collaborated closely with team members, conducted thorough literature reviews, and performed rigorous experimentation. Through iterative adjustments and data analysis, we eventually achieved the desired compound with high yield and purity, showcasing my problem-solving and teamwork skills."
How have you demonstrated your project management skills in your previous roles, especially when working with global stakeholders?
Sample Answer: "In my previous role, I led a cross-functional team on an international project to develop a new pharmaceutical product. I successfully coordinated activities across multiple time zones, managed resources efficiently, and ensured clear communication among team members. By implementing project management methodologies, we not only met all project milestones but also completed the project ahead of schedule, demonstrating my ability to handle complex projects with global stakeholders."
Could you share an instance where your excellent communication and presentation skills played a pivotal role in the success of a project or collaboration?
Sample Answer: "I was tasked with presenting our research findings to a potential pharmaceutical partner. My communication and presentation skills were crucial in conveying the scientific complexities in a clear and engaging manner. This presentation not only impressed the partner but also led to a successful collaboration that resulted in the development of a new drug candidate. It highlighted my ability to bridge the gap between technical knowledge and effective communication."
Looking for latest chemistry and Pharma job openings, follow Rasayanika Facebook and Telegram and subscribe to our youtube channel for the latest updates on chemistry and Pharma job