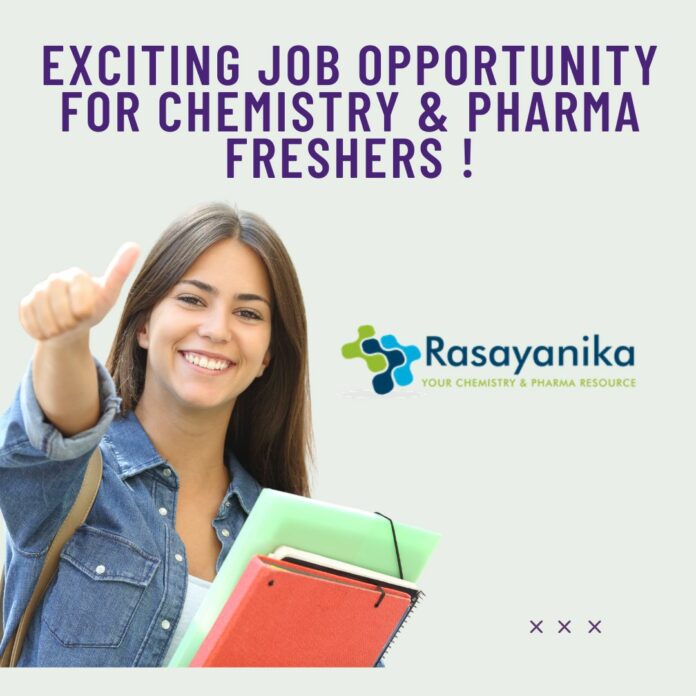 Syngene Recruiting Chemistry candidates Syngene job opening 2023, Freshers job opening 2023, Pharma job opening 2023, M.Pharm / B.Pharm / M.Sc. in Pharmaceutical Sciences / Analytical chemistry job opening 2023, Intrested and eligible candidates may check out all the details on the same below:
Job Title: Bioanalytical Research Laboratory 1 (54758)
Job Location: Bangalore
Department: Bioanalytical Research Laboratory
Eligibility Criteria:
M.Pharm / B.Pharm / M.Sc. in Pharmaceutical Sciences / Analytical chemistry.
Technical/Functional Skills
Bioanalytical Sample processing techniques.
Basic knowledge on Mass spectrometer and HPLC.
GLP training once in a year.
FDA Method validation Guideline.
EMEA Method Validation Guideline.
ANVISA Method Validation Guideline.
Experience:
0-3 years in bioanalytical laboratory
Behavioral Skills:
Time Management
Assertiveness at work
The 7 Habits of Highly Effective People
Job Purpose
The Research Associate will focus on quantitation of drugs in Biological samples.
Key Responsibilities:
To perform bioanalytical work including sample processing, etc as directed by Project Leader and assist Scientist for the same.
To monitor daily temperature, humidity in various laboratory areas and temperature for refrigerator and freezer and also to maintain records of the same, whenever necessary.
To supervise the laboratory assistant to maintain cleanliness and neatness in the laboratory
To get the water samples checked for quality in coordination with QC Department, Biocon and maintain the logbooks for QC checks for water used in the laboratory.
To follow EHS policies and procedures.
To perform daily calibration of pH meter and weighing balance as well as periodic calibration of weighing balances and pipettes.
Possible Interview Questions: 
1. Can you describe your experience with bioanalytical sample processing techniques, and how have you applied this knowledge in previous roles?
Answer: In my previous role at [Previous Company], I gained hands-on experience with various bioanalytical sample processing techniques, including sample preparation and extraction methods. I worked on projects involving the quantitation of drugs in biological samples, which required meticulous attention to detail and adherence to SOPs. I also collaborated closely with scientists and project leaders to ensure accurate and efficient sample processing.
2. What is your familiarity with regulatory guidelines such as FDA Method Validation Guideline, EMEA Method Validation Guideline, and ANVISA Method Validation Guideline? How have you ensured compliance with these guidelines in your previous work?
Answer: I have a strong understanding of regulatory guidelines such as FDA, EMEA, and ANVISA Method Validation Guidelines. In my previous role, I actively ensured compliance by following established protocols, conducting method validations, and documenting all processes meticulously. I also participated in regular training sessions to stay updated on any guideline revisions, ensuring our lab remained in compliance at all times.
3. How do you prioritize time management and maintain efficiency in a laboratory setting, especially when handling multiple tasks or projects simultaneously?
Answer: Time management is crucial in a laboratory environment. I prioritize tasks by setting clear objectives and timelines. I create a daily schedule and allocate specific time slots for each task, ensuring that critical deadlines are met. Additionally, I am adaptable and can shift priorities as needed to address urgent matters while maintaining overall project progress.
4. Can you provide an example of a situation where you had to demonstrate assertiveness at work?
Answer: In a previous role, there was a situation where we faced challenges with equipment maintenance, causing delays in our project timelines. I recognized the urgency of the situation and initiated a discussion with my team and the maintenance department. By clearly communicating the impact of the delays on project milestones and proposing potential solutions, I was able to assertively address the issue and coordinate prompt equipment repairs, ultimately minimizing project setbacks.
5. How do you ensure adherence to Environmental, Health, and Safety (EHS) policies and procedures in a laboratory setting?
Answer: Ensuring compliance with EHS policies is a top priority in a laboratory. I strictly adhere to safety protocols by consistently wearing appropriate personal protective equipment (PPE), maintaining a clean and organized workspace, and promptly reporting any safety concerns or incidents to the designated personnel. Additionally, I actively participate in EHS training programs to stay informed about best practices and safety updates within the lab.
Syngene Recruiting Chemistry Syngene Recruiting Chemistry Looking for latest chemistry and Pharma job openings, follow Rasayanika Facebook and Telegram and subscribe to our youtube channel for the latest updates on chemistry and Pharma job