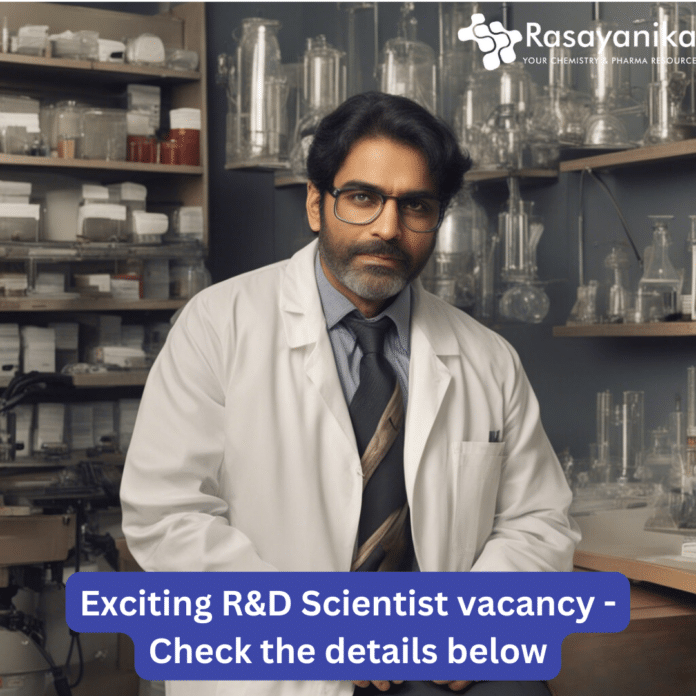 Syngene is an innovation-led contract research, development and manufacturing organization offering integrated scientific services from early discovery to commercial supply. MSc Chemistry RandD Job details are attached below. Kindly go through the same and apply if you are interested. Latest Syngene MSc Chemistry RandD Job.
Designation: Associate Scientist
Job Location: Bangalore
Department: Chemical Development- PRD
Mandatory expectation for all roles as per Syngene safety guidelines
Overall adherence to safe practices and procedures of oneself and the teams aligned
Contributing to the development of procedures, practices and systems that ensure safe operations and compliance to the company's integrity & quality standards
Driving a corporate culture that promotes environment, health, and safety (EHS) mindset and operational discipline at the workplace at all times.
Ensuring safety of self, teams and lab/plant by adhering to safety protocols and following environment, health, and safety (EHS) requirements at all times in the workplace.
Ensure all assigned mandatory trainings related to data integrity, health, and safety measures are completed on time by all members of the team including self
Compliance to Syngene' s quality standards at all times
Hold self and their teams accountable for the achievement of safety goals
Govern and Review safety metrics from time to time
Role Purpose:
Responsible for performing process research and development studies to generate accurate and reliable data that would be used for scale-up batches
Key Responsibilities:
Contribute individually (or as a team when appropriate) by performing experiments in lab and update laboratory notebook contemporaneously. Targeting minimum two experiments in a working day at lab
Perform experiments to generate data for process robustness, plant simulation studies, process safety studies, etc.
Collaborate with CFT and delivery counterparts to develop scalable, safe and cost-effective process suitable for pilot / commercial scale manufacturing.
Record all minute observation while lab experimentations and transfer knowledge to execution team for flawless smooth execution.
Synthesize reference standard, impurity markers, intermediates, and APIs to support method development in ADL and customers need from lab scale.
Ensure effective utilization of the resources and tools for developing the process.
Quick fixing of scale up challenges through scientific and operational excellency to meet project deliverables
Ensuring 100% compliance in safety, quality, data integrity and trainings.
Generate projects documents like TTD, development report / campaign report
Establish excellent interpersonal relationship with CFT for smooth execution
Ensure individual contribution is met as per PRD guidelines
Observe critically the batches while execution at manufacturing facility and provide valuable feedback to improve the process and avoid failure.
Review the process documents like TTD, BMR, scale up studies, engineering studies, etc. to ensure the process is robust enough and all necessary data are available.
Monitor the reactor days, batch input output data and collecting the analytical documents etc. pertaining to scale up batches
Ensure flawless execution of scale up activities with 100% compliance on safety, quality and data integrity.
Establish excellent interpersonal relationship with CFT for smooth execution
EDUCATIONAL QUALIFICATION & EXPERIENCE:
M.Sc. Chemistry with 5 – 10 years of experience in PRD & Scale up.
TECHNICAL /FUNCTIONAL SKILLS:
Basic synthetic organic chemistry knowledge with an ability to propose synthetic routes rapidly that is safe and scalable.
Excellent process development skills to arrive at a process that is scalable in the kg scale.
Experience in handling pyrophoric and moisture sensitive reagent.
Sound knowledge in process analytical chemistry
Proposing study plan for fit to purpose development studies.
Strong analytical skills to derive trend, conclusion, and path forward, out of large set of data.
Logical thinking and attention to details.
Excellent written and verbal communication skills.
Operational Excellence.
Technology transfer (TT), Chemistry, Manufacturing, and control (CMC)
Process Safety and GMP compliances
Knowledge on required analytical techniques / tools
Other Responsibilities
Adherence to all procedures related to data integrity
Ensure there is no violation of any environment, health, and safety (EHS) requirements at all times in the workplace ensuring individual and lab/plant safety
Understand and demonstrate the responsibility for safety of self & colleagues by following all necessary safety protocols at all times
Identify near-misses and potential incidents proactively and communicate those
Attend all assigned mandatory trainings related to data integrity, health, and safety measures
Hello, everyone! We've gathered interview questions and answers to help you prepare effectively. Study them diligently to improve your interview performance in MSc Chemistry RandD Job. Best of luck with your preparations, and may you excel in your interviews!
Can you describe your experience with adhering to safety guidelines and ensuring a culture of environment, health, and safety (EHS) in your previous roles?
Sample Answer: In my previous role at [Previous Company], I took safety extremely seriously. I consistently followed safety protocols and ensured that my team did the same. I actively contributed to developing safety procedures and practices, conducted safety trainings, and communicated the importance of EHS. This approach helped us maintain a safe and compliant work environment.
How do you manage to conduct experiments efficiently while maintaining high data integrity and quality standards, especially when performing multiple experiments in a day?
Sample Answer: Time management and meticulous record-keeping are essential. I plan my experiments in advance, ensuring they align with project goals. During experiments, I contemporaneously document all observations, methods, and results in my laboratory notebook. This approach not only maintains data integrity but also aids in quickly identifying trends and making real-time adjustments to ensure high-quality results.
Could you provide an example of a challenging scale-up project you've worked on and how you successfully addressed any challenges that arose during the process?
Sample Answer: In a previous project, we faced scalability challenges during the transition from lab-scale to pilot-scale production. To address this, I collaborated closely with the Cross-Functional Team (CFT) and utilized my process development skills to propose alternative synthetic routes and optimize reaction conditions. Through a combination of experimentation and teamwork, we successfully resolved the scalability issues and ensured a smooth scale-up process.
How do you ensure that your processes are compliant with GMP standards and consistently meet quality requirements throughout development and scale-up?
Sample Answer: Maintaining compliance with GMP standards is crucial. I ensure this by meticulously reviewing and adhering to Good Manufacturing Practices throughout the development process. Additionally, I collaborate with quality control and assurance teams to conduct thorough quality checks and audits. Regular monitoring and documentation of critical parameters also play a significant role in ensuring GMP compliance.
Can you share your experience in technology transfer (TT) and how you've ensured a seamless transfer of processes from development to manufacturing?
Sample Answer: In my previous role, I actively participated in technology transfer activities. To ensure a smooth transfer, I prepared detailed documentation, including Technology Transfer Documents (TTDs) and development reports. I also engaged in effective communication with manufacturing teams and closely monitored the initial batches. Any deviations or challenges were promptly addressed through collaboration with the Cross-Functional Team (CFT) to ensure a successful technology transfer.