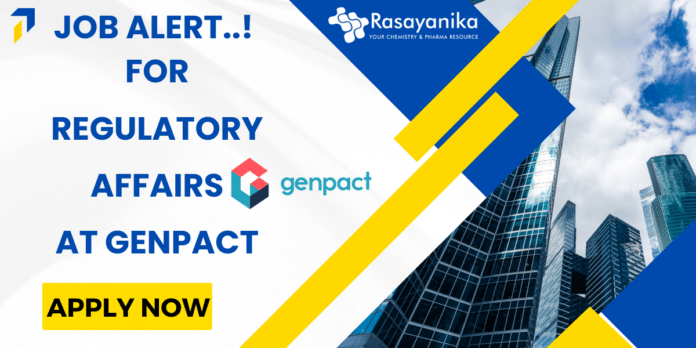 Looking for a exciting opportunities…! for the position Regulatory Affairs at Genpact, check out all the details given the same below
Job position: Regulatory Affairs
Job Location: Mumbai
About company : 
With a startup spirit and 115,000+ curious and courageous minds, we have the expertise to go deep with the world's biggest brands—and we have fun doing it! We dream in digital, dare in reality, and reinvent the ways companies work to make an impact far bigger than just our bottom line. We're harnessing the power of technology and humanity to create meaningful transformation that moves us forward in our pursuit of a world that works better for people.
Now, we're calling upon the thinkers and doers, those with a natural curiosity and a hunger to keep learning, keep growing. People who thrive on fearlessly experimenting, seizing opportunities, and pushing boundaries to turn our vision into reality. And as you help us create a better world, we will help you build your own intellectual firepower.
Responsibilities for Regulatory Affairs at Genpact : 
• Candidate should have extensive experience in the respective field.
• Technical expert on submissions
• Proven capability to manage the operations and team.
• Taking care of
administrative responsibilities of team
• Project & resource management
• Team management and team engagement
• Should be technical expert in eCTD/CTD submissions of US/EU/Canada and Row market.
• Hands on experience on submissions
• Capability to trouble shoot technical validation errors.
• Good client communication skills
• Flexible attitude
• Publishing and performing technical validation (eCTD/CTD/NeeS/Paper) for Asia pacific, Europe Submissions and US submissions.
• Performing final technical quality review.
• Dispatching submission to the relevant authority ((eCTD/CTD/NeeS/Paper) or affiliate so that affiliate can dispatch to authority.
• Performing post-submission processing activities such as receiving acknowledgement from authority of submission receipt; capturing and the electronic receipt and metadata in RIM; communicating submission receipt to key stakeholders.
• Capturing submissions-related correspondence from health authorities, such as uploading documentation, commitments and metadata.
• Co-ordinate with client/stakeholders.
Qualifications we seek in you For Regulatory Affairs at Genpact !
Bachelor's / Graduation / Equivalent
• B. Pham/M.Pharm/Science Graduate
Preferred Qualifications/ Skills
• Technical Expert on submissions and document publishing
• Proven skills to Manage team and resources.
• Handled a direct team of publishers.
• In depth working knowledge of ECTD/CTD/NEES/Paper types of submission, industry standard publishing systems.
• Effective time management and organizational skills
• Effectively communication
• Flexibility to adapt to a changing environment.
Possible interview questions may be asked for Regulatory Affairs at Genpact
1. Question: Can you provide an overview of your experience in regulatory affairs, especially in a leadership role?
Answer: Absolutely. I have a comprehensive background in regulatory affairs with over [X] years of experience. I have successfully navigated complex regulatory environments and led teams to ensure compliance and successful product registrations. My expertise encompasses various regulatory aspects, including submissions, compliance, and strategic planning.
2. Question: How have you ensured regulatory compliance for products in your previous roles?
Answer: Ensuring regulatory compliance involves a combination of deep understanding and meticulous execution. I have consistently kept abreast of evolving regulations, communicated these changes to relevant teams, and ensured that our processes and products align with the requirements. Regular internal audits, quality checks, and collaboration with cross-functional teams have been pivotal in maintaining compliance.
3. Question: Can you share an example of a challenging regulatory situation you've handled and how you resolved it?
Answer: Certainly. In a previous role, we were faced with unexpected changes in a country's regulatory framework right before a major product launch. This required swift adaptation and comprehensive documentation revision. I coordinated with regulatory agencies, cross-functional teams, and global counterparts to address the changes promptly, ensuring our product launch was successful without regulatory hiccups.
4. Question: How do you manage cross-functional collaborations to ensure regulatory considerations are integrated into product development?
Answer: Cross-functional collaboration is key to successful regulatory integration. I've established regular communication channels with R&D, quality, and marketing teams to align on regulatory requirements from the earliest stages of product development. By fostering an environment of shared understanding and clear communication, we've ensured that regulatory aspects are seamlessly integrated into product strategies and development plans.
5. Question: Can you describe your approach to developing regulatory strategies for new products or markets?
Answer: Developing regulatory strategies involves a thorough analysis of market requirements, product attributes, and available pathways. I start by conducting comprehensive assessments of target markets' regulatory landscapes and identifying potential challenges. I then collaborate with internal teams to outline efficient strategies that not only ensure compliance but also expedite product approvals without compromising quality.