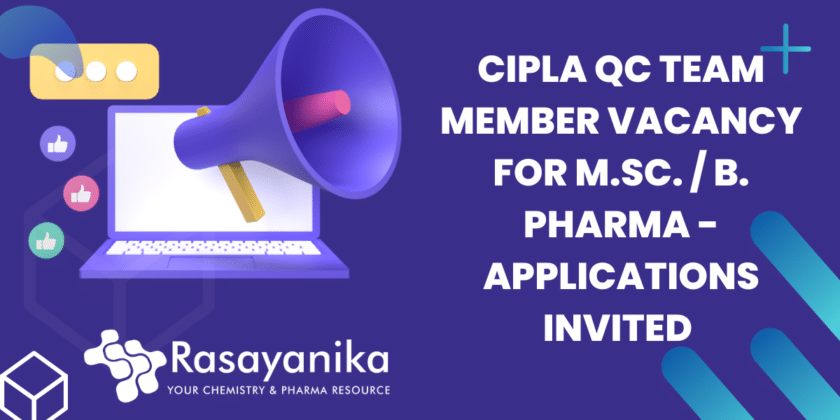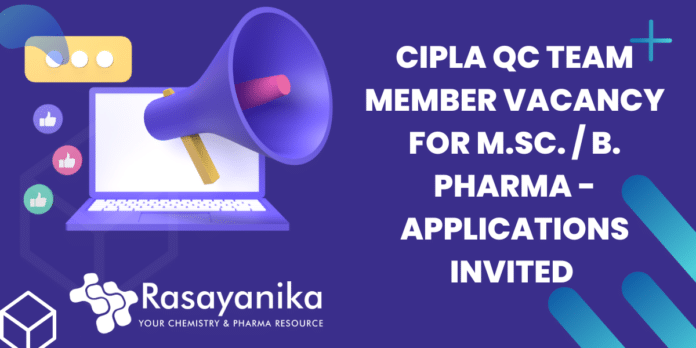 QC job opening at Cipla details are provided below. Kindly apply for MSc BPharm QC Job.Interested candidates can apply now.
Requisition ID –  78601
Posiition – Junior Team Member – QC
Job Location – Rangpo
Job Purpose –
Prepare, update and review the specifications, SOPs, policy and operating documents for analysis of materials in order to ensure alignment to predefined quality parameters and compliance to respective standards / pharmacopeia and cGMP requirements
Accountabilities – 
I. Prepare documents like SOPs, specifications and non-routine documentation and ensure timely availability across the site to provide support during the analysis
II. Review the latest pharmacopeial updates, supplements and amendments by evaluating the updates required in the available document to ensure the compliance with the current pharmacopoeia through consent with regulatory body
III. Review the assigned documents by referring the concern backup and pre-defined quality procedure to ensure its compliance against the quality requirements
IV. Issue documents to applicable units, by maintaining the record of the same in the issuance record (bound book) so the current version of the common document is available at the unit
V. Execute harmonization and simplification process of documents to reduce complexities in processes and ensure standardized procedures are followed
Education Qualification – M.Sc. / B. Pharma
Relevant Work Experience for MSc BPharm QC Job – 2 years of experience in QC department of a pharmaceutical organization
Competencies/Skills
Communication Skills (clarity of thought, comprehension)
Likely potential for growth
Job / Product / Technical Knowledge / Pharma domain knowledge
Presentation & Interpersonal skills (If applicable)
Managerial or People Management skills
Safety awareness (If applicable)
Relevance of Previous Experience
Comprehension, Analytical & Problem solving abilities
Productivity & Result Orientation (If applicable)
Attitude
Qualification fitment
Sales drive (If applicable)
Personality traits (Individualistic / Team player, Out spoken, Maturity level etc.)
Hello there, we are providing you the interview questions and answers that you can expect for interview of MSc BPharm QC Job. Prepare well. All the best!!!
Question 1: Can you describe your experience in preparing and reviewing documents like SOPs and specifications in a pharmaceutical setting?
Answer: Certainly. In my previous role at [Previous Company Name], I was responsible for preparing and reviewing various documents such as SOPs and specifications in the QC department. I ensured that these documents were aligned with predefined quality parameters and complied with relevant standards and regulations. This involved collaborating with cross-functional teams and staying updated with the latest pharmacopeial updates to maintain compliance. My experience of 2 years in a pharmaceutical organization has provided me with a solid understanding of the importance of accurate documentation and adherence to cGMP requirements.
Question 2: How do you stay updated with the latest pharmacopeial updates and ensure compliance with current standards?
Answer: Staying updated with the latest pharmacopeial updates is crucial in maintaining compliance. I actively subscribe to relevant regulatory newsletters and attend industry conferences and seminars. Additionally, I regularly visit regulatory websites and forums to gather information about updates, supplements, and amendments. This proactive approach helps me evaluate the changes required in our existing documents and ensure alignment with current pharmacopoeia. By doing so, I contribute to maintaining the highest quality standards in our materials analysis processes.
Question 3: Can you provide an example of a situation where you had to simplify a complex document or process to ensure standardized procedures are followed?
Answer: Certainly. In my previous role, we encountered a complex document related to a specific analytical procedure. The process was convoluted, leading to inconsistencies and inefficiencies in the analysis. To address this, I initiated a harmonization and simplification project. I collaborated with cross-functional teams, including analysts and process experts, to streamline the document. We eliminated redundant steps, clarified ambiguous instructions, and improved the overall readability. As a result, the procedure became more user-friendly, leading to increased productivity, reduced errors, and adherence to standardized procedures.
Question 4: How do you handle situations where there is a discrepancy between a document's content and the actual quality requirements?
Answer: When faced with such a situation, I approach it systematically. First, I carefully review both the document and the pre-defined quality procedure to understand the nature of the discrepancy. If it's a matter of misinterpretation or lack of clarity, I initiate discussions with the relevant stakeholders, including analysts and quality assurance personnel, to resolve the issue. If necessary, I coordinate with regulatory experts to ensure that any changes made align with industry standards and compliance requirements. My priority is to rectify the discrepancy promptly while maintaining the highest level of quality and adherence to standards.
Question 5: How do you balance the need for individual work with effective collaboration in a team-based environment?
Answer: I believe in the synergy of both individual work and collaboration within a team. While working on preparing or reviewing documents, I ensure that I dedicate focused time to analyze, assess, and contribute my insights. Simultaneously, I maintain open lines of communication with team members, seeking their inputs and providing mine when needed. This collaborative approach helps gather diverse perspectives, refine ideas, and ensure that the documents are comprehensive and accurate. My experience has taught me the importance of striking this balance to achieve the best outcomes for both individual and team success.