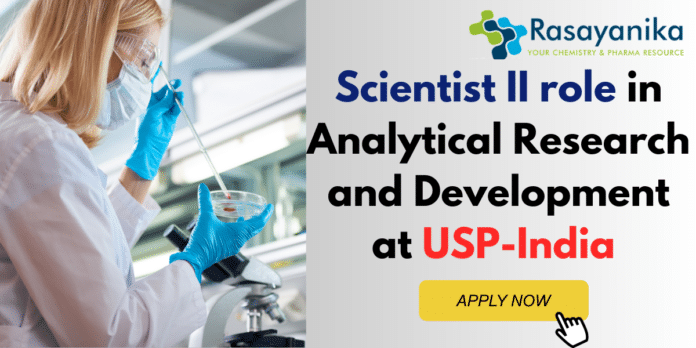 Scientist II role in Analytical Research and Development at USP-India – APPLY NOW 
Role : Scientist II, Analytical Research and Developement
Location : Hyderabad, India
Job Category : Chemistry & Scientific Standards
Job Type : Full-Time
Educational qualification : MSc. in Analytical Chemistry / Organic Chemistry
Description
Brief Job Overview
This is a non-supervisory position in USP-India's Analytical Research & Development Laboratory.
In this role, the Scientist – II works on projects including complete analysis for ATR testing.
The Scientist II performs a variety of non-routine and routine analytical tests, maintains safety & GLP environment in the lab including evaluation of reference standards, development/validation (as per requirement) of official methods, stability studies and research projects in analytical chemistry
How will YOU create impact here at USP?
Support to final analysis of samples as per monograph / in-house procedures. Prepare analytical test reports for Synthetic projects (USPNF and PAI). Execute projects per the approved test protocols if assigned.
Responsible for preparation of SOPs, protocols, reports, etc. Ensure the projects requirements by coordinating with the Purchasing department. Responsible for preparation of the records and documents. Ensure that the calibrations of the equipment's are performed as per the schedule
Prepare, execute, and complete IQ/OQ/PQ of new instruments. Indent the required glass ware, chemicals, and columns for the ARD projects. Maintain GLP & implement safety procedures while working in Lab. Perform other Projects whenever free from ARD activities. Perform other duties as assigned
Preparation and planning for ISO-9001 certification/recertification by participating actively, verification of protocols and related documents and take an active role in the internal as well as external QA audits and address the audit issues in a timely manner. Taking up any other additional responsibilities assigned by supervisor on a proactive basis and allotting additional responsibilities to the reporting staff in consultation with the supervisor. Participates in USP cross-functional teams as appropriate.
Practice Diversity, Equity, Inclusion, and Belonging principles at USP India.
Who USP is Looking For?
The successful candidate will have a demonstrated understanding of our mission, commitment to excellence through inclusive and equitable behaviors and practices, ability to quickly build credibility with stakeholders, along with the following competencies and experience:
MSc. in Analytical Chemistry / Organic Chemistry, from a well-recognized University in India or abroad and required not less than 4-6 years of experience in Analytical lab.
Must have hands on experience in working with chemical methods and handling instruments like HPLC, GC, FTIR, UV-Visible, wet chemistry, etc.
Experience in analytical testing and development with focus on process analytical chemistry. Exposure to GMP/GLP environment and documentation procedures required.
Ability to perform analytical method developments and method validations as and when required.
A comprehensive understanding of the science involved in the development of synthetic organic molecules and analytical chemistry.
Excellent technical writing and verbal communication skills are required.
Additional Desired Preferences
Knowledge of handling LCMS, GCMS and IC will be preferred.
General chapter information Empower, ELN and NuGenesis will be preferred.
Able to communicate effectively with both internal and external customers. Preferably familiar with electronic notebook documentation of experimental procedures.
Good interpersonal skills and proven ability to function in a team-oriented environment are necessary.
check out rasayanika for more updates
Here are some potential interview questions and sample answers for the role of Scientist II in Analytical Research and Development at USP-India :
Question: Can you describe your experience with analytical testing and development in a laboratory setting?
Sample Answer: In my previous role as a Scientist I, I worked extensively on various analytical projects, including method development and validation for ATR testing. I have hands-on experience with a range of analytical instruments such as HPLC, GC, FTIR, and UV-Visible spectrophotometers. I also have exposure to working in a GMP/GLP environment, ensuring adherence to documentation procedures and maintaining a safe working environment in the lab.
Question: How do you ensure the accuracy and reliability of analytical test results in your work?
Sample Answer: Accuracy and reliability are paramount in analytical research. To ensure this, I meticulously follow approved test protocols and SOPs, making sure all equipment is properly calibrated and maintained. I also pay close attention to sample preparation and data analysis, and I perform method validations when required. Additionally, I participate in internal QA audits, address any audit issues promptly, and actively contribute to ISO-9001 certification/recertification processes.
Question: Can you share an example of a challenging project you worked on and how you successfully tackled it?
Sample Answer: One of the most challenging projects I worked on involved developing an analytical method for a complex synthetic organic molecule. The initial method yielded inconsistent results due to the compound's inherent instability. To overcome this, I collaborated with cross-functional teams to explore alternative approaches and modified the method accordingly. Through iterative testing and optimizations, we achieved reliable and reproducible results, meeting the project's objectives.
Question: How do you stay updated with the latest advancements and trends in analytical chemistry?
Sample Answer: As a dedicated scientist, I regularly engage in professional development activities. I attend industry conferences, webinars, and workshops to stay updated with the latest advancements in analytical chemistry. I also read scientific journals and publications to keep abreast of cutting-edge techniques and methodologies. Additionally, I actively participate in discussions with colleagues and network with experts in the field to exchange knowledge and ideas.
Question: Describe a situation where you had to work collaboratively in a team-oriented environment. How did you contribute to the team's success?
Sample Answer: In my previous role, I was part of a multidisciplinary team tasked with conducting stability studies for a new pharmaceutical product. I collaborated closely with chemists, pharmacists, and statisticians to design the study, perform analytical testing, and interpret the results. My contributions included designing and executing the analytical method, ensuring data integrity and compliance with regulatory standards. By working cohesively and sharing insights, our team successfully completed the study, contributing to the product's successful launch.
ALL THE BEST !