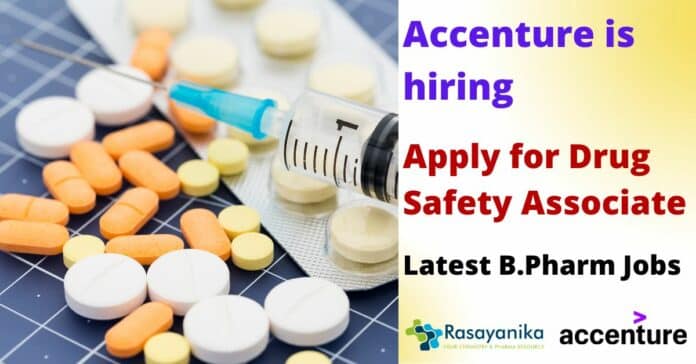 Drug Safety Associate at Accenture. Apply here.
Job role: Drug Safety Associate
Job Location: Chennai
Skill required: Pharmacovigilance – Pharmacovigilance & Drug Safety Surveillance
About Accenture
Accenture is a global professional services company with leading capabilities in digital, cloud and security. Combining unmatched experience and specialized skills across more than 40 industries, we offer Strategy and Consulting, Technology and Operations services, and Accenture Song— all powered by the world's largest network of Advanced Technology and Intelligent Operations centers. Our 699,000 people deliver on the promise of technology and human ingenuity every day, serving clients in more than 120 countries. We embrace the power of change to create value and shared success for our clients, people, shareholders, partners and communities. Visit us at www.accenture.com
What would you do?
You will be aligned with our Life Sciences R&D vertical. Our services span across the entire life sciences enterprise, from research laboratories, clinical trials support, and regulatory services, to pharmacovigilance and patient services solutions. Employees under this span will be a part of one of the sub-offerings – Clinical, Pharmacovigilance & Regulatory, helping the world's leading biopharma companies bring their vision to life – enabling them to improve outcomes by converging around the
patient, connecting scientific expertise with unique insights into the patient experience. You will be part of a dynamic Pharmacovigilance team with array of capabilities ranging from detection, assessment, understanding and prevention of adverse effects or any other medicine/vaccine related problem following Good Pharmacovigilance Practice (GVP) per client SOPs and applicable global regulatory requirements (Individual Case Safety Reports) to working on various aspects of Aggregate reports such as planning, authoring, reviewing and publishing of PBRER, PSUR, DSUR, PADER, Addendum to clinical overview (AdCO), Risk Management Plan (RMP), Signal detection and validation reports (SDVR), Cosmetovigilance Safety Reports (CoSR). The Pharmacovigilance team is also responsible for authoring and reviewing clinical documents such Protocols and amendment, Investigator Brochure, Clinical Study Reports (CSR), Synoptic/Abbreviated CSR, Safety Narratives, Clinical Overview/abbreviated Clinical Overview. In this role, you will be expected to create and manage case identification, data entry, MedDRA coding, case processing, submission, and follow-ups for ICSRs in the safety database as per client guidelines and applicable global regulatory requirements.
What are we looking for?
Ability to perform under pressure
Ability to establish strong client relationship
Ability to handle disputes
Ability to manage multiple stakeholders
Roles and Responsibilities
In this role you are required to solve routine problems, largely through precedent and referral to general guidelines
Your expected interactions are within your own team and direct supervisor
You will be provided detailed to moderate level of instruction on daily work tasks and detailed instruction on new assignments
The decisions that you make would impact your own work
You will be an individual contributor as a part of a team, with a predetermined, focused scope of work
Please note that this role may require you to work in rotational shifts
Qualifications for Drug Safety Associate at Accenture:
Bachelor of Dental Surgery/Bachelor of Pharmacy/Bachelor of Physiotheraphy/BSc/BSc. Nursing
Years of Experience: 1 to 3 years
Here are few interview questions with answers for the job role of Drug Safety Associate at Accenture:
1.Can you explain the role of a Drug Safety Associate in pharmacovigilance and drug safety surveillance?
A: As a Drug Safety Associate, my primary responsibility is to support the pharmacovigilance team in detecting, assessing, understanding, and preventing adverse effects or any other medicine/vaccine-related problems. I ensure compliance with Good Pharmacovigilance Practice (GVP) as per client Standard Operating Procedures (SOPs) and global regulatory requirements. Additionally, I work on various aspects of Aggregate reports such as PBRER, PSUR, DSUR, PADER, AdCO, RMP, SDVR, and CoSR. I also contribute to authoring and reviewing clinical documents like Protocols, Investigator Brochures, Clinical Study Reports (CSRs), Safety Narratives, and Clinical Overviews.
2.How do you ensure accuracy and compliance when managing case identification, data entry, and MedDRA coding for Individual Case Safety Reports (ICSRs)?
A: To ensure accuracy and compliance, I follow established guidelines and client SOPs diligently. I perform thorough case identification and data entry, ensuring all relevant information is captured accurately. MedDRA coding is done meticulously, adhering to the latest coding dictionaries and global standards. Additionally, I regularly undergo training and stay updated with regulatory changes to maintain the highest level of accuracy and compliance in my work.
3.Can you describe a situation where you had to handle a complex drug safety case, and what steps did you take to resolve it?
A: In a recent complex drug safety case, I encountered a challenging adverse event report involving multiple medications and unclear causality. To address it, I collaborated closely with the pharmacovigilance team and medical experts to analyze the available data thoroughly. We conducted a comprehensive literature review and consulted relevant medical literature to gain insights into the potential interactions among the drugs. After a series of discussions and evaluations, we submitted a detailed case analysis and recommendation to the client, highlighting potential risks and preventive measures. Our diligent approach helped the client make informed decisions and take necessary actions promptly.
4.How do you manage your workload and prioritize tasks effectively in a fast-paced pharmacovigilance environment?
A: To manage my workload efficiently, I prioritize tasks based on their urgency and impact on patient safety. I maintain a to-do list and use project management tools to track deadlines and progress. Regular team meetings help in understanding the overall workload distribution and resource allocation. When facing multiple deadlines, I communicate with my team and supervisor to ensure proper support and identify opportunities for delegation. Flexibility and adaptability are crucial, as I may need to shift priorities in response to emerging safety signals or urgent regulatory requirements. Time management and teamwork play vital roles in maintaining productivity and delivering high-quality results.
Drug Safety Associate at Accenture
Stay tuned on RASAYANIKA for more chem and pharma related job updates.