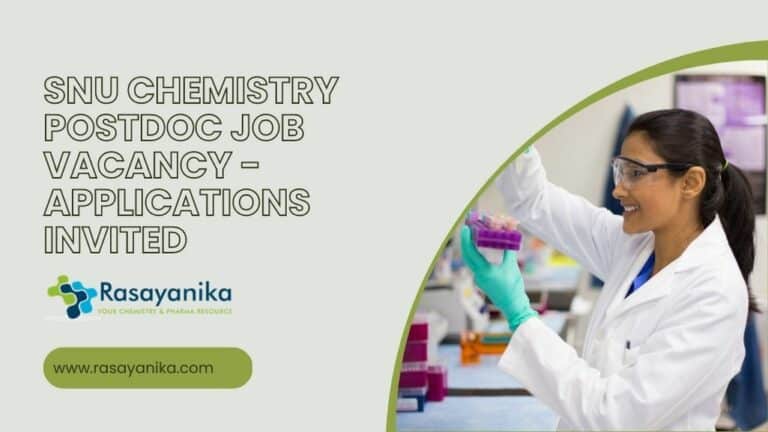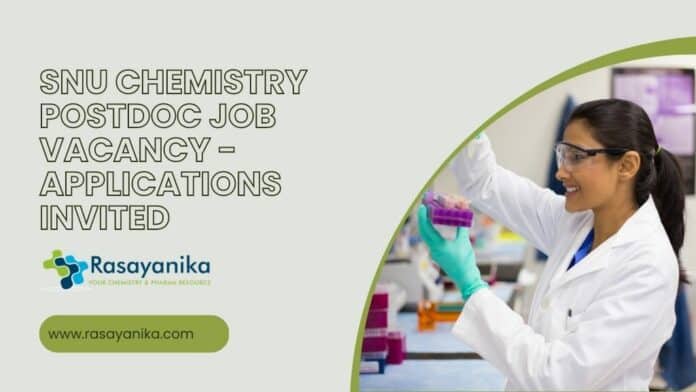 SNU Chemistry PostDoc Job Vacancy – Applications Invited
Dont forget to check out possible interview questions for this job below
Applications are invited for the position of Assistant Professor (Inorganic Chemistry) in the Department of Chemistry, School of Natural Sciences.
Job Title: Assistant Professor
Job Id: 385
Department: Chemistry
Job Type: Regular
No. of Positions: 1
The Department of Chemistry (https://chemistry.snu.edu.in/) at Shiv Nadar Institution of Eminence (Deemed to be University), Delhi NCR, seeks applicants for an appointment at the rank of Assistant Professor. A Ph.D. degree with a superior academic record and significant post-doctoral research experience is required for applying for this position. The selected candidates will be expected to develop and sustain a dynamic and innovative research program. Qualified candidates must also exhibit a strong potential to attract external funding for their research and demonstrate excellence in teaching, advising, mentoring, and supervising graduate and undergraduate students. Currently, we are welcoming applicants with expertise in Inorganic Chemistry. Shiv Nadar Institution of Eminence (Shiv Nadar IoE) provides equal opportunity and is inclusive and diverse. Women are encouraged to apply.
Application Procedure
Interested candidates can apply for this position by uploading the documents in the order mentioned below:
Complete Resume including
Marks/Grades obtained since B.Sc. and the years of passing.
Research and Teaching Experience(s).
List of Publications highlighting the five best work relevant to your proposed research plan.
Achievements
Detailed Research Plan (containing the following):
Summary
Objectives
Origin of the Proposal
Importance of the proposed project in the context of the current status
Work Plan:
Methodology
Methods, Techniques, and Tools to be used
Expected Output and Outcome of the Proposal
List of facilities required with an approximate budget
A 3-year timeline of research deliverables
3. Teaching Plan (both at undergraduate and graduate levels)
4. Name of at least three referees from whom recommendations in support of the application have been requested
For further details, please contact Head of Department (Chemistry): [email protected]
About the Chemistry Department
Chemistry education at Shiv Nadar IoE provides a link between the fundamental principles governing the nature of the universe and the science of life and spans learning towards traditional as well as a variety of interdisciplinary courses.
The department is committed to pursuing research on fundamental and applied problems by addressing the scientific inquiry of both faculty and student investigators for the development of research & innovation in frontiers areas of multidisciplinary domain – a significant value addition to the industry-academia collaboration, a platform for real-world applications.
Department's research motto has been to work on diversified areas encompassing the breadth and depth of the chemical sciences in both compelling and interesting problems and that too at various interfaces.
This realization is possible with advances in a collaborative approach between theory, experiments, and methodology at domestic and international levels.
All chemistry labs are equipped with fume-hoods, Schlenk lines, eyewash stations, and safety showers. Lab facilities include advanced analytical instruments such as EPR, AFM, FESEM, Flash Chromatography, Gas Chromatography with MS, GPC (Prep & Analytical), HPLC (Prep & Analytical), FPLC, NMR, LCMS-qToF, MALDI-ToF, DSC, TGA, Single-crystal X-ray diffractometer, Electrochemical analyzer, Fluorimeter, TCSPC, Polarimeter, UV-visible, High-resolution FTIR, Raman spectrometers, Microwave reactor, Inverted microscope, Fluorescent microscope, Host-stage polarized microscope, Bio-safety cabinets, CO2 incubators, Shaker incubators, Glove box, Multimode plate reader, Electroporator, Deep freezer, cell counter, and liquid nitrogen generation plant.
Computational facilities that include a high-performance IBM cluster ("Magus") having 8064-cores along with two nodes with GPGPU processors, delivering a theoretical peak performance of ~320TF. Additionally, several Linux workstations are used for teaching as well as research purposes. Software for bioinformatics and cheminformatics, molecular modeling, molecular dynamics, quantum chemistry, data analysis, and statistical learning are also available.
Our library, housed in a modern 5-storey building, provides online access, from anywhere on the campus, to a large number of electronic journals and databases including APS, AIP, ACS, RSC, AMS, SIAM, Springer, Elsevier, Wiley, and Nature journals, in addition to various books, e-books, and other learning resources.
Application deadline: 20 May 2023
Important Interview Questions and Answers for the above job role:
What specific research areas in Inorganic Chemistry interest you the most and how do you plan to incorporate them into your teaching and research programs at Shiv Nadar Institution? Answer: My research interests lie in the design and synthesis of new materials and their applications in various fields. I am particularly interested in exploring the electronic and optical properties of inorganic materials, such as metal oxides and chalcogenides. In my teaching, I plan to incorporate these topics by emphasizing the fundamental principles governing the nature of the universe and the science of life, and showing how they can be applied to real-world problems.
How do you plan to secure external funding for your research program? Answer: Securing external funding requires a combination of scientific excellence and effective communication. I plan to achieve this by publishing high-quality research papers in top-tier journals, presenting my work at national and international conferences, and building collaborative relationships with researchers in other institutions.
How do you plan to mentor and advise graduate and undergraduate students? Answer: Mentoring and advising students is a critical part of being an Assistant Professor. I plan to provide a supportive and stimulating environment for my students, by encouraging them to ask questions, discuss ideas, and pursue independent research projects. I will also provide regular feedback on their progress and offer guidance on career development.
Can you describe a research project that you have worked on and the outcomes that you achieved? Answer: During my postdoctoral research, I investigated the synthesis and characterization of novel 2D materials. By using a combination of theoretical calculations and experimental techniques, I was able to demonstrate the unique electronic and mechanical properties of these materials, which have potential applications in electronics and energy storage.
How do you plan to collaborate with other departments at Shiv Nadar Institution and other universities in India and abroad? Answer: Collaborations with other departments and institutions are essential for advancing research and fostering innovation. I plan to establish collaborations with researchers in other departments at Shiv Nadar Institution and other universities in India and abroad. I will also attend conferences and workshops to meet other researchers and identify potential areas of collaboration.
Editors Note: SNU Chemistry PostDoc Job Subscribe to Rasayanika for the latest chemistry and Pharma job openings, follow us on Facebook and Telegram and subscribe to our youtube channel for the latest updates on chemistry and Pharma jobs and much more.