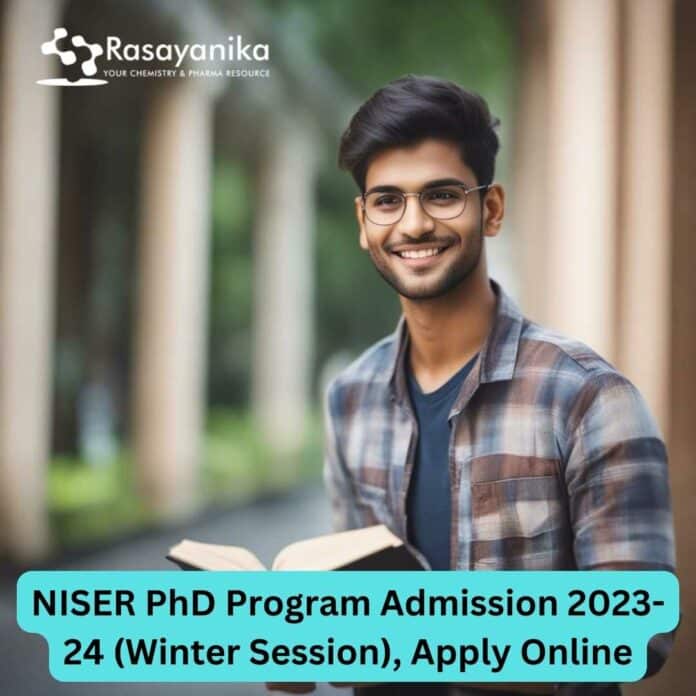 NISER PhD 2023-2024 Admission (Winter Session), Apply Online
NISER PhD 2023-2024 Admission (Winter Session), Apply Online. NISER Admission to Ph.D Program: 2023-24 (Winter Session). NISER Admission 2023-24. NISER PhD Admission 2023-2024. NISER PhD Admissions 2023. Interested applicants can check details on the eligibility criteria, courses offered, application procedure, research areas, contact details and application link all given below
This call expires in
-23
Days
-2
Hours
-31
Minutes
-52
Seconds
NATIONAL INSTITUTE OF SCIENCE EDUCATION AND RESEARCH
BHUBANESWAR
Advt. No: NISER / ACAD / Ph.D. / 2023-24 (2)
Notice for Admission to Ph.D. Program: 2023-24 (Winter Session)
Online applications are invited from Indian citizens for admission to the Ph.D. program scheduled to commence from January 2024 in the following schools of NISER, Bhubaneswar.
1. School of Chemical Sciences (SCS)
Eligibility
School: Chemical Sciences
Minimum Educational Qualifications
60% or equivalent GPA in Masters in Chemistry or allied Chemistry fields. Student with Master's degree in any branches of Basic Sciences with undergraduate degree in Chemistry (or Chemistry as one of the subjects) or M.Tech in applied Chemistry or Computer Sciences with interest in pursuing a career in Chemistry are also encouraged to apply. Candidates with a 4 year / 8 semester Bachelor's degree program with chemistry
as major subject with a minimum of 75% marks in aggregate or equivalent grade are also eligible to apply for the program.
2. Requirement of Qualifying in National Level Examinations for pursuing Ph.D
program
School of Biological Sciences – Candidates should have qualified at least one of these National Level Examinations, i.e., CSIR-UGC NET (LS or JRF)/GATE valid for the academic year August 2023-July 2024.
Important Note –
(a) The cut-off marks for national examinations such as GATE/ JEST/ GPAT/ NBHM/ JGEEBILS/ CSIR-UGC-NET etc will be further decided by each School for the relevant subject area.
(b) As per HBNI Ordinance, students having DST INSPIRE Doctoral Fellowship ONLY, without qualifying for any other national level written examination as mentioned above at S.No 2, will not be considered for admission to Ph.D program in NISER.
(c) Candidates with GPA in a qualifying degree may need to produce the conversion note (in case it is not mentioned in their mark sheet) from their institution towards the calculation of percentage.
3. Fellowship
The institute fellowship given by NISER is ₹31,000/-* for the first two years, which will
subsequently be enhanced to ₹35,000/- for the remaining three years, subject to the
condition that he/she fulfills all the requirements of the Institute that will be stipulated
from time to time.
*Subject to revision for enhancement of fellowship upon receipt of DAE/HBNI notification.
Students with an external fellowship from agencies viz. CSIR, UGC etc will be eligible to draw fellowship as per the extant rules of the respective funding agencies.
4. Research Areas for some Schools
School of Chemical Sciences
Bioinorganic Chemistry
Organometallic chemistry
Synthetic inorganic chemistry
Inorganic functional materials for energy conversion and storage
Transition metals (particularly base metals) catalyzed organic transformations
Catalysis, reaction mechanisms
Synthetic organic chemistry, bio-organic chemistry
Heterocyclic chemistry, medicinal chemistry and asymmetric catalysis
Experimental Physical and Materials Chemistry
Ultrafast Laser Spectroscopy (Transient Absorption, Fluorescence Upconversion and
Supersonic-Jet Spectroscopy)
Single molecule spectroscopy and imaging
Nanoscience, catalysis and electrochemistry
NMR spectroscopy – methods development
Chiroptical Spectroscopy (MI-VCD, ECD and CPL Spectroscopy)
Theoretical and computational chemistry
Porous materials, membrane science and photocatalysis
Solar energy conversion materials (Quantum dots, 2D materials and semi-conducting
plasmonic materials)
For detailed information on research areas of the schools, please visit:
https://www.niser.ac.in/scs/content/faculty
5. Selection Procedure
The selection committee of the respective schools will short-list the candidates among those who meet the minimum educational qualifications and satisfy additional criteria which each school may set as deemed necessary.
The short-listed candidates will be called for an interview, supplemented by a written test, if necessary, for the admission.
Based on the academic record and the performance of the candidates in the selection process, the selection committee of the school will recommend candidates to the Chairman, Academic Council for admission to the Ph.D. program.
All candidates called for the Test / Interview will be paid to and fro single, second-sleeper class railway fare by the shortest route from their place of residence to the Institute. They have to produce evidence (railway ticket) in support of their claim
6. How to Apply
The application form has to be filled up online at https://www.niser.ac.in and candidates should follow stepwise instructions mentioned to complete the application submission process. At the time of application, along with this online form, the candidate should upload soft copy of the supporting documents as per the eligibility criteria.
Candidates intending to apply for more than one school should fill up separate online application forms for each school with appropriate supporting documents.
NISER does not demand any application fee from the candidates who apply for Ph.D program.
Important dates –
The online application will be activated on – 17th October 2023
Last date for filling up the online application – 5th November 2023
The short-listed candidates list will be uploaded on NISER website: 10th November 2023.

Tentative dates for the test/interview will be as follows School of Chemical Sciences

: School of Chemical Sciences ……………… : 5th – 6th December 2023
Each school will send the call letters to the candidates shortlisted for the test/interview
separately. Kindly refer to the website for the announcement of the shortlisted candidates for test/interview in each school.
The PhD first-semester registration is scheduled for 2nd January 2024, and classes commence on the same day.
If you have any further queries, kindly send an email to [email protected],


[email protected]

, [email protected], [email protected], [email protected] for
Biological Sciences, Chemical Sciences, Computer Sciences, Humanities & Social
Sciences and Physical Sciences respectively.
Applicants are encouraged to visit the school web page for more information on research activities.
Checklist for application submission
During online submission, you will need to have the following ready with you for uploading;
JPEG file of your passport-size photo.
JPEG file of your valid signatures.
Birth Certificate/10th pass certificate in support of date of birth.
Certificate in support of category (SC/ST), only if applicable.
Certificate and mark-sheets in support of passing the qualifying examination, i.e., Master's degree OR 4 Years / 8 Semester Bachelor's degree, whichever is applicable. In case the original pass certificate is not issued by the University, then a certificate from the University on its letterhead with the seal of the concerned authority certifying the completion of the degree should be submitted.
Certificate/document in support of qualifying national level examination(s) viz. CSIRUGC NET / GATE / GPAT / DBT / ICMR / JEST or any other as applicable.
Click here for the notification
Editor's Note: NISER PhD 2023-2024 Admission (Winter Session), Apply Online. Subscribe to Rasayanika for the latest chemistry and Pharma job openings, follow us on Facebook and Telegram and subscribe to our youtube channel for the latest updates on chemistry and Pharma jobs and much more.