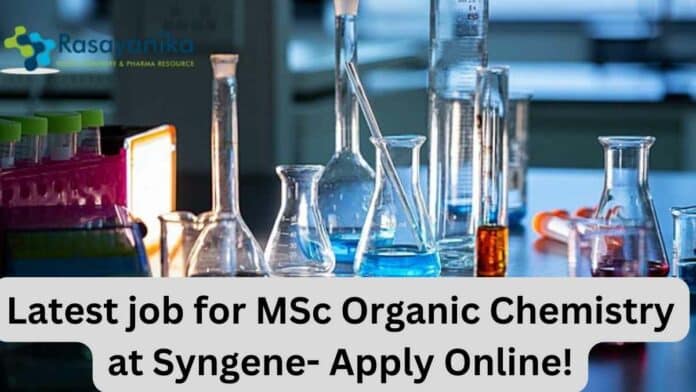 MSc Organic Chemistry Job at Syngene!
Syngene International, a leading research and development organization, is currently offering a promising career opportunity for MSc Organic Chemistry graduates. They are seeking a Senior Research Associate to join their dynamic team, where you can contribute to cutting-edge research and innovation in the field of organic chemistry.
Job Title: Senior Research Associate – DDS (54935)
Company: Syngene
Location: Bangalore
Department: Department of Discovery Synthesis(DDS)
Educational Qualification:  MSc Organic Chemistry
Technical/functional Skills required for Syngene Job for Organic Chemistry :
• Should be familiar with concepts of chemical synthesis.
• Familiar with operations of relevant apparatus – instrument / equipment.
• Good Knowledge of analytical techniques and analytical data interpretation.
• Good communication skills.
Experience: 2-5 Years
Behavioral Skills:
• Good communication
• Personal integrity
• Quick learner
• Adapt to changes
• Time management
• Professionalism
Job Purpose:
• Responsible for performing reactions following Syngene safety norms. Documenting the observations in relevant lab notebooks or e-book as per the principle of ALCOA+.
• Assisting the supervisor to alert shortfall of resources, planning of reactions, PR request creation, training the junior scientists to develop their technical skills.
Key Responsibilities:
• Perform synthetic chemistry reactions, reaction workups, purification of the compounds by column
chromatography, crystallization, re-crystallization techniques, preparative TLC and operating lab equipment's.
• Ensure that the samples generated during synthesis are given for analysis and record subsequent results obtained and update the supervisor / group leader on the progress of synthesis and ensure samples are packed appropriately for shipment
• Record the observations of experiment/reaction, results, utilization of resources and other activities related to the reaction in the laboratory or e-notebook following guidelines and in timely manner and ensure that the same is handled safely and confidentially.
• Follow all time safety and quality in day to day activities and work practices.
• Assist the supervisor to take stock of resources (raw materials, solvents, etc.) in the project and report any shortfall and support literature search for R&D.
• Provide hands-on training and supervision to juniors while performing synthesis of compounds.
• Follow SOP/IOP/EOP/OCP procedures for any lab activity.
• Any other lab responsibilities as indicated by the EHSS team member/ supervisor / Group Leader.
• In case of any instrument/equipment breakdown, report to maintenance immediately.
• Attend all mandatory trainings and update training records as and when trainings are completed.
• Follow environment, health, and safety (EHS) requirements at all times in the workplace ensuring individual and lab/plant safety.
• Attend training on environment, health, and safety (EHS) measures imparted company.
• Understanding and demonstrating responsibility for safety of self & colleagues by following all safety protocols provided by Syngene.
• Adherence to all environment, health, and safety (EHS) policies & standards at all times in the workplace.
• Wearing all PPE as required.
• Adherence to all procedures related to Syngene' s  data integrity policies
• Compliance to Syngene' s quality standards at all times.
Syngene Job for Organic Chemistry – The possible interview Q & A:
1.Question: Can you describe your experience with chemical synthesis and the types of reactions you've conducted in the past?
Answer: During my 3 years of experience in organic chemistry, I have gained proficiency in a wide range of chemical synthesis techniques. I've successfully conducted reactions such as condensation, oxidation, and reduction, among others. I'm well-versed in handling reagents, managing reaction workups, and using various purification methods like column chromatography and crystallization to obtain high-purity compounds.
2.Question: How do you ensure safety and quality in your day-to-day laboratory activities, and can you provide an example of a situation where your safety measures were critical?
Answer: Safety is my top priority in the laboratory. I strictly adhere to Syngene's safety protocols, ensuring that all experiments are conducted following safety guidelines. For instance, I always wear appropriate personal protective equipment (PPE) and maintain a clean and organized workspace to minimize risks. This commitment to safety has resulted in incident-free work environments throughout my career.
3.Question: How do you approach training and mentoring junior scientists to develop their technical skills in a laboratory setting?
Answer: Training and mentoring are essential aspects of my role. I believe in a hands-on approach, where I provide step-by-step guidance to junior scientists, emphasizing safety and precision. I encourage them to ask questions and seek clarification, fostering a culture of learning and continuous improvement. This approach has been effective in helping junior scientists become proficient in laboratory techniques.
4.Question: Can you describe a situation where you had to adapt to unexpected changes in a research project, and how did you handle it?
Answer: In research, adaptability is crucial. There was a situation where a key reagent we planned to use became unavailable due to supply chain issues. To address this, I quickly reviewed alternative synthetic routes, consulted with colleagues, and modified the project plan accordingly. This proactive approach ensured that the project stayed on track, and we achieved our objectives within the expected timeframe.
5.Question: Syngene emphasizes data integrity and compliance with quality standards. Can you provide an example of how you've maintained data integrity and ensured compliance in your previous roles?
Answer: Data integrity and compliance are non-negotiable in my work. I meticulously document all experimental observations, results, and resource usage in accordance with Syngene's guidelines. I also follow Standard Operating Procedures (SOPs) and Quality Control Procedures (QCPs) for every laboratory activity. This disciplined approach has not only ensured data accuracy but also contributed to maintaining the high-quality standards that Syngene upholds in its research activities.