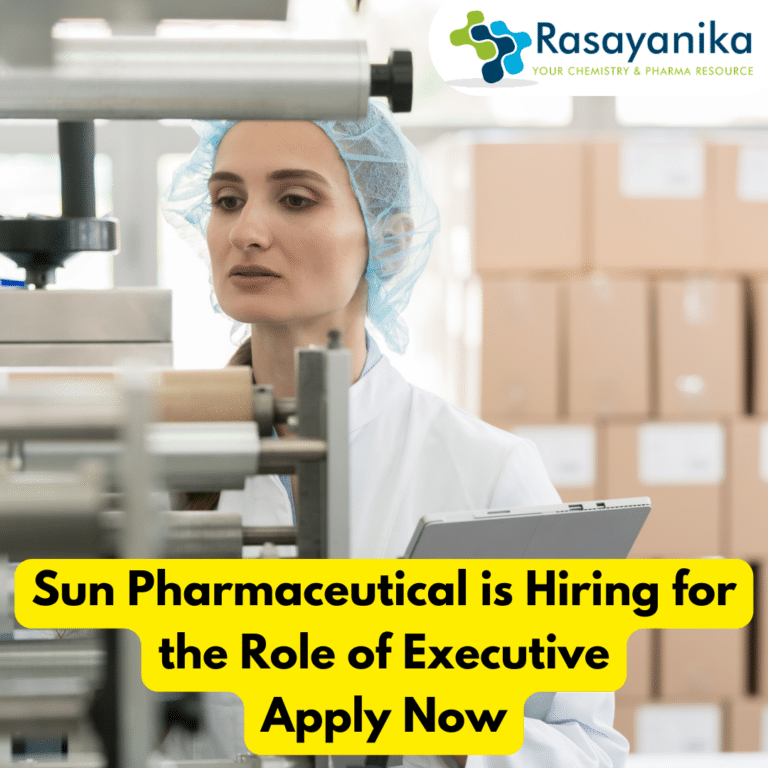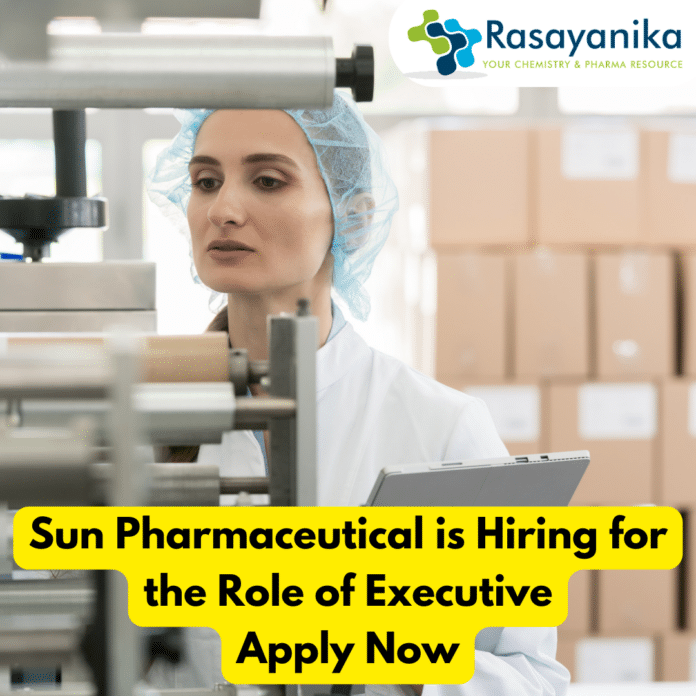 Sun Pharmaceutical Quality Assurance Executive Job – Apply Online
Sun Pharmaceutical Quality Assurance Executive Job – Apply Online. Sun Pharmaceutical is Hiring for the Role of Executive – Quality Assurance – Apply Now
Title : Executive – Quality Assurance
Date : Sep 18, 2023
Location : Paonta Sahib – Quality Assurance
Company : Sun Pharmaceutical Industries Ltd
Job Description for Executive role at Sun Pharmaceutical:
1. Monitoring
In-process monitoring and analysis of Manufacturing & Packing activities of Tablets and Capsules.
Ensure compliance to cGMP Regulations, established SOPs, FO/MI and PO/PI and for all operational activities, area and equipment.
Perform QA review of executed batch production records and ensure the submission of
Batch production record in the document cell.
Calibration & maintaining documentation of In-process Quality Assurance (IPQA) instruments.
Data back-up activities of IPQA instruments as per defined SOP frequency.
Monitor the environmental conditions mentioned in the batch production record and SOP.
Certification of batch production records for compliance and stage-wise compliance.
Reporting any GMP related discrepancies, non-conformances and deviations to superiors immediately.
Collection and entry of data for APR preparation.
Imparting training to team members and subordinates.
2. Line Clearance:
Ensure physically that the area and equipment to be used for manufacturing and packaging of next product/batch are free from any material/remnants of previous product.
Ensure to prevent mix up and cross contamination.
Check for proper environmental conditions with respect to temperature, Relative humidity, differential pressure etc.
Ensure that the Batch Production record is completed up to the previous stage.
Verify the material with respect to the container labels and quantity from the batch production record.
3. In-Process Checks:
Ensure the calibration of instruments for in-process checks.
In-process checks as per the approved manufacturing and packaging instructions.
Enclose all the printouts generated during in-process checks along with the batch production record.
All printouts shall be duly signed after checking.
Inform the production manager, supervisor and quality assurance manager about the in-process failure observed during in-process checks.
To record all the observations in the Batch Production Record
4. Inspection:
Inspection of the Tablets/Capsules as per SOP.
Inspection of the Finished Goods as per SOP and clearance of Transfer Ticket by ensuring the quantity and batch details.
5. Sampling:
Ensure for usage of appropriate sampling tool for sampling.
Ensure sampling device cleaning prior to the sampling.
Sampling procedure to be followed as per SOP No. SOP019995 (Sampling of intermediates, finished product and stability samples) & SOP020059 (Collection and shipment of Analytical samples of EU market).
Ensure sampling of in-process finished product, process validation, cleaning validation, control samples, EU Lab testing samples & stability samples, Reference & Retention sample as per SOP.
6. Approval:
Approval of coding pattern on immediate pack and secondary pack to be verified as per the approved packaging instructions / written procedures.
Here are some interview questions and sample answers for the Executive – Quality Assurance role at Sun Pharmaceutical Industries Ltd:
1. Can you describe your understanding of cGMP (Current Good Manufacturing Practices) regulations and their importance in pharmaceutical manufacturing?
Sample Answer: "cGMP regulations are a set of quality assurance and quality control guidelines that ensure the consistency and safety of pharmaceutical products. They cover various aspects of manufacturing, including facilities, equipment, processes, and documentation. Compliance with cGMP regulations is crucial because it guarantees that pharmaceutical products are produced consistently and meet the required quality standards, minimizing risks to patient safety."
2. How do you ensure compliance with SOPs (Standard Operating Procedures) and regulatory guidelines in your quality assurance work?
Sample Answer: "Ensuring compliance with SOPs and regulatory guidelines is a fundamental aspect of quality assurance. I meticulously review and follow established SOPs, both during my in-process monitoring activities and in my line clearance checks. Additionally, I stay updated on any changes in regulations and SOPs to ensure our practices are always in alignment with the latest industry standards."
3. Can you provide an example of how you've identified and reported a non-conformance or deviation in your previous quality assurance role?
Sample Answer: "In my previous role, during a routine in-process check, I observed a deviation in the manufacturing process that could potentially affect product quality. I immediately documented the issue, followed our internal procedures for reporting deviations, and informed my superiors. We conducted a thorough investigation, implemented corrective actions, and ensured that the issue was resolved promptly, preventing any further non-conformance."
4. How do you ensure the cleanliness and readiness of manufacturing and packaging areas for the next batch or product, as mentioned in the Line Clearance responsibilities?
Sample Answer: "Line clearance is critical to preventing mix-ups and cross-contamination in pharmaceutical manufacturing. I conduct a physical inspection of the manufacturing and packaging areas, ensuring that they are free from remnants of previous products. I also verify environmental conditions, batch production record completeness, and label/container accuracy. This thorough line clearance process helps guarantee the integrity and safety of the next batch or product."
5. How do you handle the approval process for coding patterns on immediate and secondary packaging as mentioned in the Approval responsibilities?
Sample Answer: "When it comes to coding patterns on packaging, I follow our approved packaging instructions and written procedures meticulously. I verify that the coding patterns match the specified requirements and have been applied correctly to both the immediate and secondary packaging. Any discrepancies or issues are documented and addressed promptly to ensure that our products meet the necessary standards for packaging and labeling."
ALL THE BEST!
Check out Rasayanika for the Latest Job Opportunities!