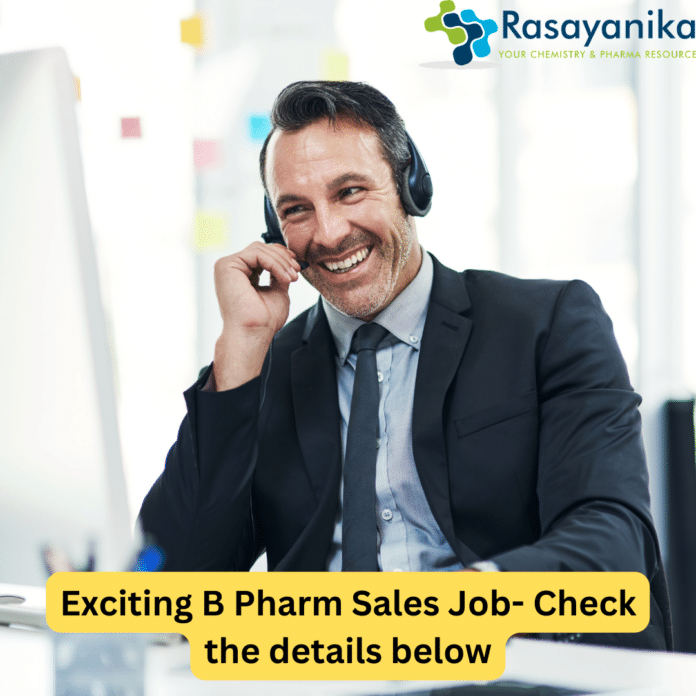 Latest Sales Job for BPharm. You can find the details for the B Pharm Sales Jobs below. Apply Online for the B Pharm Sales Jobs. Latest P&G careers.
Position – Territory Sales Executive | Pharma Selling | Non – Metro (Evergreen)
Job Location – Merck Navi Office, Navi Mumbai, India
Job Number -R000085751
Job Description – 
Generate sales through close and regular interaction with assigned customers, such as healthcare practitioner (HCPs) and by developing new projects that meet sales objectives
Make calls on existing or potential customers such as healthcare practitioner (HCPs) and serve as representative of the Company in all matters concerning product and service delivery
Keep abreast of new products or services and other general information of interest to customers while continuously upgrading one's product knowledge and selling techniques
Transform information captured from the field/shoppers and from interactions with customers/external partners to insights for developing programs and plans that will further build the business
Job Qualifications-
Minimum Bachelor's degree required.
B. Pharm or Science graduates preferred
Experience and/or training in chain pharmacy, specifically in Field Sales, Pharma sales and Sales Management in the Pharmaceutical industry, preferred.
Born leaders and are passionate to make things happen
Have strong analytical thinking and skills
Proficient in English
Job Schedule
Hello there, we've put together a set of interview questions along with their answers to assist you in your interview preparations for the B Pharm Sales Jobs. Feel free to review and use these resources to ensure you perform well in your upcoming interview for the B Pharm Sales Jobs.
Question: Can you describe your approach to building and maintaining relationships with healthcare practitioners (HCPs) and potential customers in the pharmaceutical industry?
Answer: Building and maintaining relationships with HCPs and customers is essential for success in this role. I believe in establishing trust through regular interactions and effective communication. I aim to understand their needs and concerns, provide timely information on our products and services, and ensure that I am a reliable point of contact for any queries or issues they may have.
Question: How do you stay updated on new products and industry developments, and how does this knowledge benefit your sales efforts?
Answer: Staying updated on industry trends and new products is a key part of my sales strategy. I regularly research industry publications, attend conferences, and engage in continuous learning. This knowledge helps me provide informed recommendations to customers, positioning our products as solutions that align with their evolving needs.
Question: Can you share an example of a challenging sales project you worked on and how you achieved your sales objectives?
Answer: Certainly. In a previous role, I was tasked with penetrating a highly competitive market for a new pharmaceutical product. I conducted a thorough market analysis, identified key influencers among HCPs, and developed tailored sales strategies. Through persistent effort and relationship-building, I not only met but exceeded the sales objectives by 20% within the first year.
Question: How do you gather and utilize data from the field and customer interactions to develop effective sales programs and plans?
Answer: I believe that data is a valuable asset in sales. I collect data from field visits, customer interactions, and market research. This data is then analyzed to identify trends, customer preferences, and potential opportunities. I use these insights to develop targeted programs and plans that align with our sales objectives and address specific customer needs.
Question: As a Territory Sales Executive, how do you handle rejection or objections from customers, and what strategies do you employ to overcome them?
Answer: Rejection and objections are a part of sales, and I view them as opportunities for improvement. When faced with objections, I actively listen to the customer's concerns and empathize with their viewpoint. I then address their concerns with well-researched information and solutions that demonstrate the value of our products. Persistence, patience, and a customer-centric approach have helped me turn objections into successful sales in many instances.