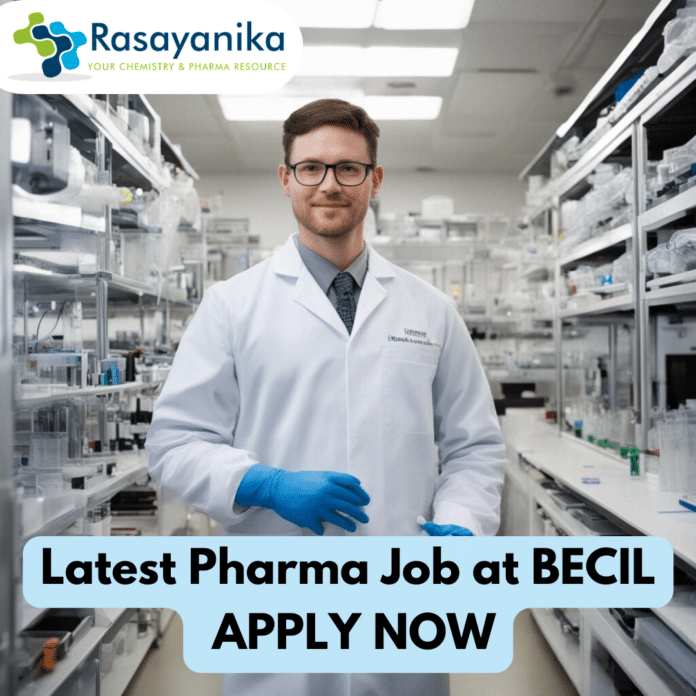 Jr. Pharmacist position at BECIL – Latest Pharma Job – check out the details below and apply now
BROADCAST ENGINEERING CONSULTANTS INDIA LIMITED
(A Government of India Enterprise under Ministry of Information & Broadcasting)
(A Mini Ratna Company)
Head Office : 14-B, Ring Road, I.P. Estate, New Delhi-110002, Phone: 011-23378823
Corporate Office: BECIL Bhawan, C-56/A-17, Sector-62, Noida-201307
Phone : 0120-4177850, Fax: 0120-4177879 Website : www.becil.com
 VACANCY ADVERTISEMENT NO.373
Applications are invited for engagement of following manpower purely on contract basis for deployment in Central Medical Services Society (CMSS)
Post /Requirement (may get increase or decrease as per the requirement) : Jr. Pharmacist (06)
Locations : Delhi (01) , Agartala (01) , Bangalore (01) , Guwahati (01) , Mumbai (01) , Ranchi (01)
Evaluation Criteria :
Qualification : Diploma in Pharmacy /B. Pharma degree from a reputed university / Institute recognized by Pharmacy Council of India.
Experience :
Minimum 03 years post qualification for D. Pharma and 01 years post qualification for B. Pharma in Pharmaceutical store/warehouse/distribution functions.
Experience in good Storage & Distribution Practices in accordance with GMP regulations.
Exposure in handling regulatory audits on store/warehouse/distribution functions of Pharmaceutical organizations in accordance with GMP regulation.
Hand on experience on working in ERP system.
Knowledge of local language desirable.
Relaxation in age & experience will be considered in exceptional case.
For retirement from Central Govt/PSUs may apply up to 65 age.
Age : Below 50 years on the date of employment.
Remuneration per month : Minimum wages Graduate and above.
Terms and Conditions :
Selection will be made as per the prescribed norms and requirement of the job.
Preference will be given to local candidates and who are already working in the same/similar department.
No TA/DA will be paid for attending the test/ document verification / personal interaction / joining the duty on selection etc.
Application must be submitted ONLINE only for the above post.
For applying, please visit the BECIL's website www.becil.com. Go the 'Careers Section' and then click 'Registration Form (Online)' Please read the terms and conditions carefully before applying and making online payment of fee. The instruction (How to Apply) for filling up the ONLINE Application/
Registration is attached for reference. Registration fee once paid will not be refunded under any circumstance. Therefore, candidate/ applicant must ensure their eligibility (age, qualification, experience) before applying for the post. BECIL will not take responsibility for wrong application/ ineligible condition.
Candidates will be informed via email / telephone for their Skill Tests/Interview /Interaction.
Candidates must review their application forms carefully before final submission. BECIL will not accept any request for changes to be made in the information submitted by the candidates wrongfully.
Only shortlisted candidates as per above eligibility criteria will be called for skill test / selection process. So please mention your complete educational qualification and work experience details in online application form. Mere filling the registration form will not confirm your suitability/selection for the post.
Candidates are requested to take printout of their Application Forms after online submission and retain with them for future reference.
BECIL will not be responsible for any typographical errors (i.e Email IDs, Mobile Number etc.) in the application forms submitted by applicant.
Last date for submission of application forms for the Jr. Pharmacist position at BECIL  is 15.09.2023.
Disclaimer : Terms and conditions given in the advertisement are guidelines only. In case of any ambiguity, decision of BECIL will be final and binding on candidates.
In case of any doubt/help please email as below:
CHECK OUT RASAYANIKA FOR MOR UPDATES
Here are some interview questions and sample answers for the Jr. Pharmacist position at BECIL :
1. Can you tell us about your educational background and your qualifications in pharmacy?
Sample Answer: I hold a Diploma in Pharmacy and have acquired my degree in B. Pharma from a reputed university recognized by the Pharmacy Council of India. My educational background has provided me with a solid foundation in pharmaceutical sciences and prepared me for a career in the field.
2. Describe your work experience related to pharmaceutical store/warehouse/distribution functions.
Sample Answer: I have a total of 4 years of experience in pharmaceutical store and distribution functions. I have worked for 3 years after completing my Diploma in Pharmacy and 1 year after obtaining my B. Pharma degree. During this time, I have been actively involved in maintaining proper storage and distribution practices in accordance with GMP regulations, which includes inventory management, quality control, and adherence to safety protocols.
3. Can you share an example of a situation where you had to handle a regulatory audit in a pharmaceutical organization?
Sample Answer: In my previous role at [Previous Company], I had the opportunity to be part of a team that handled a regulatory audit of our pharmaceutical store and distribution functions. We underwent an audit in accordance with GMP regulations, and I played a key role in ensuring that all necessary documentation and processes were in place. Our successful audit result demonstrated our commitment to compliance and quality standards.
4. Have you worked with an ERP system in your previous roles, and if so, could you describe your experience with it?
Sample Answer: Yes, I have experience working with an ERP (Enterprise Resource Planning) system in my previous roles. I used it for tasks such as inventory management, order processing, and data analysis. The ERP system streamlined our operations, improved data accuracy, and enhanced our overall efficiency in managing pharmaceutical inventory.
5. What do you think are the key qualities or skills that a Jr. Pharmacist should possess, especially when working in pharmaceutical store and distribution functions?
Sample Answer: In my opinion, a Jr. Pharmacist should possess strong attention to detail, excellent organizational skills, and a deep understanding of pharmaceutical regulations and GMP standards. Effective communication and the ability to work collaboratively with colleagues are also essential, as it ensures the smooth functioning of pharmaceutical operations and compliance with quality standards.
ALL THE BEST !