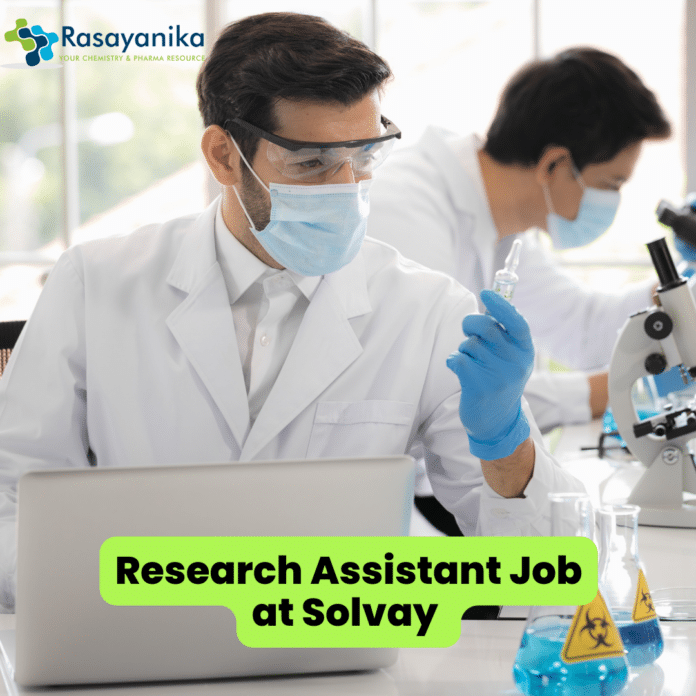 MSc Chemistry Job at Solvay for Research Assistant Position
Solvay is a Belgian multinational chemical company. MSc Chemistry Job at Solvay for Research Assistant Position. Interested Candidates can check out the details below and Apply Online.
Job title: Research Assistant
Job Location: Vadodara, India
Job id: 26503
Job Type: Full Time
Job description:
Role : Demonstrate a commitment to safety and ensure all daily works meet HSE requirements for the site and group guidelines.
Responsibility:
The candidate will be part of highly trained and dedicated team of scientists developing, executing and interpreting physico-chemical and materials analysis.
Hands on experience in chemical analysis using Basic Wet Chemistry (various type of titrations, elemental, gravimetric, and environmental etc.) and at least one the following technique cluster.
Spectroscopy (FTIR, UV, and NMR-not mandatory)
Chromatography (GC, HPLC, GPC and IC using various detectors).
Experience in diagnostic and troubleshooting of any above mentioned analytical equipment is a plus.
Adaptability to use digital tools and software.
Capable to work independently with little guidance, and willingness learn different analytical techniques.
Ability to solve routine problems following established procedures.
Evaluation of data and propose solutions to internal/external projects using available capabilities.
opportunity:
The incumbent will have the opportunity to develop their skill set in a global company and project work, working with a dedicated professional team of personnel.
There is much opportunity to work on simplification and improvement of site systems and data management.
In the longer term, you will be well-placed to take on a more senior staff or Management position.
Qualification:
Minimum Masters in Chemistry (Analytical, Organic, Inorganic, and Polymer) or related discipline with 3 to 5 years of relevant industrial experience.
Experience in pharma fine chemicals, polymer, or surfactant preferred.
Ability to negotiate workflow and priorities for multiple independent projects.
Good team player, multitasking, collaboration and interpersonal skill.
English, Hindi – Mandatory (Gujarati – Optional)
advantages:
Competitive salary
Training platform for all employees
Free language courses (24 languages available)
Free well-being sessions (physical and psychological)
MSc Chemistry Job at Solvay for Research Assistant Position. Here are five Possible interview questions and suggested answers:
1. Question: Can you describe your experience with safety protocols and how you ensure that daily work meets HSE (Health, Safety, and Environment) requirements?
Answer: In my previous role, safety was a top priority. I consistently followed HSE guidelines and ensured the safety of myself and my colleagues by actively participating in safety meetings, adhering to safety protocols, and promoting a safety-conscious work environment. For instance, I regularly conducted safety inspections and reported any potential hazards promptly. I believe that safety is the foundation of any successful research endeavor, and I am committed to upholding these standards.
2. Question: What is your experience with physico-chemical and materials analysis techniques? Can you provide specific examples of your hands-on experience in chemical analysis?
Answer: I have extensive experience in physico-chemical and materials analysis, particularly in basic wet chemistry techniques such as titrations, elemental analysis, gravimetry, and environmental analysis. For instance, I routinely conducted titration experiments to determine the concentration of various chemical substances accurately. I also have hands-on experience with chromatography, including GC, HPLC, GPC, and IC, where I utilized various detectors for analytical purposes. Additionally, I have experience troubleshooting and maintaining analytical equipment to ensure reliable results.
3. Question: How do you adapt to using digital tools and software in your work? Can you provide examples of software tools you have used in your previous role?
Answer: I am highly adaptable when it comes to utilizing digital tools and software in my work. In my previous role, I regularly used software for data analysis, such as Microsoft Excel and specialized analytical software packages for instrument control and data interpretation. For instance, I used software to process chromatographic data and perform statistical analysis on experimental results. I am always eager to learn and adapt to new software tools that enhance efficiency and productivity in the laboratory.
4. Question: Can you describe a challenging project you worked on independently and how you approached problem-solving to achieve successful outcomes?
Answer: One challenging project I worked on independently involved identifying impurities in a pharmaceutical compound. I encountered unexpected variations in the chromatographic profiles during analysis. To address this, I systematically reviewed instrument parameters, sample preparation techniques, and column conditions. Through rigorous troubleshooting and method optimization, I was able to pinpoint the source of the issue, which turned out to be column degradation. I replaced the column, reanalyzed the samples, and successfully identified the impurities. This experience highlighted my problem-solving skills and my ability to work autonomously to achieve project goals.
5. Question: How do you prioritize and manage multiple independent projects effectively, especially when there are competing deadlines?
Answer: Prioritization and time management are crucial in a research environment. To effectively handle multiple independent projects, I start by assessing the urgency and importance of each task. I create a detailed project plan with clear milestones and deadlines. Regular communication with team members and stakeholders helps ensure that everyone is aligned and aware of project timelines. Additionally, I remain flexible and am prepared to adjust priorities as needed based on project demands. This approach has allowed me to successfully manage and deliver on multiple projects simultaneously while maintaining the quality of work.
These interview questions and answers should help you prepare for an interview for the Research Assistant position in Vadodara, India.
Subscribe Rasayanika for more Chemistry and Pharma job updates.