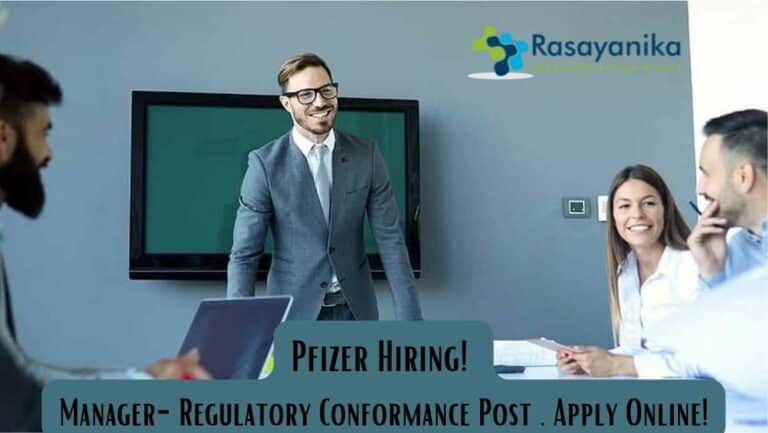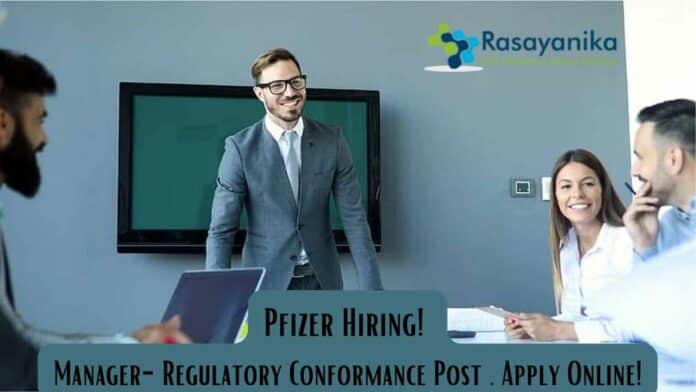 Pfizer Hiring for Manager Post. Apply online!
Embark on a career with Pfizer as a Manager of Regulatory Conformance. Join us in shaping the future of pharmaceutical compliance and regulatory excellence. Apply online today and be a part of our mission to improve global health.
Job Title: Manager – Regulatory Conformance
Company: Pfizer
Location: Chennai
Job Responsibilities:
Committed to quality and excellence in compliance and conformance.
Accountable for maintaining the corporate change and dossier management system (PDM) regarding the status of regulatory CMC submissions with global health authorities per internal SOPs and policies.
Ensures timely communication of any issues e.g. Board of Health queries to the regional teams as needed.
Manages multiple regions/projects/timelines of moderate complexity within a Work Team.
Manages workload within the team for business continuity.
Work in collaboration with regulatory colleagues to ensure compliance and deliver efficiencies in the regulatory submission process.
Responsible for evaluation of all CMC notifications for accuracy.
Responsible for making updates in PDM Market Views for all submission types upon receipt of notification of Submission and Approval evidence.
Applies technical knowledge and key concepts in PDM Conformance updates.
Considered as a technical resource within the work team.
Demonstrates strong technical/functional knowledge w.r.t Regulatory requirements and internal process to coach direct reports on day-to-day activities.
Breadth of technical/functional expertise is focused on applicable discipline.
Acts as a mentor for the colleagues.
Actively shares knowledge with others within Work Team through existing knowledge sharing processes/systems.
Solves moderately complex problems within area of expertise.
Demonstrates effective written and oral communication skills.
Support for updates in PDM for License withdrawals.
Operate to the highest conformance and quality standards.
Operate in line with internal SOPs and policies.
Encourages the participation and perspectives of all Work Team's members.
Supports developmental and training opportunities for mentees.
Adhere to standard turnaround timelines.
Escalate any potential compliance issues to management.
Liaise with regulatory colleagues to communicate and resolve potential issues.
Provide input to continuously improve and streamline the process.
Support periodic and ad-hoc system reports to estimate metrics.
Contribute to local and regional regulatory initiatives promoting a culture aligned with Pfizer values and which supports compliance, innovation and talent development and retention.
Assist in ensuring internal regulatory processes and procedures are well documented
Assist in remediation activities.
Pfizer Hiring for Manager Post. The expected technical skills are:
Knowledge and / or experience in Pharmaceutical industry in Regulatory / Quality Assurance, especially in Life cycle management or compliance.
Strong quality and compliance orientation.
Diligence and attention to detail.
Prior Regulatory experience in any of the market.
Knowledge of regulatory practices, rules, regulations and guidelines.
Good communication skills.
Problem Solving.
Understanding stakeholder needs.
Fluent English Speaker.
Pfizer Hiring for Manager Post. The possible interview Q & A to help you with:
1.Can you describe your experience in maintaining regulatory compliance and conformance in the pharmaceutical industry?
Sample Answer: In my previous role as a Regulatory Affairs Specialist at XYZ Pharmaceuticals, I played a pivotal role in ensuring compliance with regulatory requirements and standards. I worked closely with cross-functional teams to assess and address any compliance gaps, implemented robust quality assurance processes, and consistently upheld the highest standards of regulatory conformance.
2.How do you manage multiple regions/projects with varying complexities simultaneously within a Work Team?
Sample Answer: Managing diverse regions and projects effectively requires a combination of organizational skills and collaboration. I prioritize tasks based on their impact and urgency, delegate responsibilities within the team, and maintain open communication channels to address any issues promptly. Additionally, I believe in leveraging my technical knowledge and mentoring skills to empower team members to excel in their roles.
3.Can you provide an example of a challenging CMC notification you had to evaluate for accuracy and how you ensured compliance in that situation?
Sample Answer: In a previous role, I encountered a complex CMC notification with potential discrepancies. I conducted a thorough analysis, collaborated closely with the regulatory team, and engaged with relevant stakeholders to resolve the issues. Through meticulous attention to detail and adherence to regulatory guidelines, we were able to rectify the inaccuracies, ensuring compliance and submission accuracy.
4.How have you contributed to process improvement and streamlining within regulatory submission processes?
Sample Answer: I believe in a continuous improvement approach. In my previous role, I actively participated in cross-functional teams to identify bottlenecks and streamline processes. For example, I suggested and implemented a standardized checklist for regulatory submissions, reducing errors and accelerating submission timelines. This not only improved efficiency but also enhanced compliance.
5.Can you describe a time when you had to escalate a potential compliance issue to management and how you handled it?
Sample Answer: In one instance, I identified a discrepancy that had the potential to impact regulatory compliance. Recognizing the seriousness of the situation, I immediately escalated it to my manager, providing a detailed report outlining the issue and its potential consequences. We worked collaboratively with the relevant teams to address the issue promptly, ensuring compliance was maintained, and necessary corrective actions were taken.