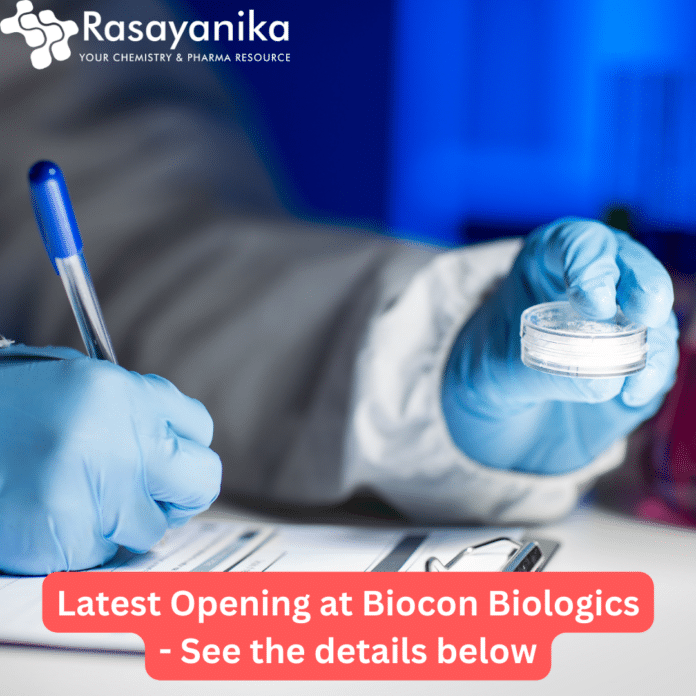 At Biocon Biologics, we are creating a model for the future of healthcare for all. We are a leading company in the biosimilar revolution where patients come first. The latest Biocon Pharma Job details are attached below. Apply online if your qualifications match. Latest Biocon Pharma Job.
Job role – Suspension Lead
Location – Bengaluru, Karnataka, India
Position Summary – As a Scientist supporting the Pharm Dev Steriles in our client's Pharmaceutical R&D, you will have the opportunity to utilize technical skills and expertise to develop drug product formulations and associated manufacturing processes as part of a matrix technical team. You will also have the opportunity to use creative thinking to drive drug development of a variety of sterile product dosage forms.
Mandatory Experience – 
In Injectables – Insulin/ Diabetes in Biosimilar Key Responsibilities
Supports pre- and post-development candidates by screening and developing robust drug product compositions for a variety of traditional and non-traditional dosage forms including but not limited to nanosuspensions, hydrogels, emulsions, controlled release implants, and lyophiles.
Completes preformulating, formulation and process development activities based on established protocols and procedures.
Assists in the manufacture of batches of product as required, e.g. for process development, stability studies or clinical trials
Coordinates their activities within Pharmaceutical Development and with analytical and manufacturing representatives to meet project results
Works with the matrix technical team to align and compete preformulation, formulation and process development activities including authoring or supplying to manufacturing batch records
Identify and begin to interpret any problems in the execution of experimental processes and/or in results and communicates them to their supervisor
Proactively engage and seek assistance from other scientists to solve problems
Maintains cleanliness in own work area and in communal work areas
Anticipates/recognizes potential problems with equipment and/or supplies, and proposes/initiates action to solve or prevent problems
Operates equipment for which they aretrained independently with due regard for GMP and Safety • Works to GMP/GLP as appropriate
Demonstrates timely & reliable recording of laboratory data in Labware and other suitable systems in accordance with company policy and legal requirements.
Performs data management tasks including recording results effectively and in compliance with departmental guidelines in a laboratory notebook or computer with minimal supervision (e.g. tabulating and graphing results)
Consults with supervisor when difficulties arise that cannot be readily resolved
Prepares oral or written summaries of results with interpretation for project work
Writes specific technical sections of internal and external reports with supervision
Attends regular safety training and is fully aware of safety requirements for theirlaboratory/working environment
Follows safe Laboratory and Manufacturing Practices
Maintains accurate and complete safety records consistent with company policy and legal requirements
Recognizes potential safety problems and takes action to rectify them Behavioural / Management /
Other Skills:
Ability to make decisions, appropriately balancing risks versus impact.
Strong leadership skills, able to get the buy-in of multiple stakeholders.
Ability to work under pressure and cope with multiple priorities.
Ability to drive change throughout an organization, overcoming resistance and barriers.
Outstanding communication of information and ideas, both written and verbal, to diverse audiences.
Education and Experience: Bachelor's degree in Chemical Engineering, Chemistry, Pharmaceutical Sciences, or Organic Chemistry or equivalent and relevant formal academic / vocational qualification (Master's Degree is helpful)Previous experience that provides the knowledge, skills, and abilities to perform the job.
APPLY VIA YOUR LINKEDIN ACCOUNT
Greetings, everyone! We've assembled a collection of interview questions and their corresponding answers to support your interview preparation for the Latest Biocon Pharma Job. Feel free to utilize these resources to strengthen your readiness and perform your best in your upcoming interview for the Latest Biocon Pharma Job. Wishing you the very best of luck!
1. Can you describe your experience in developing drug product formulations for sterile dosage forms, particularly in the field of injectables like insulin and diabetes biosimilars?
Answer: In my previous role, I had the opportunity to work extensively in the development of drug product formulations for injectables, specifically in the field of insulin and diabetes biosimilars. I was responsible for designing and optimizing formulations for various sterile dosage forms, ensuring product stability and efficacy. This involved conducting preformulation studies, formulation development, and process optimization. I also played a key role in coordinating activities with cross-functional teams to meet project milestones.
2. Could you provide an example of a challenging project you've worked on related to developing non-traditional dosage forms, such as nanosuspensions or hydrogels?
Answer: Certainly. In a recent project, we were tasked with developing a novel nanosuspension-based formulation for a poorly soluble drug. The challenge was to achieve high drug loading and maintain long-term stability. I led a team that conducted extensive screening and optimization studies, ultimately designing a nanosuspension formulation that met the project's requirements. This involved careful selection of stabilizers, particle size reduction techniques, and formulation adjustments. The successful outcome highlighted our ability to work with non-traditional dosage forms and overcome formulation challenges.
3. How do you ensure compliance with Good Manufacturing Practices (GMP) and safety regulations in your laboratory work?
Answer: Compliance with GMP and safety regulations is of utmost importance in pharmaceutical development. I strictly adhere to established protocols and procedures to maintain GMP standards. Additionally, I ensure that my work area is kept clean and organized, and I follow safe laboratory and manufacturing practices. Regular safety training is essential, and I maintain accurate safety records consistent with company policies and legal requirements. My commitment to safety and compliance is unwavering, and I take proactive steps to address any potential safety concerns.
4. Can you share an example of a situation where you had to drive change or get buy-in from multiple stakeholders for a project?
Answer: In a previous role, I was tasked with implementing a new formulation process that would significantly reduce production costs while maintaining product quality. To accomplish this, I had to get buy-in from multiple stakeholders, including production, quality control, and management. I conducted a comprehensive cost-benefit analysis and presented the findings to these stakeholders, emphasizing the potential benefits and addressing any concerns. Through effective communication and by involving the relevant teams in the decision-making process, we successfully implemented the change, resulting in cost savings and improved efficiency.
5. How do you approach documenting and communicating your research and findings, both internally and externally, for project work?
Answer: Effective documentation and communication are vital aspects of my work. I maintain detailed laboratory notebooks and data records, ensuring accuracy and compliance with departmental guidelines. When it comes to communication, I prepare clear and concise summaries of results and interpretations for project work. I am proficient in writing technical reports and can present findings both orally and in writing to diverse audiences. This skill helps ensure that the research is effectively shared within the organization and with external stakeholders when necessary.