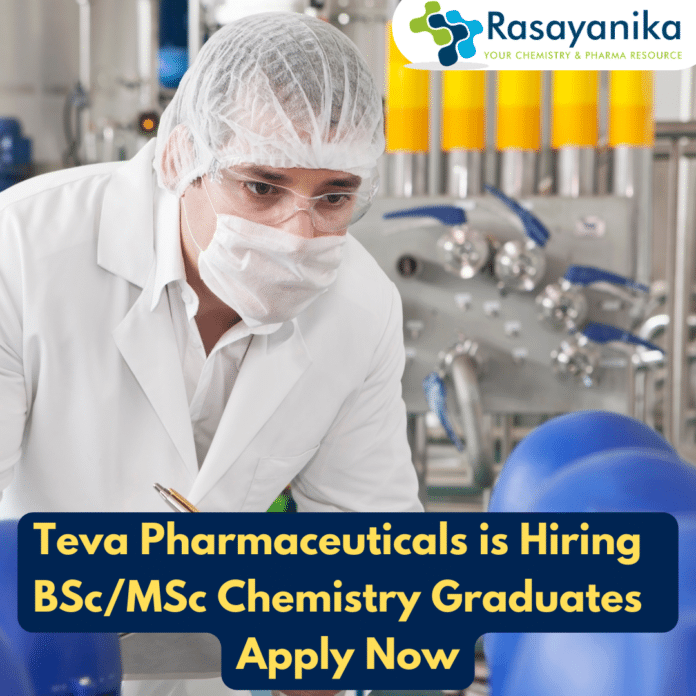 Teva Pharmaceuticals is Hiring – Job opening for BSc/MSc Chemistry Graduates – Apply Now
Role : Quality Control Technician III
Location : Chennai, India, 600113
Company : Teva Pharmaceuticals
Job Id : 51174
How you'll spend your day
Calibration of HPLC, Gas Chromatography, Ion Chromatography, AAS, TOC, UV Spectrophotometer, FTIR, Raman, Potentiometer etc.
Calibration of Dissolution Test Apparatus, UV Cabinet, Media Degasser etc.
Standardization of KF Reagent.
Timely completion of performance verification of instruments and equipment.
Execution of instrument and equipment qualification protocols.
Daily calibration of balances, pH meter, Conductivity meter, Dissolved Oxygen Meter.
Preparation of reagents and standardization of volumetric solutions.
Maintenance of spares/accessories of all laboratory instruments and equipment.
Reporting of Deviations, Chromatographic Errors and LIR (If any).
To follow Good Laboratory Practices and safety policies in the laboratory standard area.
To ensure compliance to the policy and procedure requirements on Data integrity.
Policies in the laboratory standard area.
To ensure compliance to the policy and procedure requirements on Data integrity.
Ensure maintenance of logbooks, Inspection lot number register and all relevant registers in the laboratory
Your experience and qualifications:
Master's/Bachelor's Degree in Chemistry or equivalent degree
1-3 years of experience in Non-Routine section and calibration of laboratory instruments and equipment
Teva Pharmaceuticals Hiring BSc – check out the latest job opportunities at Rasayanika
Here are some interview questions and possible answers for the Quality Control Technician III role at Teva Pharmaceuticals:
1. Can you describe your experience with calibrating laboratory instruments, especially HPLC, Gas Chromatography, and other equipment mentioned in the job description?
Answer: In my previous role at [Previous Company], I was responsible for calibrating a range of laboratory instruments, including HPLC, Gas Chromatography, and others listed. I ensured that these instruments were accurately calibrated to maintain the precision and accuracy of our analytical tests. I also performed routine checks and preventive maintenance to keep them in optimal working condition.
2. How do you prioritize and manage the calibration of various instruments to ensure they are all up to date and compliant with regulatory standards?
Answer: Prioritization and organization are essential in managing instrument calibration. I create a detailed schedule that includes calibration frequencies and deadlines. Critical instruments that are crucial for testing are calibrated more frequently, while less critical ones are calibrated on a regular but less frequent basis. I also maintain a comprehensive record of calibration activities to track compliance with regulatory standards.
3. Can you explain the importance of data integrity and Good Laboratory Practices (GLP) in your role, and how do you ensure compliance with these standards?
Answer: Data integrity and GLP are paramount in pharmaceutical quality control. I ensure compliance by meticulously documenting all calibration and testing activities, maintaining accurate and complete records, and following established standard operating procedures (SOPs). Regular training and audits are also conducted to reinforce adherence to these standards among the team.
4. Have you worked with Dissolution Test Apparatus and UV Cabinet calibration? If so, could you describe your experience with these instruments and any challenges you've encountered?
Answer: Yes, I have experience calibrating Dissolution Test Apparatus and UV Cabinets. Challenges may arise due to environmental conditions, instrument wear and tear, or changes in regulatory requirements. To address these challenges, I closely monitor equipment performance, make necessary adjustments, and stay informed about any updates in calibration standards.
5. How do you handle reporting deviations, chromatographic errors, and Laboratory Investigation Reports (LIR) when they occur during the calibration or testing process?
Answer: When deviations or errors occur, I follow established procedures for documenting and reporting them immediately. I investigate the root causes, implement corrective actions, and work to prevent recurrence. If necessary, I collaborate with colleagues to ensure comprehensive problem resolution and compliance with quality standards
Teva Pharmaceuticals is Hiring – Explore the latest job opportunities at Rasayanika
ALL THE BEST!
Editor's Note: Subscribe to Rasayanika for the latest chemistry and Pharma job openings, follow us on Facebook and Telegram and subscribe to our youtube channel for the latest updates on chemistry and Pharma jobs and much more.