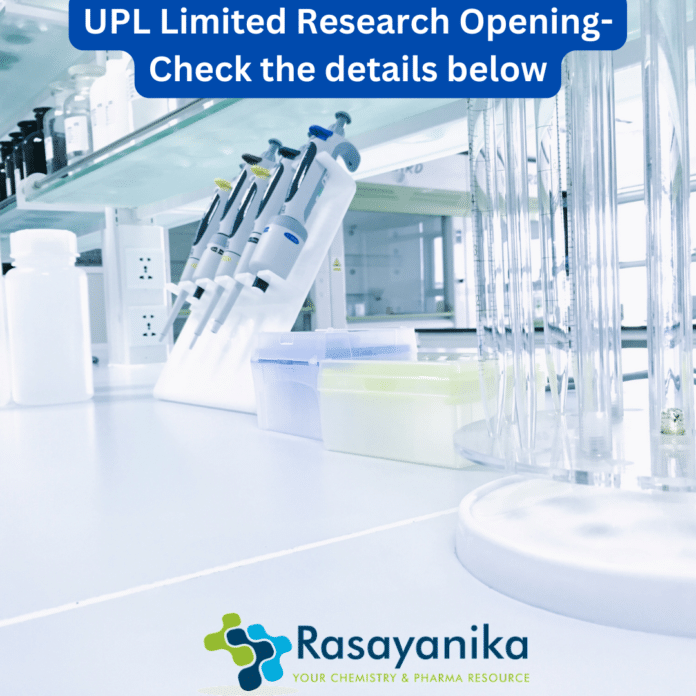 UPL Limited (NSE: UPL & BSE: 512070, LSE: UPLL) is a global provider of sustainable agriculture products and solutions, with annual revenue exceeding $6bn. Sr. Research Associate Formulation. Latest UPL vacancy. Apply online after checking the details of the Organic Chemistry MSc Job.
Position – Sr. Research Associate Formulation
Job Id – 7808
City –  01021, Maharashtra, India
Purpose of the Role:
To conduct research under guidance of Team Lead to optimise the cost and improve the yield to aid in the business growth of UPL
Job Responsibilities:
Literature search and evaluation of various formulation process and types and selection of equipments
Execution Plan for conducting experiments
Need to develop various agro formulations such as DF, EC, CS, SC etc.
Conducting day to day experiments as per Project Execution Plan
Process Optimization for cost effectiveness
Scale up of the Lab Process
Regular review of the results and take corrective actions
Timely reporting of results to the superiors
Documentation: Documentation of experimental results in std formats
Qualification:
MSc in Organic Chemistry
0-3 years of Experience of working in lab and handling various formulation equipment.
Good understanding of formulation chemistry.
Knowledge of analytical equipment's related to formulations.
Greetings! We've put
together a selection of interview questions and corresponding answers to assist you in your interview preparations for the Organic Chemistry MSc Job. Feel free to utilize these resources to bolster your readiness and excel during your upcoming interview for the Organic Chemistry MSc Job. Best of luck!
1. Can you describe your experience with conducting literature searches and evaluating various formulation processes and equipment selection for agrochemical formulations?
Answer: In my previous role as a Research Associate, I conducted extensive literature searches to understand the latest developments in agrochemical formulation processes and equipment. I evaluated various formulation techniques and equipment options to determine their suitability for our projects. This involved analyzing technical literature, attending conferences, and consulting with experts in the field. I applied this knowledge to make informed decisions regarding equipment selection and process optimization to improve the efficiency and effectiveness of our formulations.
2. How do you approach developing different types of agrochemical formulations such as DF, EC, CS, SC, etc.?
Answer: Developing different types of agrochemical formulations requires a systematic approach. I begin by thoroughly understanding the specific requirements and characteristics of each formulation type. I then design and execute experiments according to a well-defined project execution plan. This involves selecting appropriate raw materials, optimizing the formulation process, and conducting tests to ensure product stability and efficacy. By following a structured approach and leveraging my understanding of formulation chemistry, I can successfully develop a variety of agrochemical formulations.
3. Can you provide an example of a project where you successfully optimized a formulation process to improve cost-effectiveness?
Answer: In a previous project, we were tasked with optimizing the formulation of a pesticide suspension concentrate (SC) to reduce production costs while maintaining product quality. After conducting a thorough analysis of the formulation components and the production process, I identified key areas for improvement. Through a series of experiments and process adjustments, I successfully reduced the use of costly raw materials and streamlined the production process. This optimization not only lowered production costs but also improved the overall yield and quality of the SC formulation.
4. How do you handle the scale-up of lab processes to ensure a smooth transition from the laboratory to production?
Answer: Scaling up lab processes is a critical aspect of my role. To ensure a smooth transition, I begin by carefully documenting all aspects of the lab-scale process, including equipment specifications, operating conditions, and critical parameters. I work closely with the production team to facilitate knowledge transfer and process validation. Additionally, I conduct pilot-scale experiments to identify and address any challenges that may arise during scale-up. Regular monitoring and communication between the lab and production teams are key to ensuring a successful scale-up process.
5. How do you ensure accurate and timely reporting of experimental results to your superiors, and what role does documentation play in your work?
Answer: Timely reporting of experimental results is crucial for project progression. I maintain a structured approach to documentation, where I record experimental procedures, observations, and results in standardized formats. This documentation serves as a reference for future experiments and ensures traceability. To ensure timely reporting, I establish clear communication channels with my superiors and provide regular updates on project progress. This includes sharing detailed reports that summarize key findings, challenges, and proposed solutions. Effective documentation and communication are integral to achieving project milestones and meeting deadlines.
Editor's Note: Subscribe to Rasayanika for the latest chemistry and Pharma job openings, follow us on Facebook and Telegram and subscribe to our youtube channel for the latest updates on chemistry and Pharma jobs and much more.