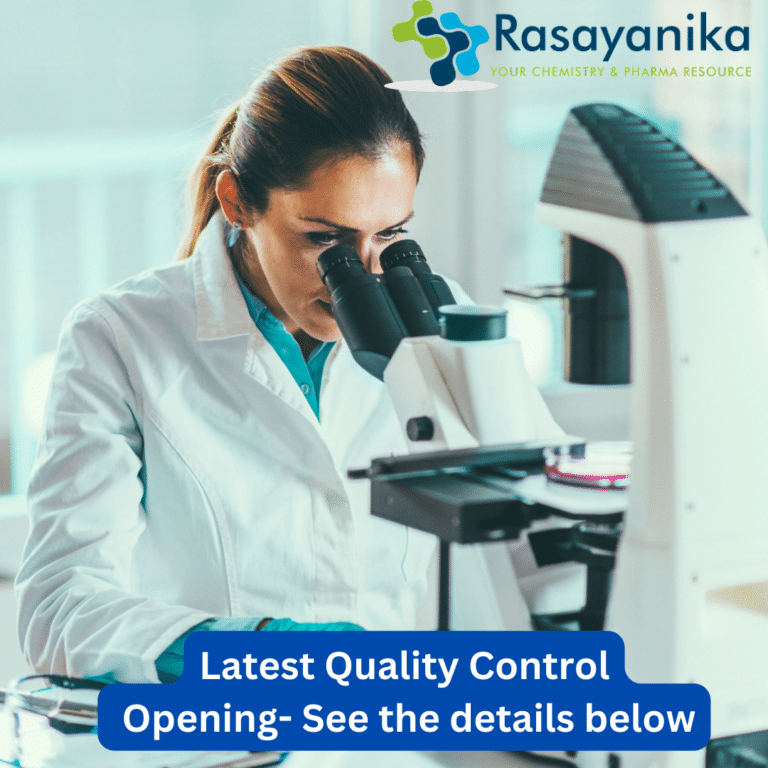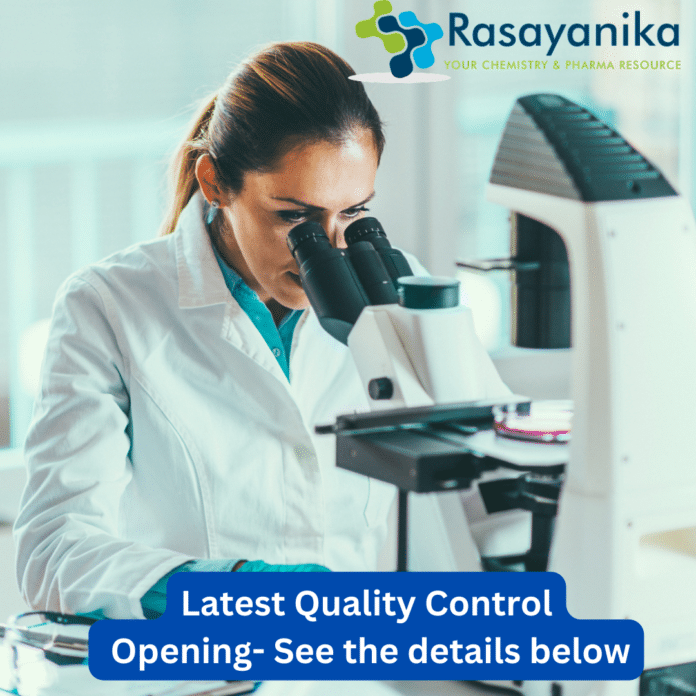 Together, Teva Pharmaceuticals is on a mission to make good health more affordable and accessible, to help millions around the world enjoy healthier lives. It's a mission that bonds our people across nearly 60 countries and a rich, diverse variety of nationalities and backgrounds. The latest vacancy details of the MSc Chemistry QC Job are attached below. Please go through the details and apply online.
Position : Quality Control Analyst I
Location: Chennai, India, 600113
Job Id:  51176
Duties and responsibilities:
Performing Stability analysis and review of documents
Performing Method transfer/ Method Validation
Calibration and validation of instruments / equipment's
Preparation of Method Transfer Protocols (MTP), Method Transfer Report (MTR), Method of analysis (MTH), Test Data Sheet (TDS) for Stability Analysis and Method transfer / Validation any document related to stability analysis, method transfer / method validation in compliance with current guidelines
Preparation of departmental SOP's in compliance with current guidelines
Preparation of validation protocols in compliance with current guidelines
Entry of stability sample results in LIMS
Handling of LSCMS Software
Experience and qualifications:
M.Sc., (Chemistry) with 5 to 10 years of experience
Good communication skill
Possess a pro-active, dynamic and flexible approach
Hello there! We've gathered a set
of interview questions along with their answers to help you get ready for your upcoming interview for the MSc Chemistry QC Job. Use these resources to boost your preparation and shine in your interview for the MSc Chemistry QC Job. Best wishes for your success!
1. Can you describe your experience with stability analysis and reviewing documents in a quality control setting?
Answer: In my previous role as a Quality Control Analyst, I was responsible for performing stability analysis on pharmaceutical products. This included conducting tests to assess the stability of products over time and reviewing the associated documents. I ensured that all stability testing was performed according to regulatory guidelines and that the documentation was accurate and compliant. This experience has given me a strong foundation in quality control processes and adherence to industry standards.
2. How have you been involved in method transfer and method validation activities, and what steps do you follow to ensure their successful completion?
Answer: I have been actively involved in both method transfer and method validation activities. For method transfer, I ensure that clear protocols and documentation are established to facilitate the smooth transition of analytical methods between laboratories or instruments. In the case of method validation, I follow established validation protocols, conduct rigorous testing, and document all results meticulously. My approach includes close collaboration with cross-functional teams, rigorous testing, and adherence to regulatory guidelines to ensure the successful completion of these critical activities.
3. Can you provide examples of instruments and equipment you have calibrated and validated in your previous roles?
Answer: In my previous roles, I have calibrated and validated a range of instruments and equipment used in quality control laboratories. These have included HPLC systems, spectrophotometers, pH meters, and analytical balances, among others. Calibration and validation processes involve precision, attention to detail, and adherence to established protocols to ensure the accuracy and reliability of these instruments, which is crucial for generating accurate analytical data.
4. How do you approach the preparation of departmental SOPs and validation protocols to ensure compliance with current guidelines?
Answer: To prepare departmental SOPs and validation protocols, I start by thoroughly researching and understanding the relevant current guidelines and regulatory requirements. I then work closely with colleagues to gather input and insights. The documents are drafted meticulously to ensure clarity, precision, and compliance. They are reviewed by relevant stakeholders and updated as needed to reflect any changes in guidelines or industry best practices. The goal is to create documents that serve as effective tools for maintaining high-quality standards and regulatory compliance within the department.
5. How do you manage your responsibilities and ensure the accurate entry of stability sample results into LIMS (Laboratory Information Management System)?
Answer: Managing responsibilities and ensuring data accuracy are critical aspects of my role. I follow a systematic approach by prioritizing tasks based on deadlines and importance. For the entry of stability sample results into LIMS, I double-check data for accuracy before inputting it. I also maintain a strict data verification process, where results are reviewed for any inconsistencies or errors before they are submitted. Regular audits and quality checks are conducted to ensure that the data in LIMS is reliable and aligns with the analytical findings. My goal is to maintain data integrity and ensure that it is readily accessible for decision-making and regulatory purposes.