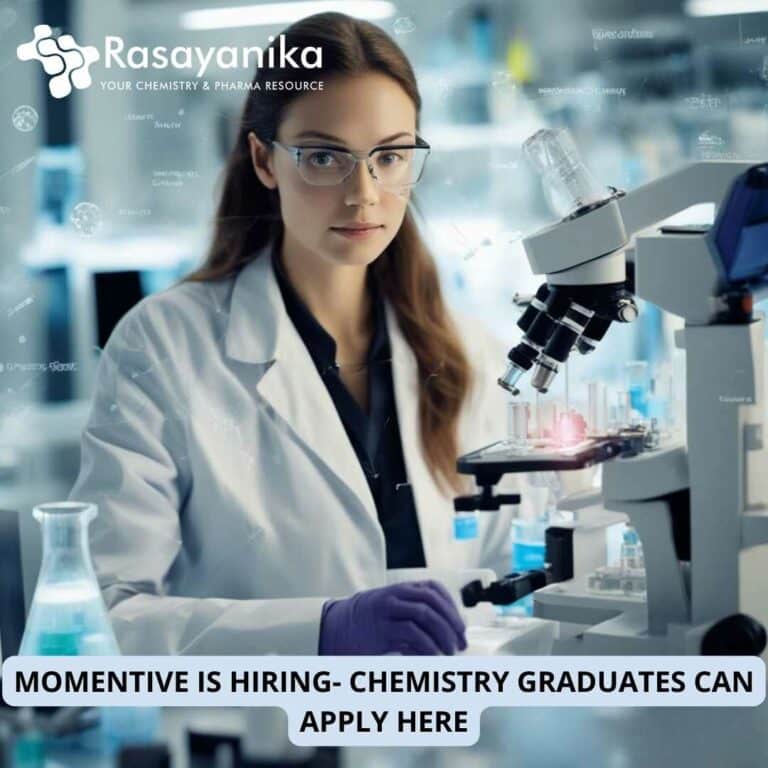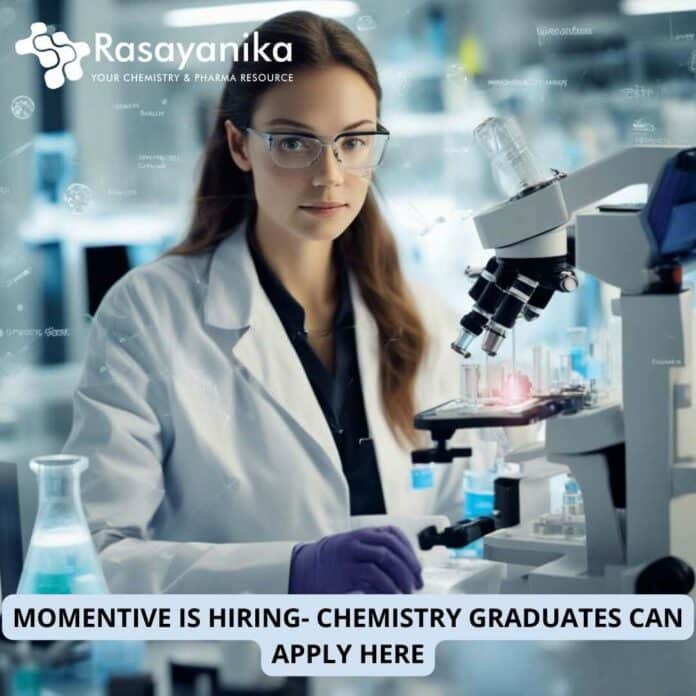 Momentive Chemistry & Chemical Engineering Job For MSc & PhD – Apply Online
Momentive Chemistry & Chemical Engineering Job For MSc & PhD – Apply Online. The Life Cycle Assessment specialist will assist the Corporate Sustainability team in analyzing the environmental effects of our products and processes at various stages, advancing Momentive's sustainability goals. This prominent role involves working closely with stakeholders to create tools, analyze data, and share LCA findings with both internal and external parties, across all business segments and functions.
Job Title: Specialist – Life Cycle Assessment
Location: Bangalore
Job ID: R6366
Responsibilities Include:
Conduct life cycle assessments of products and processes to identify and quantify the environmental impacts associated with each stage of Momentive' s product life. Collaborate with the clients and internal stakeholders in providing recommendations for reducing environmental impact based on the LCA results.
Work closely with the Sustainability Strategy Leader/ other stakeholders on creative enhancements/automations that would enable "tools and methodologies "(including excel based model and commercial software) for analyzing the environmental impact of products and processes in the most efficient manner.
Compile, analyze and interpret data on the environmental performance of products and processes for generating improvements and to facilitate decision making.
Keep up to date with developments in LCA methodologies and regulations and applying this knowledge to improve the quality and accuracy of assessments.
Attend to any other data handling/management support as requested by stakeholders.
Deliver periodic reporting for various user groups, as requested.
Work closely in handling and resolving queries from business in a timely manner.
Assist /drive standardization/ automation initiatives for the process.
Key Metrics:
Ensure timely responses to all LCA data requests from customers
Compile all relevant data and information for a timely, accurate and effective submission to various stakeholders.
Timely and accurate responses to customer inquiries, where required.
Maintain repository of LCA related database.
Key Relationships:
All manufacturing and R&D site Sustainability Leaders and team members, functional sustainability representatives, external stakeholders.
Travel: About 10-20% travel is required
Qualifications:
The following are required for the role
Ph.D. or Masters in Chemical Engineering / Chemistry, Environmental Science, Sustainability, or related fields.
0-1 years (3 years for Masters) of experience in a similar role, ideally within the chemical industry. Higher degrees will be considered in lieu of industry experience.
Experience with LCA assessments and reporting, including knowledge of current tools and trends; LCA verification agencies
Able to work effectively in an international cultural environment.
Competent computer skills (Microsoft Office, SharePoint, Teams etc.)
Strong analytical skills and the ability to read and analyze complex data.
Ability to communicate clearly and concisely, both orally and written, and explain technical concepts or innovations to technical and non-technical employees.
The following are preferred for the role
Experience in a global business or corporation.
Knowledge and experience in the Silicones industry
Effective use of social media.
Strong storytelling skills.
Possible Interview Questions and Answers:
Can you explain what a Life Cycle Assessment (LCA) is, and why it's important in the context of sustainability and environmental impact analysis?
Answer: A Life Cycle Assessment (LCA) is a comprehensive methodology for evaluating the environmental impact of a product or process throughout its entire life cycle, from raw material extraction to production, use, and disposal. It helps quantify and identify the environmental hotspots and potential areas for improvement in terms of resource consumption, emissions, and other impacts. LCA is crucial in sustainability efforts as it allows organizations to make informed decisions to minimize their environmental footprint and promote responsible business practices.
How do you approach conducting a Life Cycle Assessment for Momentive's products and processes?
Answer: When conducting an LCA for Momentive, I follow a systematic approach:
– Data Collection: Gather data on all stages of the product or process life cycle, including raw materials, production, distribution, use, and end-of-life.
– Impact Assessment: Assess the environmental impacts, such as greenhouse gas emissions, water use, energy consumption, and other relevant factors.
– Interpretation:  Analyze the results and identify areas for improvement and optimization.
– Recommendations:  Collaborate with internal stakeholders and clients to provide actionable recommendations to reduce environmental impact.
Can you give an example of a specific project where you successfully identified and implemented recommendations for reducing environmental impact based on LCA results?
Answer:  In a previous role, I conducted an LCA for a manufacturing process in our organization. The assessment revealed that a significant portion of the environmental impact was due to energy consumption during production. I worked closely with the production team to recommend a switch to more energy-efficient equipment and processes. After implementation, we saw a notable reduction in energy consumption and a decrease in our carbon footprint.
How do you stay updated with developments in LCA methodologies and regulations? Can you provide an example of how you've applied this knowledge to improve your assessments?
Answer: I stay updated by regularly reviewing scientific literature, attending industry conferences, and participating in relevant webinars and courses. For instance, I recently learned about a new methodology for assessing water scarcity impacts in LCAs. I applied this knowledge to enhance our assessments by incorporating more accurate data on water usage and scarcity, resulting in a more comprehensive evaluation of environmental impacts.
How do you handle and resolve queries from business stakeholders in a timely manner, especially when they require data or information from your assessments?
Answer:  Communication is key in addressing queries from business stakeholders promptly. I maintain an open line of communication with stakeholders and ensure that data and information are readily accessible. I also provide clear and concise explanations to any questions they may have, ensuring they understand the assessment results and the potential implications for decision-making.
Editor's Note: Momentive Chemistry Jobs. Momentive Chemistry & Chemical Engineering Job For MSc & PhD – Apply Online. Subscribe to Rasayanika for the latest chemistry and Pharma job openings, follow us on Facebook and Telegram and subscribe to our youtube channel for the latest updates on chemistry and Pharma jobs and much more.