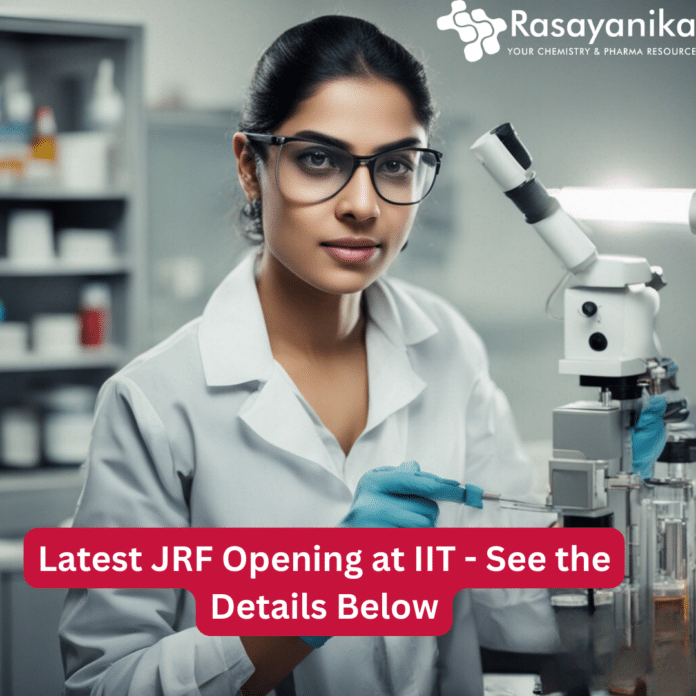 Applications are invited from Indian nationals for the posts of Junior Research Fellow (JRF) to work on ICMR-sponsored projects under the supervision of Dr. Ashish Kumar Agrawal, Department of Pharmaceutical Engineering & Technology, Indian Institute of Technology (BHU), Varanasi, India. Please find the details of the Latest M Pharm Job here. Apply now if you are interested.
Titles of the projects:
1. Folic acid-functionalized drug cocktail loaded lipid Nano-constructs for ameliorating the triple-negative breast cancer therapy
2. Pharmacological exploration and repurposing of an anti-malarial drug for the treatment of triple-negative breast cancer using bovine milk exosomes as a delivery vehicle
Duration: Three years. The post is purely temporary and co-terminus with the project.
Fellowship Amount: Rs. 31,000 + HRA (18%) per month
Essential qualifications:
First class degree in M. Pharm/M. S. (Pharm.)/M. Tech (Pharm)/M. Tech in Pharmaceutics/Pharmacology/Biotechnology with GATE/GPAT/CSIR-NET or equivalent qualifications.
The candidates should have a basic degree in pharmacy (B. Pharm). The candidates
appearing in the final semester of M. Pharm/M.S.(Pharm.)/M. Tech (Pharm)/M. Tech are also eligible.
Such candidates need to produce the essential documents justifying qualification in the case of selection.
Desirable qualifications:
Candidates with experience in animal handling, western blotting, cell culture,
and RT-PCR would be preferred.
Age limit: 28 Years (relaxable for 5 years for SC/ST/Physically Handicapped/Female candidates). All things being equal, SC/ST candidates will be preferred as per GOI rules.
How to apply – Interested candidates are requested to send their applications in the attached format via email to  Principal Investigator, Dr. Ashish Kumar Agrawal at [email protected] as well as other information via the Google sheet link (https://docs.google.com/spreadsheets/d/1sqWcA_YvsaESyfJvf_klvWTwvIG0rv6eGlkPMCqgEM/edit?usp=sharing) on or before 30th September 2023. Please write "Application for JRF" in the subject line of the email. The shortlisted candidates will be intimated by email and called for a personal interview.
Note – No TA/DA will be paid if called for an interview.
General Instructions for Latest M Pharm Job:
1. The PI has the discretion to restrict the number of candidates to be called for an interview to a reasonable limit based on qualifications and experience higher than the minimum prescribed in the advertisement.
2. Only shortlisted candidates will be communicated to appear in the interview and no other communications in this regard will be entertained.
3. Original certificates and self-attested copies of all certificates need to be presented before the interview for verification.
4. Venue of Interview: Department of Pharmaceutical Engineering & Technology, IIT (BHU),
Varanasi- 221005. Contact no: +91 6376983676, E-mail: [email protected].
5. The application should be strictly according to the attached format.
6. Also refer to the website: www.iitbhu.ac.in/positions_ available.
Hello everyone! We've compiled a set of interview questions and answers to help you prepare effectively. These resources are designed to boost your confidence and help you succeed in your upcoming interview for the Latest M Pharm Job. Best of luck!
Tell us about your academic background and how it aligns with the essential qualifications for this research project.
Answer: I have a first-class M. Pharm degree in Pharmaceutics, which aligns perfectly with the essential qualification criteria for this project. Additionally, I have qualified GATE in my field, further demonstrating my academic prowess and dedication to pharmaceutical research.
Can you provide details of any research experience you have in the areas of drug delivery, particularly with lipid Nano-constructs or exosomes?
Answer: During my academic journey, I had the opportunity to work on a project that involved the development of lipid Nano-constructs for drug delivery. This experience allowed me to gain valuable insights into the field. While I haven't worked specifically with bovine milk exosomes, my strong foundation in drug delivery principles can be applied to adapt to this project's requirements.
How do you envision contributing to the objectives of the research projects outlined?
Answer: I believe my background in Pharmaceutics and experience with drug delivery systems positions me well to contribute significantly to these projects. I'm eager to work on the development and evaluation of drug-loaded lipid Nano-constructs and explore the potential of using bovine milk exosomes as a delivery vehicle. My goal is to assist in developing innovative and effective strategies for triple-negative breast cancer therapy.
Could you describe your experience with techniques such as western blotting, cell culture, and RT-PCR, and how you see them being relevant to the research goals?
Answer: I have hands-on experience with western blotting, cell culture, and RT-PCR during my academic and research endeavors. These techniques are invaluable for evaluating drug efficacy, understanding cellular responses, and analyzing molecular changes. I believe my proficiency in these methods will be instrumental in achieving the objectives of the research projects.
What motivates you to work on projects related to breast cancer therapy and drug repurposing?
Answer: Breast cancer is a significant health challenge, particularly triple-negative breast cancer, which lacks targeted therapies. Contributing to research that aims to address this issue and potentially repurpose existing drugs for improved treatment options is highly motivating. I am passionate about making a meaningful impact on healthcare through innovative pharmaceutical research.